I have event envy, and need to remind myself that somewhere there's probably a Tsunami charity reading about a New Orleans benefit thinking, "What the hell?"
For 7/7/7, the Essence Festival represented New Orleans which was not booked for Live Earth. Next month the New Orleans Musicians Relief Fund will host our Anti-Versary concert on the Friday before K-II. That's shorthand for when the media circus revisits the city.
For last year's K-1, the city's comedy night, fireworks show, diamond auction and concert was scaled down to a diamond auction and concert after public complaint about the tone of the event. The same weekend, Hands Around the Dome was an amazingly visual project, hurricane survivors uniting their hands around the Superdome in the pouring rain. They received very little national coverage. That's when I knew New Orleans was pushing an awareness boulder of Promethean proportions uphill.
NOMRF hosted last year's concert over two nights to get musicians working instead of sitting at home watching coverage on cable. People mostly sat at home watching coverage on cable. It was a hard sell on a very depressing Tuesday. As jazz singer Leah Chase told Reuters, "Anything, any time that gets me out of that trailer is a treat," before breaking into "Do You Know What It Means to Miss New Orleans."
Leah's mother is the chef for Dookie Chase's, the legendary soul food restaurant that hosted freedom fighters, musicians and activists during the Civil Rights movement. I would pay to hear Leah sing the phone book, she has such a beautiful alto voice, and she's kept her spirits up despite the fact that her first FEMA trailer was taken from in front of the flooded restaurant.
Imagine driving up to your historic gutted restaurant and noticing your FEMA trailer has been stolen.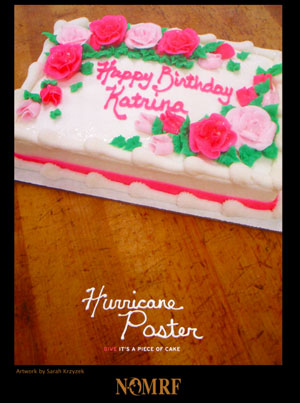 Most Americans no longer spend their time imagining such things, based on the Fats auction. Global Green, the Brad Pitt-endorsed charity building eco-friendly homes in New Orleans, auctioned off an eco-friendly piano signed by Fats Domino. Nobody bid. The piano was eventually taken off the market and organizers said they would re-list it closer to the Katrina Anniversary. They had the gall to ask people to care before the actual date when we're scheduled to care again -- 8/29.
As the Arctic Monkey drummer said of Live Earth, "It's a bit patronising for us 21 year olds to try to start to change the world."
Thankfully, that's not true. Help is coming from young supporters of displaced musicians in the form of everything from lemonade stands to classical concerts. And New Orleaneans are still getting help from students who come down and gut their homes. After waiting almost two years, my 81-year-old mother-in-law ended up having to hire contractors to gut the house her late husband built because she was too far down on the charity list. Or as the city official joked during our meeting, "That didn't work out too well for you, huh?
His sarcasm was not called for. Sometimes sarcasm is. An Illinois State University made this Katrina cake last year, but we didn't release it as a poster in case people thought NOMRF was going to have cake and party hats at the Anti-Versary.
This year, we will once again offer New Orleans music and a debut of the ReDefine 8/29 Download. I have realized that as far as New Orleans awareness goes, the revolution will not be televised.
But it may make it onto satellite radio.