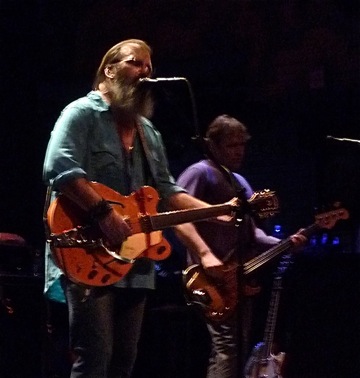 Steve Earle played "This City" for a New Orleans audience last night, telling us a song is done when you play it for the people you wrote it for. "Now it's done."
He wrote "This City" for HBO's Treme, and it translated seamlessly into real life at the New Orleans House of Blues. Earle is no longer playing Harley after his character was ____ in the ____ (spoiler buffer), good news to anyone in cities the band will be touring this summer and fall.
There has been no shortage of songs written about New Orleans post levee fail, including some of my favorites: "Long Black Line" by Spencer Bohren; "One Two What You Gonna Do About It" by James Andrews; "Thorn in Her Side" by the subdudes; "Wade" by Dr. John; "Crescent City Snow" by Susan Cowsill; and "Poor Man's Paradise "by Johnny Sansone.
"This City" was crafted as a song Earle's character would have written from New Orleans in the year post Katrina. "I should have written it in 2005," he said. "This City" not only closed out season one of Treme , it also garnered him Emmy and Grammy nominations. He's since published his first novel, Never Get Out of This World Alive, released a "Never Get Out of This World Alive" album; broadcasts his Hardcore Troubadour radio show on Sirius and is in the middle of a tour that winds from Mobile to Toronto. At this rate, Earle is in line to achieve an EGOT somewhere down the road.
Earle's band, The Dukes (and Duchesses), consists of his singer/songwriter wife Allison Moorer; Chris Masterson and Eleanor Whitmore of The Mastersons; drummer Will Rigby of the dB's; and longtime bass player Kelly Looney. Will joked after the show that if he weren't happily married and married the bass player, it would make it a three couple band.
During the concert, Earle shared a few New Orleans stories including the time he and Will drove all night to a 2004 show in New Orleans in shock after the presidential election. He also talked about the BP oil spill, leading into his song "The Mountain" by noting that companies extracting black substances from the earth tend to not leave the earth the way they found it. "Mountain" is available on a download single that benefits SaveWorkers.org, and Earle's band gave its fee from Monday's show to nomAf.org.
Earle noted, as he has before, that the national economy tanking just as New Orleans was in line to be redeveloped was part of the reason "it stayed weird." Or as William Gibson referred to us, "The City They Couldn't Disneyland." Earle drew a resounding round of applause from the audience with: "Maybe God knows how important New Orleans is." If he was listening in, he does now.
"This City" by Steve Earle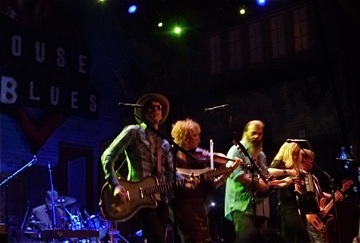 This city won't wash away
This city won't ever drown
Blood in the water and hell to pay
Sky tear open and pain rain down
Doesn't matter, come what may
I ain't ever gonna leave this town
This city won't wash away
This city won't ever drown
Ain't the river or the wind to blame
Everybody around here knows
Nothin holding back Pontchartrain
Except a prayer and a promise's ghost
We just carry on diggin our graves
In solid marble above the ground
Maybe our bones'll wash away
But this city won't ever drown
This city won't ever die
Just as long as her heart beats strong
Like a second line steppin high
Raisin hell as we roll along
Gentilly to the Vieux Carre
Lower Nine, Central City, Uptown
Singin Jacamo Fee-Nah-Nay
This city won't ever drown
Doesn't matter cause there ain't no way
I'm ever gonna leave this town
This city won't wash away
This city won't ever drown
Photos by Jeff Beninato