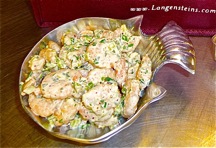 Fifth-generation grocer, Hilaire Dubertrand Lanaux III (Trey for short), is walking me through the kitchen of Langensteins grocery store to show where they will be preparing massive amounts of takeout for tailgate parties. No one tailgates like New Orleans tailgates. I'm no sportswriter, but I'm fairly certain that our food helped Saints fans cheer their team on to win the Superbowl.
"We have a kettle across the street that cranks out 150 quarts in a batch, and come the wintertime it's pretty much cooking every day," Trey says. The original store was up the street, and when they expanded years ago they thought it would take years to fill out the larger new space. It took six months. Trey's grandmother, the matriarch, still drops into the store. "Do whatever she tells you to do," he tells employees.
It's nice to know that there's a gustatory way to support Gulf grocery stores. Food Photo Gallery at NewOrleans.com HERE.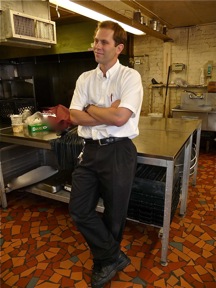 For the vegetarian foodies there are options like Vegetarian Gumbo, Sun-Dried Tomato Dip with Goat Cheese; Smoked Mushroom Dip with Roasted Pine Nuts; Candied Yams and more. For tailgating out of town, some items ship. In my dream tailgate we would hit the catering menu hard and serve their Crawfish Pie; Boudin Stuffed Mushrooms; Crawfish Terrine; Herb Roasted Drumettes; Shrimp Salad, Smoked Mushrooms Stuffed With Crab; Mini Muffelattas; Shrimp Creole, Jambalaya, Etouffe, Fried Turkey; Mirleton Shrimp Casserole; Sweet Potato Souffle; Chicken Andouille Gumbo; Crab and Corn Bisque with Sherry Cream Sauce; and Crawfish Corn and Potato Soup.
The politics of food are on everyone's minds lately, with No Gulf Seafood signs cropping up on menus around the country, but Patriots and Saints fans can unite around Langenstein's steamed Maine lobster or birdapalooza of Turduchen (turkey, duck, chicken and dressing stuffed from largest to smallest).
The grocery store has also focused on farm-to-fork produce for decades, from creole tomatoes to Pontchatoula strawberries when they're in season. When I ask Trey whether his seafood supply has diminished after the BP oil spill, he says aside from oysters it hasn't. The store is paying a little more for shrimp, but Trey says "I try to sell as much Louisiana seafood as I can."
We bring home tailgate bestsellers Le Popeye spinach dip, Better Cheddar, seafood gumbo and grillades. I am told to add grits to the beef grillades, and Trey asks if I'm familiar with grits. I can hardly blame him, I've already asked if they carry chowder. After an awkward pause I explain, "Yankee."
The grillades and grits are for brunch tomorrow, but tonight my fourth generation New Orleans born husband takes two bites of the gumbo and says, "This tastes like my mom's." Apparently he's a food reviewer, because I can't beat that.
SUBSCRIBE TO & FOLLOW THE MORNING EMAIL
Get top stories and blog posts emailed to me each day. Newsletters may offer personalized content or advertisements. Learn more