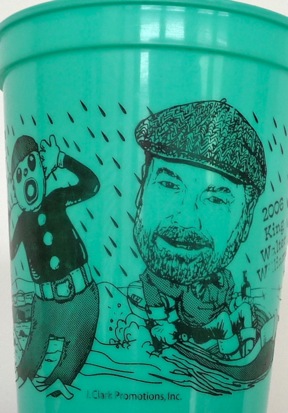 In the midst of all the post Katrina chaos, Creighton is planning the first parade after Katrina. Environmentalist Walter Williams was the king of Krewe du Vieux that year, and I hope Treme shows his Mr. Bill float next week because it's beyond description. Walter made a wetlands awareness film series the summer Katrina hit, and Senator Mary Landrieu told Congress in a subsequent hearing, "How could Mr. Bill have known more than Mr. Bush?" I knew there was a chance of getting back to normal with the 2005 announcement that read:
"We've learned that you never leave behind a refrigerator full of seafood. We've learned that sometimes you can't help but sleep on the wet spot. We've learned new meanings for open house and waterfront property. We've learned that FEMA's just another word for nothing left to lose. What's Krewe du Vieux's response to all this insanity? In the laissez faire spirit that has so typified our home town that even the Army Corps of Engineers got swept up in the tide, the Krewe will stage its 2006 parade with the theme of Cest Levee! Leading the soggy celebration will be New Orleans environmentalist and comedian Walter Williams, creator of Mr. Bill of Saturday Night Live fame. As Mr. Bill knows much more about flood protection than Mr. Bush or Mr. Brown, the Krewe considers its 2006 king a true wet dream." (Pictured is the cup he threw that year).
SUBSCRIBE AND FOLLOW
Get top stories and blog posts emailed to me each day. Newsletters may offer personalized content or advertisements.
Learn more