THE BLOG
Despite Governor's Warning, Bourbon Street Enjoyed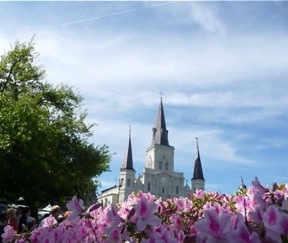 Bourbon Street is still luring them in, despite Governor Bobby Jindal's warning to the Southern Republican Leadership Conference in New Orleans yesterday. He told the crowd, "We invite you to extend your stay. Enjoy this beautiful weather enjoy our great food, our great music our great culture spend a little money in our hotels and our restaurants we'd appreciate it. I do have a word of warning to RNC staffers, you may want to stay away from Bourbon Street - just a word of advice," referring to RNC staffers charging expenses at lesbian bondage club.
I overheard a group of Republican conventioneers walking into the French Quarter complaining about Michael Steele's efforts at damage control. Then they grew silent as a float full of men in kilts danced to "Come on Eileen" and pulled passers-by into their mayhem.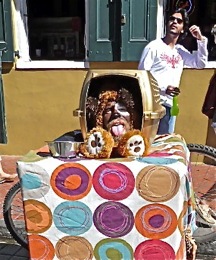 Further down Bourbon Street a mysterious animal was waving, or it was a man's head sticking out of a cat carrier. Was this the kind of thing Jindal was warning the RNC staffers about?
Conventioneers who disregarded Jindal's warning skipped Liz Cheney, Sarah Palin and other voices of the Republican party for the sights, sounds and, yes, smells of Bourbon Street. They were also surrounded by music on the first day of the French Quarter Festival. Bourbon Street was a good shortcut from hearing 98-year-old Lionel Ferbos performing in Jackson Square to Joe Krown's tribute to Jellyroll Morton at Irwin Mayfield's Jazz Playhouse.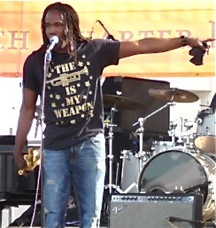 Meanwhile back at the riverfront stage, Shamarr Allen was singing "Crazy" and he revised Gnarls Barkley's song to: "I remember when, I remember I remember when I lost my house..."
Shamarr was wearing a tee shirt emblazoned with "The Trumpet is My Weapon. He later introduced Upstart, a group of young musicians including his son and little brother. In New Orleans recovery, music was and is our best weapon.
I could expound on that theory, but Mary McNamera has described Davis, the character of a New Orleans music expert in "Treme," to Cliff Clavin from "Cheers" in her LA Times article. It may be best to let the music speak for itself.
During the French Quarter Festival and in tomorrow's HBO Treme premiere, our music rings out loud and clear.
My full column and photos from the festival on NewOrleans.com