"Thousands of homes sacrificed to save New Orleans" is this week's headline, with a 1927 level Mississippi River placing Louisiana levees in the line of fire again. Post 2005 levee fail, our first set of holidays were fueled by adrenaline. More than a quarter million displaced residents celebrated wherever we ended up.
HBO's Treme is up to the 2006 holidays, fueled by a city in shock. Housing projects that were not damaged in Katrina were shuttered. The city's Charity Hospital was shuttered. It still is. In the country's biggest drug port, kids were coming home alone if their parents couldn't giving the holiday season a Merry Lord of the Flies feeling. Teenage boys with semi-automatic weapons were living in gutted out homes as the drug wars exploded.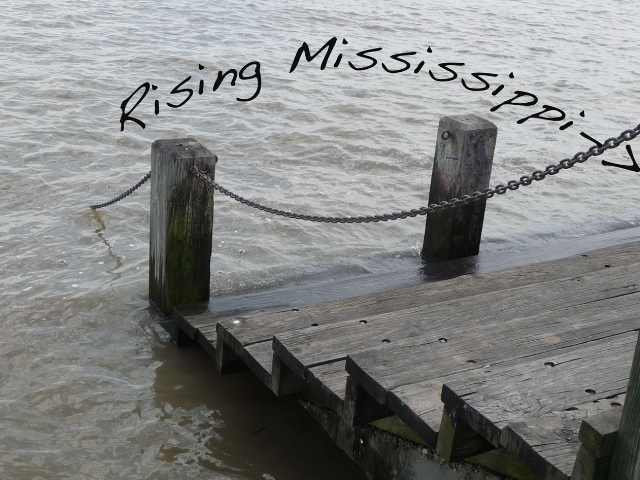 Spoilers Begin. Also, see background by Dave Walker (he practically wrote an encyclopedia entry this week, HBO and Back of Town.)

Antoine kicks off "Santa Claus, Do You Ever Get the Blues" (Episode 14) by doing his best not to get a teaching job. "You know about my criminal history right?" He ends up as an assistant music teacher in clap classes, with no instruments available for the students.
Police crimes committed during post Katrina chaos come to the forefront, as Toni's character digs deeper. An officer outside Mandina's tells her: "The governor said take back the city. We took back the city." She answers softly, "You sure did." Sofia's teacher commits suicide, as did her father in Season 1. In the years post Katrina, the city lost therapists, teachers and caregivers when they no longer had a reservoir to draw on.
Grammy winning singer/ songwriter Shawn Colvin discovers Annie T. playing on Frenchman Street and brings her up to play "I'm Gone" at the House of Blues. Annie meets Colvin's manager, but she's not ready to move forward. Annie is as stuck as Sonny, in her own way.
Antoine's Soul Apostles audition Sonny, but if most mortals are up against June Yamaguchi they will lose. June gets the job, but has to opt out from the next show because of a standing gig with Papa Gros' Funk. It's a challenge, working a new band around the existing schedule of a New Orleans musician. Our friend Craig Klein stopped by this week and said he had a slow weekend coming up: "Just two gigs a night."
Sonny later fills in for June, and Antoine and Wanda Rouzan kick off the funk with Santa's scantily clad helpers. The glare of the episode goes to his girlfriend Desiree who gets Not A Ring for Christmas. Newcomer Nelson gives a business pitch in church, because networking knows no holiday bounds. He then supervises destroying a school's perfectly functional furniture and books, and takes a side trip bearing Not A Bribe to Councilman Oliver Thomas (playing self), for a graft trifecta.
Albert is not willing to show his new suit to a documentarian. Especially once she says, "I'm interested in the process, not the result." The Big Chief tells her she has to wait until Mardi Gras morning when, "You gonna have to film me girl, I'm gonna be the prettiest." The Backstreet Cultural Museum is a perfect backdrop to the push and pull between those who want to capture the essence of a city, and those who are simply living it. When Delmond comes home to suggest to his father that maybe he's depressed, Albert points out that of 90,000 Road Home applications processed by the state, 82 had been cleared. He's not sad. He's enraged.
So was any local foodie after Alan "Too Soon" Richman's GQ review suggesting New Orleans restaurants were so bad, rebuilding the city was questionable. His take on local diners: "I believe their morning exercise regimen consists of stumbling out of bars." That's not how I start my morning, but if I did what of it? The breakfast is still stellar. Richman then posited that Creoles are either nonexistent or akin to "faerie folk." Cultural NOLA trolling is not unusual, it starts a dialogue and drives web traffic. But when Jeanette hears Richman (playing self) is in the dining room she seizes the opportunity to escape Brulard. And just as Richman says, "Journalism, it isn't cheerleading..." he gets Sazerac'd.
We arrive at the intertwining Russian novel aspect of a David Simon / Eric Overmyer project when Jeanette and Delmond meet. By 2006, if you were no longer home you were meeting fellow evacuees at Saints viewing parties, at well meaning New Orleans style restaurants, we became ubiquitous toward Mardi Gras.
Delmond has been combing through albums to try to figure out what gave jazz its original urgency, and where it took a left turn. "If Picasso was modern then Louis Armstrong and Poppa Celestine, they were modern too." Poppa Celestine fronted the Tuxedo Brass Band, which just celebrated its 101st year as a New Orleans band with drummer Bob French now at the helm. If jazz is dead, no one ever told New Orleans. It's played by live bands on the street, on the radio -- everywhere.
Davis spreads his own style of music by talking his Aunt Mimi into becoming a rap producer. Katey Red shares a little "Imma Tell You When I'm Ready, When I'm Ready Imma Tell You," bounce which would make one hell of a ringtone. Davis also raps against Teach for America, bemoaning rich white kids at charter schools displacing teachers. His friend reminds him that they're white.
As the holidays loom Ladonna says, with her thousand yard stare, "I've got to get out of here, me." She's back in the bar,but not closing. And she is self medicating to cope. As is Big Chief Albert, when Delmond brings a Christmas smoke to town. "Just leave that medicine when you go," he tells his son.
The episode ends as Antoine hears from Terrell Batiste of The Hot 8 that bandmate Dinerral Shavers, a New Orleans bandleader, has been shot and killed in crossfire. That week I wrote "Every Single Life" for my NOLA.com blog. It's hard to channel the visceral level of frustration the city was experiencing five years ago, but Treme is doing its level best.
The show has been renewed for a third season and if 2005 to 2007 were tumultuous, for 2007 to 2008 the faerie folk will need to hold onto their hats. Everyone who lived through it is now a walking spoiler alert.
FOLLOW HUFFPOST