Note: Do not read on if you have not seen Season 5, Episode 12 of FOX's "MasterChef," titled "Top 6 Compete."
What the heck is a croquembouche?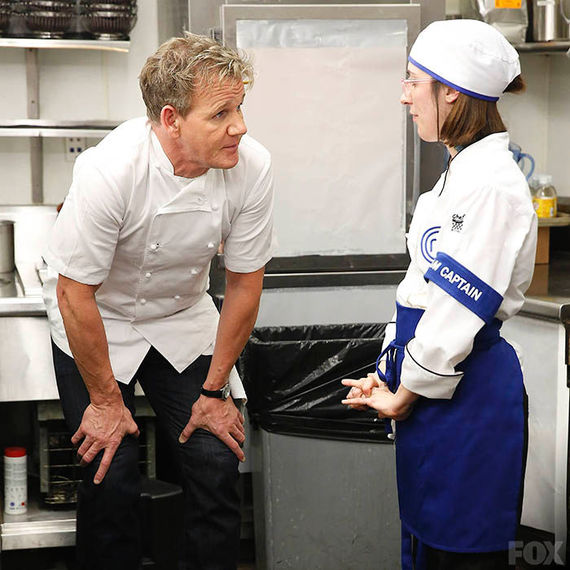 It's not fair that the only person who knew how to make one, my beloved Jaimee, was sent home for hers.
That's right. After a team challenge taking over a restaurant for a night, the Red Team comprised of Elizabeth, Leslie, and Cutter wins, so they're safe. Let's talk about that team for a minute. Elizabeth is amazing under pressure and she knows what she's doing, so we can only assume that it is all her fault they won. Because Leslie and Cutter fought so incessantly, like two little brothers in the backseat of a station wagon on family vacation, that Gordon had to tell them twice to knock it off or he'd turn the ovens off.
I know it's good TV, but it's irritating. It does, at least, send a message that girls aren't the only ones who catfight. When Gordon tells you to stop measuring your genitals and cook, you do it.
The other team? Courtney, Christian, and Jaimee. Poor Jaimee is totally overwhelmed at being captain, so she lets Courtney take over. For the first time all season, we see even Courtney get a little nervous. She's making goop with her gnocchi and begging Chef Ramsey to give her a hint. She passes the Captain baton to Christian and things start to go smoother. Not smooth enough though -- their entrees were poorly seasoned and slow to come to out of the kitchen.
Hence, the pressure test of creating a tower of cream puffs bound together with sugar or caramel or both. It's a stupid dessert. Let's not be fooled. But a perfect pressure test with lot of steps and a lot of ways to mess it up. Everyone thinks Christian is going to blow it. Courtney, always full of ego, tells the chefs she thinks she'll mess it up. Jaimee is all over it. And yet.
Courtney's ends up so pretty and tasty I want one at my wedding one day. Christian's tasty, but ugly and uneven. Jaimee's cream puffs don't pull off with ease and that, combined with her poor Captain panic attack, gets her in the end. She's gone.
Leslie, Christian, Elizabeth, Cutter, and Courtney. Who will it be?! Let me know in the comments or @karenfratti.
'MasterChef' airs Mondays at 8 p.m. on FOX.