If you're looking for exquisite liquid history in London town, look no further than the great hotel bars. Nowhere are they better celebrated or served where history, architecture and design rival any seemingly speakeasy styled, stand-alone bar.
In a 48-hour British bar crawl, I experienced a mad mix of iconic, creative and classic cocktails. I sipped, tippled and swirled the best and most intoxicating libations London had to offer. (All in a day's work.) If you too like to drink your fingers to the bone, here are but a few booze infused directions to head in when on the other side of the pond.
Iconic: Duke's
Duke's Hotel, perfectly positioned in the tony neighborhood of St. James, has a rich and royal history. The area and the hotel, discreetly located on a tiny road in a private courtyard, have been equally alluring for local artists, writers and global sophisticates for over a century.
After a speedy clearing of customs and a seamless train ride in, I dropped my bags in my sleek yet traditional suite at The Duke's Hotel, then ran downstairs to Duke's Bar. Well-heeled British business boys, Mayfair bankers and hedge fund folk have been known to have the patience of saints as they line up nightly, wrapping themselves around the building in search of the city's best made martini.
This is hardly a fad or a passing fancy, as literary luminary Ian Fleming of James Bond fame is known for coining the phrase "Shaken, not stirred" at this very bar. The rest is martini history.
Today, the equally iconic Alessandro Palazzi, Duke's Bar Manager, keeps the tradition alive with his meticulous service and old school charm. The Italian Palazzi provides service at the small dark mahogany tables, wheeling a charming, wooden trolley to each table where he individually makes -- but does not shake -- a martini to perfection.
Three drops of extra dry vermouth are dropped in to a chilled glass before the Polish vodka Potocki, frozen at a low temperature for a minimum of 24 hours, is added. A few splashes of lemon oil are squeezed from a peel before making it makes its way around and into the glass.
I felt like a spoiled Bond babe privy to membership in a covert international cocktail club as I seductively sipped this bit of liquid history while watching Britain's well-dressed business elite line up outside. I tipped this rich window of privilege a bit further, nibbling on gorgeous succulent green olives imported from Puglia.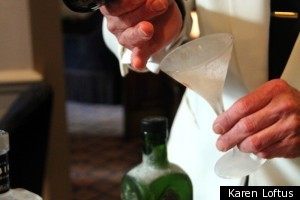 Bond is by far the star of the bar, but if you're interested in taking your tipple in another direction, know that Duke's crew can take any cocktail curve they are served, classic or otherwise. After making a mad mix of new friends, all men, I summoned the sexy Alessandro over for yet another fix and a bit of attention. I thought I'd try a Vesper, another Bond fave (Casino Royale, 1953) with its three measures of gin (No. 3 London Dry Gin) to one of vodka (Polish Potocki) and a half measure of Kina Lilliet.
That did the trick. I was just in London for a quick minute, after dipping deep in to Belgium's beer culture for a full week. It was an enlightening and equally intoxicating experience -- I'm now all about my sour Belgian beers -- but I was only too happy to be back, knee deep in to the classic cocktail culture.
I knew my two drinks could not be topped. So, I headed in a different, yet equally decadent direction. As if a nightcap was needed, I popped downstairs to the Duke's PJ Lounge at Dukes London, a smart 16-seat vibrantly decorated Champagne lounge featuring Perrier Jouet. All of Duke's masculinity and minimalism was equally matched by feminine and full-on PJ's Lounge.
Naturally our server was French and full of mischief. I met two visiting girlfriends in the pink palace for late night libations and a bit of bubbles to recap the day's events. Before I got in to my final French 75 (Champagne, gin, lemon and sugar), I tipped back an incredibly crisp and clean bubbly Perrier Jouet in honor of the committed cinematic sipsters that came before me -- and to celebrate the evening's obvious liquid success.
Creative: One Aldwych
In between the classic and the iconic, I opted for the creative. The One Aldwych's Lobby Bar with its dramatic double height space and whimsical ambiance is the pitch-perfect setting to stage a showing of wildly inspired creative cocktails. The players don't disappoint as every one behind the Lobby Bar is a seasoned and impassioned performer. Their sense of theatrics comes as no surprise as One Aldwych is set in the heart of Covent Garden, London's Theater District.
When I arrived late in the afternoon on a Friday, the Lobby Bar was abuzz with a smartly dressed after work crowd mixing with the theater and socially savvy. I wanted a front row seat, so I positioned myself at the bar. The Lobby Bar offers an array of beer, wine and Champagnes, but the real draw here are their edgy and interesting original cocktails, 44 in all.
The cocktail list, which changes seasonally, is broken down in to four acts or categories, Seasonal (Summer) Cocktails, Desert Cocktails, Mixologists Muse and Champagne Cocktails.
One can't argue with the title of the Exceptional on the Summer Menu with Gentleman Jack bourbon shaken with fresh mint, ginger and apple and finished with a touch of Champagne. The bar stars were relentless with their creativity with the Lemon Soul made with No. 3 London Dry Gin and Vidal ice wine blended with citrus and basil aromas, finished with a touch of almond syrup.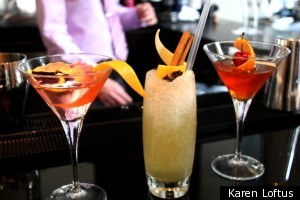 One can expect the unexpected in their champagne cocktails as was seen with their Plum Bellini, made with fresh plum muddled and sweetened with apricot liqueur and mandarin bitters and topped with Champagne. Their final performance was a showstopper as I truly wanted to marry, the Espresso Martini, the lead on the dessert menu. I'm not one to lean towards vodka-driven or dessert drinks, but their own vanilla-infused vodka, coffee liqueur, hazelnut liqueur and a shot of espresso were pure magic in the mouth, a very memorable performance. It was just the kick I needed to continue to cocktail exploring.
Classic: Lanesborough
I was ready to clean my cocktail palette and equally keen to work up a thirst for my next series of spirits that evening. So I took a long and leisurely walk through Leicester Square and Hyde Park and a buzz by Buckingham Palace, a mere matter of days after the royal wedding. You could almost feel the confetti and well wishes in the air.
Once dusk fully settled on my London day, I quickly made my way to The Lanesborough Hotel in Knightsbridge, by Belgravia, London's ritziest of neighborhoods.
The five-star St. Regis property has a long and lush liquid history. Of recent note is the globally celebrated Salvatore Calabrese, one of London's finest and most famous cocktails characters. He also hails from Italy, as London has a long history of Italian barmen. Peter Dorelli of The American Bar fame at famous The Savoy Hotel really set the standard London -- if not the world -- several years ago.
Dorelli's good friend and charismatic colleague, Salvatore Calabrese, who has since left Lanesborough to open up The Playboy Club in London had a long tenure at The Lanesborough and was known for serving as much history as spirits in to each and every drink. A known cognac aficionado, his influence is seen today in their newly opened Garden Room, an already notable smoking venue with extensive Cuban and pre-Castro cigars -- and rare and incredibly expensive cognacs.
Now under Giuseppe Ruo's seamless direction, a genius in cigar and spirit pairings, The Garden Room has the UK's first walk-in humidor with over 1,000 cigars, 25 private lockers and a box of Behicke cigars selling for $3,000 a stick. Of equal significance is a cognac dating back to 1770 and selling for over $6,000 a shot. Above the cloud of cigar smoke, the room and predominantly male crowd of characters projected privilege, sophistication and international success.
After a very sexy and super smoky start, I finished my British visit upstairs in Lanesborough's Library Bar, which was designed in the style of a Regency Library. The room boasts gorgeous floor-to-ceiling dark woods, leather bound books spilling out of bookcases and a roaring fireplace. It was a cozy and evocative setting for spirits.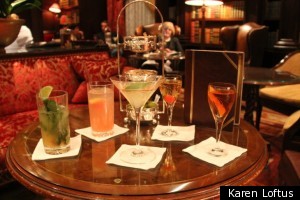 I sat myself by the fire, in front of the piano. In between sips and songs by Brian Morris, the long-tenured house piano player, I was privy to the history and deep dish of the many royal and cinematic stars that have come in and clinked with the piano player prior. Jay Z & Beyonce, Chris & Gwynnie, Clooney & Madonna (but not together) are but a few of the famed that have made a toe-tapping night of it.
I didn't see any famous faces that evening, but I did meet a few business boys who went to boarding school with Wills and Harry, clearly the British Kevin Bacon with a mere six degrees between them and every one I met. These boys were slightly less royal than dynamic duo but definitive blue bloods nonetheless. The rest of the room was filled with a mix of locals as much as hotel guests, singles and couples mixed with the cigar sipsters from downstairs who were making the Friday rounds.
As the Library Bar is known for their classic, bespoke cocktails, I sipped on their classic mojito (rum, fresh mint, sugar cane and lime juice, lengthened with soda water and drops of Angostura), the Negroni, an Italian classic of gin, Campari and wweet vermouth) and an old fashioned with bourbon, which succeeded in carrying me through the evening.
I enjoyed every layered note of the meticulously made classics, made by the charming Antonio Dandrea, Library Bar's Bar Manager, yet another Italian at the helm. It could have been the many drinks thinking, but a few tipples in, I was definitely feeling famous, regal and somehow connected to the British Bacons. Cheers!
SUBSCRIBE TO & FOLLOW LIFESTYLE
HuffPost Lifestyle is a daily newsletter that will make you happier and healthier — one email at a time. Learn more