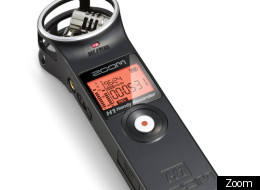 If your geek-chic sweetie has a sense of adventure on both sides of the camera, you might want to consider a few of these photo-driven finds and some of these tech sexy toys to kick start a very creative Christmas and "Happy Holidays" season.
Not to be outdone by their toys alone, the geek-chics are sure to step out in some serious style as well. So trust that this gear is as fierce, functional and fashionable as the gadgets they pair well with.
I think it's more than obvious... Game on!
Chic Travel Geek Gift Guide
The 7D, $1,699 for the body only with Canon lenses sold separately, is the go-to EOS Digital SLR Camera for both serious photographers and semi-professionals alike. The 7D provides accurate exposure in difficult lighting and captures Full HD video at 30p, 24p and 25p with an array of manual controls during movie shooting and stills. Now you're ready for that office on the lot.

If you're looking to capture your thoughts or verbally pen your memoir in between runs on the slopes, then the H1 Handy Recorder ($99) is your on-the-go, sporty secretary, as it will capture all of those Pulitzer Prize thoughts while you capture the action. If traveling on business, this too can capture the minutes while you soak up the corporate America ambiance. For journos on the go, the H1 is a great asset to put in your pocket as it can capture up to 50 hours of dialogue on a 32GB micro SDHC card. Don't let the small size fool you: Like all Zoom recorders, the H1's onboard microphones are configured in an X pattern, on the same axis. The result is great stereo recordings with natural depth and accurate imaging. Now that that's set, it's time to name that memoir.

The WOWee One Slim ($80) is a companion piece to the WOWee ONE Classic, which raised the roof on portable audio with its palm-sized combination speaker and subwoofer. True to its name, the sleek and sexy Slim is an even smaller, pocket-sized, rechargeable speaker in a size comparable to your smart phone. So, don't confuse the issue. The Slim delivers big on the tech front with new noise cancellation technology, allowing for echo-free conference calls -- if you take them. Whether it's an impromptu party in your hotel room, a need for speed and speakers on the slopes or a stereo sound to complement your on the go cinema series, Slim fits in with and pumps up the volume for an iPod, iPad or phone or on any and all of your laptops.

While you're busy risking or having the time of your life, Contour GPS 1080p Camera's ($299) built-in GPS receiver tracks your location, speed and altitude while recording the death-defying hands-free HD action. At a mere 5.2 ounces with a rotating lens, this beauty is poised to capture all the super sporty action, be it biking, skiing, surfing, cliff diving or river-rafting. Grab a Flex Strap Mount ($30) and you're good to go with the potential for plenty of footage to give you tons of back up for all those bragging rights.

You can easily lose a few days not to mention pounds of priceless travel and adventure while ill on the road. More often than not, your time out is due to bad water. SteriPEN's Freedom ($120) allows you to now fearlessly go anywhere in the world with the smallest, lightest and first rechargeable UV water purifier.   In a mere 48 seconds, the germicidal UV light from SteriPEN Freedom destroys over 99.9% of bacteria, viruses and protozoa, such as giardia and cryptosporidium, the long version of yucky stuff. Pop this pen in your pocket and you're sure to write a different ending on your next trip.

If you're a seeker at heart and in search of seeing a wider, farther, closer or slightly wackier world or horizon, consider Lensbaby accessories. These SLR Lenses are pitch-perfect fits for Canon, Nikon, Sony, Pentax and Olympus 4/3 mount SLR cameras. Ring in the new year with some serious photo fun with Lensbaby's Scout ($250). Scout gives photographers and partygoers a hip and affordable option for Fisheye photography. The Fisheye Optic adds a lot of spunk to any photo and it offers a creative lens flare when pointed toward a bright light source and extreme close focus for a truly unique view of the world. It's a whole new world and a new year. It's time to capture it. Available in mounts for Canon EF (EOS), Nikon F, Sony Alpha A / Minolta Maxxum, Pentax K / Samsung GX / Sigma SD, Olympus 4/3 cameras.

Next time you want to tune out on the plane or on a busy city street or perhaps create a serene sliver at the gym, consider slipping on V-Moda's Crossfade LP2 Limited Edition Matte Black Metal Headphones ($199). This sleek ear ensem is the go-to for elite DJ's around the world. Their military grade quality gave them immediate street cred, and the unrivaled sound quality make them a must for modern music enthusiasts and CEOs alike.

Photojojo had me at cup of Joe with their Canon Camera Lens Coffee Mugs ($24 and $30). It's the perfect gift for your photo fanatic friends, loved ones or yourself. While you sip on that hot cup of camera, peruse the site and get your photo groove on. Be forewarned you will get greedy and will end up shopping a lot more for yourself than anyone else. Remember, it's the holidays: So, keep your eye on the prize -- and on capturing some camera savvy gifts for the image inspired. When you slip in to your Santa mode, you'll want to check out Photojojo's Wide Angle and Macro Lens Adapter. It's a mere $80 for a full kit suitable for any lens. The site fave is the Dreamy Diana Lens made for a Canon or Nikon lens and adapter for a wee steal at $60 . If you're a Hipstamatic at heart, this is the lens for you -- or for your friends and family of course. Before you go, be sure to strap on Photojojo's Camera Strap Buddy ($15). Okay, now you're ready to take a walk on the wild side.

It doesn't matter if I fly for two hours from LA to Mexico, a few more to New York or all the way across the pond to London town or down to South Africa for safari. The first thing I want to do when I get off any plane is scrub my face. (Among other things.) I feel like I am rocking every one's funk on my face and a simple rinse is never enough. Exfoliation must go down. If I'm without proper materials, I break in to the mini bar or gratis coffee service and use raw sugar to do an au natural exfoliation. Enter Clarisonic Mia Sonic Skin Cleansing System ($119), my face's new BFF. The Mia is Clarisonic's jazzy travel size version and it comes in an array of bright colors, sure to cheer up any weary traveler. It's cordless, compact and cleans your skin six times cleaner than your hands in a mere 60 seconds. Now you're ready for that close up.

If you like to give, get or simply express yourself through photos, then SmugMug Photography may be your one stop shop this holiday season. If you know your image-inspired, photo-fanatic friends or love bugs secretly want to have a big jazzy gallery showing of their own for their photos, but can't quite cover the rent, consider renting space for them in SmugMug's virtual gallery. Hit this discount link, where you will get $5 off the regular $20/month fee. If looking to buy photos on the site, all images can be made to order, packaged and sent as a gift as per your size, matting and mounting requests as all orders are individualized. It's a great gift. Here are a few of mine: A Show in Shanghai Shy Bedouin Girls in Jordan The Wildlife in South Africa A Sri Lankan Sunset An Elephant Orphanage in Asia The images are endless on the site, so explore your options. More importantly, the SmugMug Gallery setting is stunning. The Wall Street Journal calls SmugMug "elegant' and the Los Angeles Times says "best looking. Period." See for yourself.

Guys if you've ever dreamed of breezing through TSA with your hands in the air like you just don't care, now you can! State of the art SCOTTEVEST (SeV) Men's Puffer Jacket ($190) is just your winter ticket. This warm and lightweight jacket is geek chic at its very best with its 19 inner pockets: prime, covert real estate for your smartphones, iPods, iPads and passports. It's what Bond would wear in transit.

Thule is the go to bag for your jet-set adventure. The Thule brand is a long-standing Swedish company with a history in racks and carriers since 1942. Thule luggage launched in 2010 and has been storming ever since with Outside Magazine awarding it The Travel Gear of the Year. This winter, grab Thule's Crossover 87L Rolling Duffel ($299), a larger capacity bag for helmets, boots, gloves, jackets and all your winter essentials. If heading in another direction, grab Thule's Crossover 60L Upright Rolling/Detachable Race Pack ($319). This hybrid carry-on doubles as a backpack. If trekking in Chile by day, unzip your backpack for outdoor adventure then re-zip in transit. The unisex savvy bag has crushproof compartments and weighs in at a sleek 7.5 pounds.

If you think you know Columbia Sportswear, think again. You may want to re-educate yourself on all things Columbia related: This super smart line has several technologies attached to their apparel. From Insect Blocker with insect repellent integrated in to the clothing to Sun Protection technology, which blocks damaging UV Rays to Omni Heat and Omni Freeze keeping you warm or cool, it's simply a brilliant brand. This season's insanely cozy, comfortable and fierce Mountain Monster Mittens ($155), Bugaboo's Omni Heat Ski Socks ($35) and Women's 360 Heat w/ a half-zip ($80) is all the study you need to ace this winter freeze. So, if you want to look smart and travel-savvy this season or semester, go to Columbia.

Everyone knows that The North Face has long put out some serious action and adventure gear for both sides of the gender fence. What many may have missed is that they also have some amazingly great boots worth stepping in to and out in. The Briana boot ($195) is another great marriage where fashion and function coexist seamlessly. The Briana definitely packs a punch on the fashion front and manages to kick it in to high gear for tip-top function. This winter warrior is waterproof with Durable TNF Winter grip rubber outsole, guaranteed to keep you on solid ground while the soft fleece and brushed tricot lining is sure to provide cozy comfort to the tip of your toes.

This yogi-centric, top-of-the-line fitness brand makes head turning gear that is just the ticket in the gym and yoga studio, yet can effortlessly cross over and in to the chic city streets. Their accessories line is just as functional and fashion forward. So, this winter when stepping out, take a healthy stance by wrapping yourself in Lulu's Live Healthy Wrap ($128). The attention to detail and design is apparent in every inch of this piece. This is your go to for the season's casual urban adventures. Give your look that perfect fashion finish with Lulu's Allegro Scarf ($88). Lulu's fashions make you feel good on the inside and out, all year long. Ommmmm...

With the winter chill upon us, there's no better way to arrive around the fire après ski than in this IsIs for Women's Bella Hoodie ($189). The cozy hand warmer pockets, together with the soft boiled wool, make this simple stunner warm and wind resistant -- and subtly sumptuous in Jet Heather and Tidepool colors.

I'm a big fan of the hat no matter what the season or reason. Similar to many of my other accessories, I believe in good quality when it comes to belts, boots, bags and of course hats as they will last for several seasons if the quality is right. Top that off with a classic look and it can last a lifetime. When in winter, I try to top that good quality classic off with a wee bit of warmth. A Tilley is just that hat. Grab Tilley's Pub Cap ($79) and Aviator Hat ($125) are for any guy or gal on your gift list. They are your warm winter go-tos and they pack that punch on the fashion front. Don't stop there as this line has endless cross-over appeal for both sexes with year-round options. So, whether it's ski, surf, sun, sand or safari, Tilley's got you covered.

Sierra Designs is a super sporty line with one of the best rain ponchos in the business, in black, of course, my travel color of choice. Their Microlight Women's Pant ($32) was what won me over as it was my spring, summer and fall go-to this past year. Their pants got me through the Amazon to Wales to Banff and back. This winter head in a different direction with Sierra Designs Gnar Skirt ($99). It's an insulated mini ski skirt with just the perfect pop of color to wear once you've taken your final spin on the slopes. Be prepared to turn heads.

Mountain Hardwear is a high performance outerwear with just the right kick and twist in their line. Their insulated Citilicious coat ($275) is yet another innovative offer, a sexy ski stunner with a light and lofty layer of warmth with its 650-fill goose down and hand warmer pockets. This sleek coat in Jewel, Nebiola and Black can take you straight from the slopes to the chic city streets. We'll meet you at the bar. No skis please!

For those that are in it to win it and can't stop to smell the roses, let alone refuel their fluids, Ultimate Directions Diablo Sport Vest ($66) is just the ticket for the finish. Diablo fits like a garment, yet it's more than a pretty face with its 96 oz. reservoir and a 20 oz. kicker bottle. With all this liquid ammo, baby, you were born to run.

This is the perfect gift for those that gallop the globe in search of the next great grape. TastingRoom.com is a brilliant site for any and all eno enthusiasts as it celebrates blends, specific wineries and many a famous wine region, both globally and domestically. Whether those on your list travel the world, wished they did or simply live to explore the celebrated vines, this is a great gift. The best part is that they sell perfectly packaged wine samplers, a lovely box of six, 50 ml bottles. If you or they ever wanted to play the vino field, consider A Taste Adventure - Tour of New Zealand ($28). Other tours are available in Italy and Spain. If you're looking for gifts specifically Made In The USA this season, as many are, explore the great domestic regions: A Tour of Santa Barbara, A Tour of Washington State and of course our very own iconic wine, Napa Reds 3 ($38). If looking for a celebrity stamp in your tasting, bring in Batali as a personalized on-the-spot sommelier. Opt for the Mario Batali Selection - A Wine Lovers Road Trip, which brings it all full circle: the travel, the sport and the adventures all achieved through technical means at your very own virtual cellar. Now that's something to cheer about. Now tip back, relax and enjoy those wines while you finish that list... Cheers!
Follow Karen Loftus on Twitter: www.twitter.com/LAKarenLoftus