Although we weren't in store yet, we had a launch planned for some of my fave bloggers (bloggesses as I call them because they are like the lionesses - they rule the jungle online).
While I wanted to postpone the event - and do it when we had actual product in actual stores - but I couldn't because all of the venues I booked would have charged us... and it was just too much to change.
Speaking of event, it wasn't cheap but it wasn't as expensive as it sounded. I was on a budget and did everything I could to get things at good deals - got the video cameras that we gave to the girls to capture the moment half off (phew!); we printed the stickers for the cameras at home and stuck them in my living room; I was able to negotiate good prices for the space we used; the vodka was (thankfully) donated; our food was from Dean & Deluca and their platters are not that costly (far cheaper than doing full on catering from someone fabulous, which I wanted to do but couldn't afford); the bus we had to schlep us all from place to place was one of the largest expenses at $600 or so (still not too terrible).
So all said and done, we were under 10k for a mega party. Not bad considering that most brands spend 10 times that. But let me say - for the record - I'm STILL paying it off on the credit card!
Anyway, here is the story of our event - it was sick, sick, sick and out of control fun! After you watch the video, I am going to attach a new video that shows the event and the girls who came to play with us. Love them all!
Here's the 411:
Part of the event was at one of the best spots in NYC for an intimate soiree - it's called Meet - and it's in Soho! They rock. The wallpaper - I die. It looks like foral prints and it is - but up close, it's naked undulating bodies. The secret to wallpaper is doing the ceiling too - it creates such a sexy enclave.
Our Lychee martinis were from U'Luvka voda - such a luxury vodka brand and the mixologist behind it, Colin, is a gem - sexy, bald, British accent, sharp bespoke suits. His wife is a model - of course.
Meet Colin!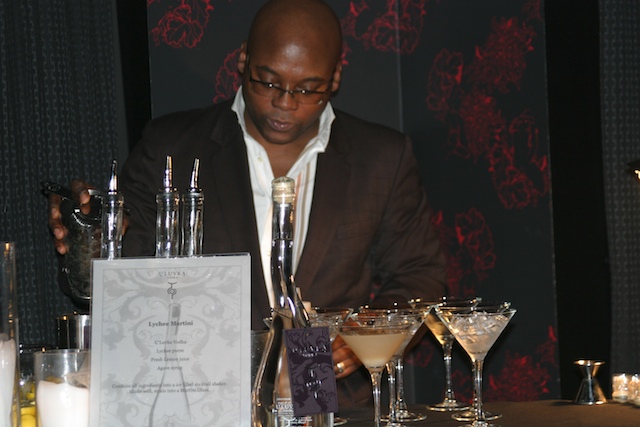 More of our faves...
We got on the pole at Sfactor - I talk about this place all the time and don't expect me to stop any time soon! The best thing that ever happened to my body and life (aside from my hubby!).
Our trip to Christian Louboutin - I die. I drool. I covet. I cannot afford!
Loving shoes here!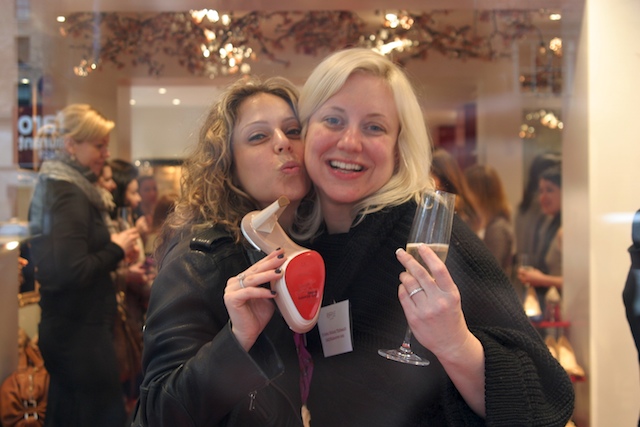 Felicia Sullivan, one fab bloggess, won a $700 gift certificate (almost one full pair!) after a kiss off raffle. Everyone, as she tweeted, that day was "hating on her" for it! She wound up getting purple shoes, which I am taking as a tribute to Purple Lab (though it's not - it's her favorite color! But still!).
For more of the yummy deets, check out the next vlog!
Karen
Purple Lab Creatrix

Follow Karen Robinovitz on Twitter: www.twitter.com/karenrobinovitz