When I named Purple Lab's first product, Huge Lips Skinny Hips, I knew it could potentially be a tad bit controversial.
I mean, it's funny. It's cheeky. It's sassy.
But there are always going to be naysayers out there who will think that I'm perpetuating media-generated images of women as cartoons with unrealistic pillowy lips and unnaturally skinny hips.
I say bring those comments on.
I'm not afraid of them because I know how to reply to them.
It is not at all what the brand or message of the lip plumping gloss is about. I have never met a woman who hasn't thought about her thighs or who hasn't second guessed a third helping of dessert. And this is what the gloss is about - a chic reminder to be healthy, mindful, conscious of what and how you eat.
I think we should all embrace dessert, but maybe it's not so good to double fist cupcakes when you're full. Just saying. Even if they're from Magnolia Bakery.
Huge Lips Skinny Hips is the glam way of tying a string around your finger to remember to do something good for yourself and besides, when you're lips are full and succulent, the color is perfection, the sweet taste of the gloss tickles your tongue, you may not want to overindulge on those dangerously triggering carbs.
That is why we have a shade called Love Your Thighs, a lovely, exotic coral. We're sold out at the moment but it should be coming back by the spring/summer!
It comes with a note of affirmations about loving your thighs, embracing your body, like the European women on the beaches of South of France, who, no matter what they look like, have not a single hang up about their figures and project a sense of confidence that is more desirable than Barbie.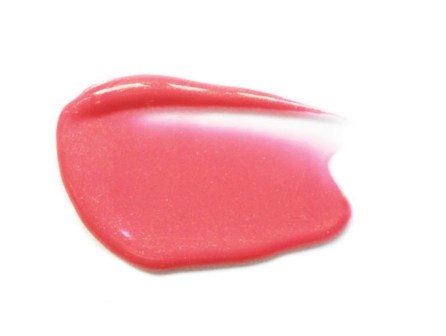 That leads me to the day I donned a fat suit with a dozen blogger friends.
Yes, that's Sharon Hirsch, our PR Director, and me.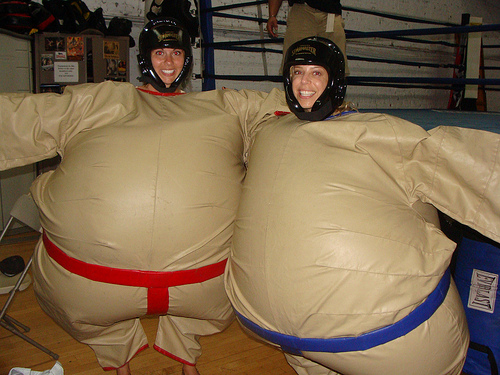 In honor of the spirit of embracing your thighs, we got together wtih Felicia Sullivan, Kristin Booker, Nancy Ti, Michelle Joni Lapidus, Dee Nuncio (our very own "social media chanteuse"), and Amy Palmer got down and dirty... in sumo suits!
At Church Street Boxing, a sweat-infested testosterone den (single girls - go!), we rumbled in the ring. My husband, Todd, was the ref (striped T-shirt and all). How cute is he?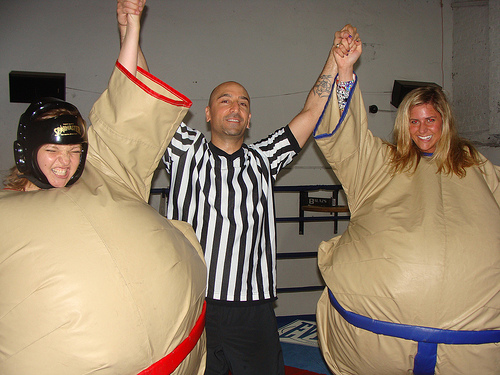 Although the suits were kind of stinky, it was fighting at its finest... and we even had a "round boy" who you will die over.
Check it out!
There is a short, greatest hits, version on our YouTube channel too!
So your mission, should you choose to accept it, is to love your thighs!
Mwah!
Karen
Purple Lab Creatrix

Follow Karen Robinovitz on Twitter: www.twitter.com/karenrobinovitz