Friday noon's Purple Lab was an amazing HSN show. I felt like I was getting my groove except for the ear piece (my Jack Bauer), which was bothering me so much that the inside of my ear canal started to swell. Luckily, the adrenalin rush of being on air is nature's natural healer.
I donned a green Lanvin party dress with a big bow at the bum along with purple patent leather six-inch heels.
See the products on stands in front of me in the photo above? As we move from product to product, while the camera is focusing on the models, someone rushes in and switches them out.
And this is so funny. Amy Morrison, the host I was with (Love her! It was our second show together so it was really comfortable.), was doing a show right before ours. The second that show ended, she hops in a wheel chair and someone rushes her over to our studio, which is on the end of the building (probably one to two city blocks long).
As the shows went on, we realized that the pre-produced before/after shots could be better. The reason - the models were pretty close to perfect before.
But apparently, I'm far from perfect!
After a good look at me in the morning without makeup, the producers asked if I'd be willing to be the before/after girl. My dark circles and bags (more like luggage) under my eyes were THAT BAD!
This is the pre-produced before and after. There is definitely a difference under her eyes. Before, they look kind of tired, closed, and the bags are there. But my "problemed area" is clearly worse!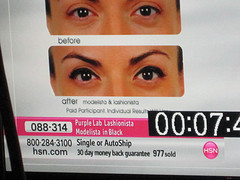 She is also wearing Lashionista Modelista in the after. It rocks on her, I have to say!
It was hosted by Colleen Lopez, who my mother lovingly deems the "Oprah of HSN" (she even has her own show of her favorite things - the woman has a way with words like no one else).
I wore a textured, shimmery, flirty black and green Rodarte dress with a bow belt (J. Lo wore a similar one in copper). My brother said I looked like I was on Star Trek.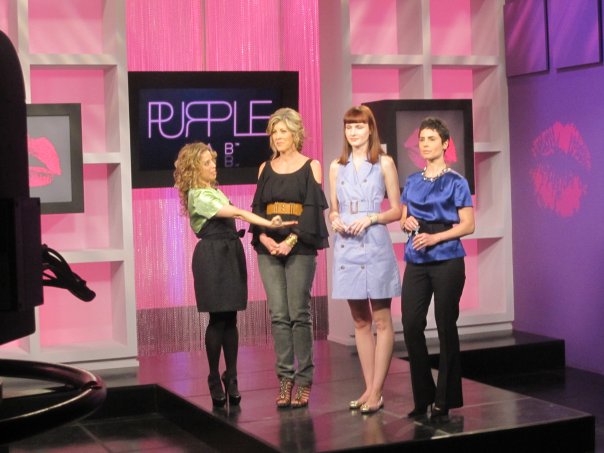 Colleen did something brilliant during this show.
As she was showing the foundation, which, by the way, she used on her arms, she slathered it on her hands and showed how it smoothed out the appearance of her skin. No veins showing. No fine lines. No dryness.
The minute it happened, I saw Todd jumping up and down in the back of the set, throwing his arm in the air like he just won the marathon.
Apparently, the phones were ringing like the symphony and the foundation was selling like mad. This is what the screen I'm not supposed to look at shows. Note: I didn't look. Todd snapped this pic.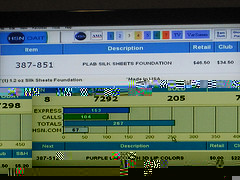 I wanted to crash but the 2a.m. show was six hours away.
SUBSCRIBE TO & FOLLOW LIFESTYLE
HuffPost Lifestyle is a daily newsletter that will make you happier and healthier — one email at a time. Learn more