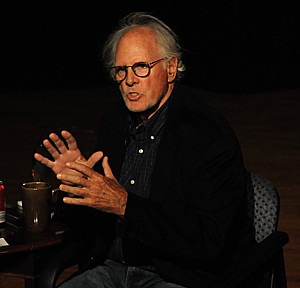 © 2011 Karen Rubin/news-photos-features.com
Bruce Dern, the first recipient of the "Legend Award" at the first annual Gold Coast International Film Festival, in North Hempstead, Long Island, June 1, 2011, tells story of his life in stories to an intimate audience.
For an hour, the stories flowed from actor Bruce Dern -- melodiously, his body, face and gestures subtly taking on the persona of the people who have entered and exited his life, and sometimes, the voices, too.
The kick-off event for the first annual Gold Coast International Film Festival, billed as a "Conversation with Bruce Dern," began with a red carpet walk into the Landmark on Main Street, a school that has been transformed into a cultural center, in historic Port Washington in the Town of North Hempstead, Long Island.
The occasion also was to honor Dern as the recipient of the festival's first Legend award to honor his long and diverse career from exploitation sets to the Academy Awards. As it happened, June 1 was also his birthday.
He regaled the audience with stories that spoke of his start at The Actors Studio, the Academy founded in 1947 by Elia Kazan and Lee Strasburg, where for the first three years he wasn't allowed to do dialogue but only learn the "behavior" of acting, and then became one of five of Kazan's protégés (Rip Torn and Lee Remick were others); of Alfred Hitchcock, Marilyn Monroe, Jack Nicholson, and so many more; how Hollywood often turns against its own, and the story behind the fact that he is the only person who ever actually killed off John Wayne in a movie (see slideshow).
We learned what a "Dernsy" is: the ad-libbed, flash of inspiration or unexpected twist he added to his performances.
Most were surprised to learn of his family background, in Chicago where his family owned the major department store, that his godfather was none other than Adlai Stevenson, how he was a track star, an Olympic hopeful, in fact, and that his family's chauffeur, Lenox, would often be the only one to come to watch him at games. His family was not too happy with his chosen profession, actor.
But that led to the best story of the night, when he spoke of returning to Chicago for the opening of the Robert Redford's remake of The Great Gatsby, F Scott Fitzgerald's novel of the Jazz Age written when the novelist was living in Great Neck, Long Island. Dern was in a hotel suite being interviewed by Siskel & Ebert, when Lenox, in full livery, came to the door.
Lenox said he was now working for a wealthy dowager, Ginerva King, who wanted to invite him to "tea." She served him cocoa, remembering that was his favorite as a boy, and he invited her to be his "date" for the opening of The Great Gatsby.
Oh no, she couldn't come, she said, and went on to tell him that when she was a girl at college, she brought home a young man. Her father took him aside and grilled him as to what he did and what his intentions were. the young man said that he worked as a secretary to H. L. Mencken and was a writer who occasionally got published in places like The Saturday Evening Post. The father made the young man swear that he would never see his daughter again.
Two years later, the young man sent her a letter, which she took out and showed to Dern, with the envelope. The return address said "Great Neck, Long Island" and it was signed F. Scott Fitzgerald.
"You see," she told Dern, "I'm the prototype for Daisy Buchanan."
The evening provided the rarest of opportunities for an intimate encounter with the actor, and Dern is a remarkable storyteller.
The evening opened with a film clip from Dern's latest film, and congratulatory remarks from the director, Francis Ford Coppola.
And because it was Bruce Dern's birthday, there was cake.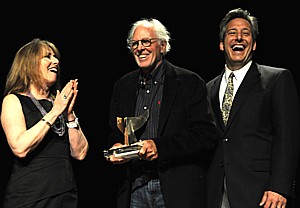 © 2011 Karen Rubin/news-photos-features.com
Actor Bruce Dern receives "Legend Award" at the Gold Coast International Film Festival from festival founder Regina Gil and North Hempstead Supervisor Jon Kaiman.
"An Evening of Conversation with Bruce Dern," was the opening for the first annual Gold Coast International Film Festival featuring some 40 films including premieres of movies, such as Chasing Madoff, plus special events such as intimate Q&As with notable filmmakers and "tastemakers"; Insider Industry Panels highlighting various aspects of the film and media industries; and special screenings and workshops.
To a great extent, the festival also showcases the Town of North Hempstead and the North Shore -- the Gold Coast -- of Long Island -- its great homes, colleges, cultural centers which have been locations for films, as well as the location for a burgeoning film industry, such as Gold Coast Studios, and Silvercup Studios.
To obtain schedules and order tickets visit www.goldcoastfilmfestival.org.
Karen Rubin
________________________________
© 2011 News & Photo Features Syndicate, a division of Workstyles, Inc. All rights reserved. For editorial feature and photo information, go to www.news-photos-features.com or email krubin723@aol.com.
SUBSCRIBE TO & FOLLOW THE MORNING EMAIL
Start your workday the right way with the news that matters most. Learn more