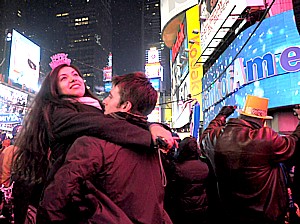 © 2011 Karen Rubin/news-photos-features.com
One million people crammed New York City's Times Square for New Year's Eve and the famous drop of the crystal ball - the world's biggest - from atop One Times Square building.
Gathering from early afternoon, the dazzling lights, neon colors, massive dynamic photos from gigantic billboards add to the energy.
For 106 years, Times Square has been the center of worldwide attention on New Year's Eve, ever since the owners of One Times Square began in 1904 to conduct rooftop celebrations to greet the New Year. The first Ball Lowering celebration occurred in 1907, and this tradition is now a universal symbol of welcoming the New Year.
The assembled minions are a cross section of the mass of humanity - not too many fat cats among the hoi polloi in these crowds.
It is a marathon that tests endurance - literally standing in one place for 8 or more hours, no access to a bathroom, and little access to food, except for the entrepreneurial Domino's Pizza delivery girl who came into the crowd to sell pizzas. A few resented the $20 pricetag; I admired her pluck. (I cleverly brought New York-style pretzels and granola bars).
Through much of the day, there is entertainment, but the scantest few of the million actually have a view of the stage - if they are lucky, they can see the show on screens.
The entertainment was great - Backstreet Boys & New Kids On The Block, Taio Cruz, the Broadway Cast of "American Idiot" - but the MCs, and the constant commercial promotion of Nivea (okay, they sponsored the hats and balloons) and the lame kiss contest, were a downer. You would think that with an audience of 1 billion people worldwide, they could get a more dynamic host.
My new "best friends" were a group of young people from Seattle who brought great energy but also irreverence, and every time the MC (whose name we never could figure out), came to the stage, they chanted "Lug, Lug, Lug" - because his first speech he seemed to misspeak "Lug" for possibly "love" but we never could figure it out.
They even chanted during an actual wedding that was held right in the middle of Times Square. the lucky couple, Marine Corps reservists Bethany & Geoffrey, were selected from 2,000 submissions by Get Married Media.The couple met each other while each was serving in Iraq. The way it came off, though, seemed altogether too commercial, also.
Throughout the evening, Nivea had brought couples up to practice a kiss; then at the end, there was a Kiss-Off, with the winning couple selected.
Nivea had a bonus when a fellow actually proposed.
This year, for the first time, the Times Square Alliance< which puts on the New Year's Eve event, chose a charity to sponsor: Stand Up To Cancer. MasterCard Worldwide said it would match $1 for $1 charges up to $1.5 million, to support efforts to find a cure for cancer. The revelers hardly wanted to be reminded about a disease that affects just about every one of us, in some way.
Your mind flows as you are waiting and waiting. Gazing up at the massive, dynamic billboards that have replaced the ones of old (the most technologically innovative was the smoking Camel billboard), hawking the latest technology that has made last year's gizmos archaic and obsolete, and hearing the critiques of the people at every performer, I began to think about what tradition means these days.
The ball drop at Times Square is a century-old tradition, but people no longer revere or even respect tradition. They want and embrace what is new. There were strong criticisms about the "old people's music"; even John Lennon's "Imagine" seemed to have less ability to stir heart strings.
The crowds come today not because it is tradition, but because it is still an amazing and unique experience.
The last 1 1/2 hours was actually the homestretch, and the crowd actually increased, so that you almost felt smothered under the crush. My clear view of the ball was erased by tall people jammed up in front of me - but this one couple was extremely kind and moved away so I could at least get my shots.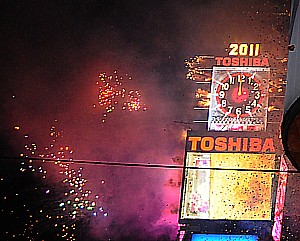 © 2011 Karen Rubin/news-photos-features.com
From where we stand, the ball seems small (an interloper who finally talked his way into the area, complained). But actually the Ball is a geodesic sphere, twelve feet in diameter, weighing 11,875 pounds, covered with 2,688 Waterford crystal triangles and lit by 32,256 Philips Luxeon Rebel LEDs. The lighted Ball descends 70 feet in sixty seconds.
Then the world-famous New Year's Eve confetti was released from the rooftops of buildings throughout Times Square creating a celebratory blizzard of colorful confetti as revelers welcome the New Year accompanied by colorful pyrotechnic effects.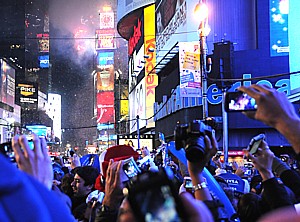 © 2011 Karen Rubin/news-photos-features.com
The New York City Police Department does an amazing job in organizing people, and doing it in a pleasant and courteous way - though you rapidly realize that areas are closed off very early in the day. (If you go next year, check the website for schedule and instructions; don't drink before you come, and take a little food and a bottle of water with you; dress in layers and don't take a backpack.)
The most remarkable thing about New York and New Yorkers and all the world's gathering is how nice people are in such situations. The only sour word came at the very end when people were being pushed as others tried to press in for a view of the ball. It is remarkable how cheery and good-natured and kind people are.
That's the best part of greeting the new year in Times Square - it gives you hope.
It is something you should do once in a lifetime. Just once.
See slideshow

SUBSCRIBE TO & FOLLOW LIFESTYLE
We're basically your best friend… with better taste. Learn more