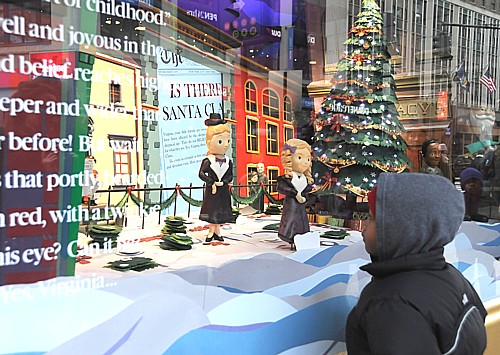 The most marvelous way to experience the Holidays in New York, is just to walk around, and take it all in -- from the enchanting animated windows in department stores, to the ice skaters at Rockefeller Center, Bryant Park and Central Park. Buy hot chestnuts from a street vendor, take in a holiday market, rest body and soul at a choral concert at Saint Thomas Church.
The City veritably twinkles with holiday spirit, particularly as its famed stores and iconic hotels strive to outdo the previous year's celebration. Bloomingdale's, Bergdorf Goodman, Barneys, Saks Fifth Avenue, Lord & Taylor and Macy's spruce up their window displays with beautiful holiday-themed decor that awes visitors year after year.
Start your walking tour at 34th Street and Herald Square, home to Macy's, where moving displays on 34th Street retell the story of "Miracle on 34th Street" and continues to exact sheer delight from kids.
Move around the corner and the windows tell the compelling story of "Yes Virginia, There is a Santa Claus," based on a letter from an 8-year old Virginia O'Hanlon, who was skeptical, to "The Sun" (at the time, the authority on "truth") and the reply, in an editorial by Francis Pharcellus Church, published Sept. 21, 1897.
"Yes, Virginia, there is a Santa Claus. He exists as certainly as love and generosity and devotion exist, and you know that they abound and give to your life its highest beauty and joy... No Santa Claus! Thank God! he lives, and he lives forever. A thousand years from now, Virginia, nay, ten times ten thousand years from now, he will continue to make glad the heart of childhood."
The story is told with such stirring commentary (narration and music), it actually does the best in conveying the underlying spirit and meaning of Christmas. "He exists as certainly as Each window is a different scene -- the "curtain" comes up and down, and the displays move. I went back for a second visit.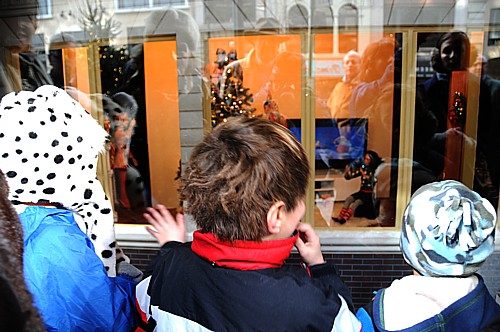 Then, walk up and east to Manhattan's famous 5th Avenue, to Lord & Taylor between 38th-39th Streets. The displays here are simply fantastic, for their art and detail, but the messages will make you nostalgic. Each of the changing scenes-within-scenes depict a memory of Christmas from ordinary people, so instead of Christmas endlessly stuck in the 19th century, the timeframe is more mid-20th Century, such as "Our Gingerbread House" by Nicolaus Ferrara of Somer, NY, climaxing with fond memories of "Ho Ho Ho" from Santa Claus, North Pole.
Stop at the 42nd Street Library -- there are always fascinating free exhibits inside; Bryant Park (on 6th Avenue) has become a winter wonderland for ice skating, a cafe, and one of New York's holiday markets. (Indoor and outdoor holiday markets are also at Columbus Circle, Union Square and Grand Central Terminal.)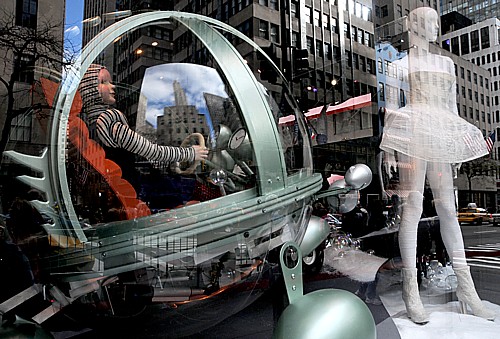 Continue walking up Fifth Avenue and you will come to the famous Saks Fifth Avenue. This year's windows put fashion into fantastical settings. Saks is across the street from Rockefeller Center, which is your next stop, to marvel at the scene of angels lining the way to New York's most celebrated Christmas tree (rockefellercenter.com).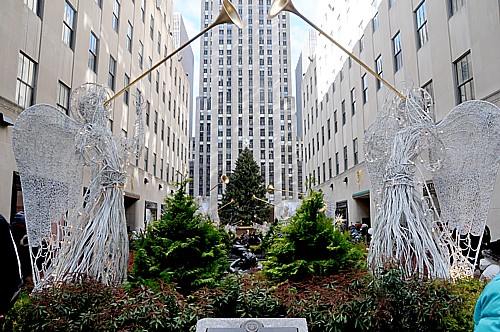 Just diagonally across the street is St. Patrick's Cathedral, a magnificent and awesome edifice.
My personal favorite church, though, is Saint Thomas Church, on 53rd Street. It is a Victorian Gothic architectural gem completed in 1913, but also particularly welcoming and ecumenical in its message, and if you are lucky, you will time it to come when there is a choral concert (most are free). Its annual performance of Handel's Messiah is exquisite (tickets required, www.saintthomaschurch.org).
There are lovely decorations here -- Henri Bendel, at 56th has stunning windows, Van Clef & Arpels has music and moving displays in its windows, the entire Cartier's Building is gift-wrapped, Tiffany's Continuing on and you come to Bergdorf Goodman's which again are absolutely stunning and dramatic (there is even a scancode to view the making of the holiday windows).
Now you are at the corner of 59th and Fifth Avenue -- on one side is the gorgeous Plaza Hotel (splurge on tea in the lobby cafe), diagonally across is the iconic toy store, FAO Schwarz and just beyond, Central Park, where hansom cabs are lined up to take you for a ride.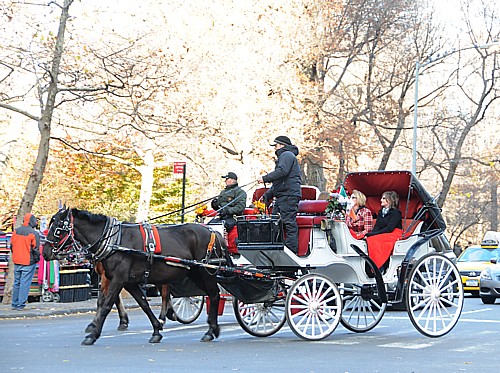 Stroll into Central Park -- my favorite place is the Mall and Literary Walk of Literary Giants, between 66 and 72 -- sculptures of Shakespeare, Sir Walter Scott and Burns. At the end, you come to the 72nd Street overlook to the famous fountain. Returning toward 59th street, you will enjoy Wolman's ice skating rink.
Wind up your walk, as we did, at Jekyll & Hyde, which is more than a themed restaurant, it is total entertainment and marvelous fun (okay the food won't win awards and is overpriced -- the cheapest burger is $16.95 and there is an entertainment charge of $2.95 - but still worth it). Other fun places are Mars 2112 (at 6th & 51st) and Hard Rock Cafe (59th St.).
Read more http://www.examiner.com/eclectic-traveler-in-long-island/holidays-new-york
______________
© 2010 Travel Features Syndicate, a division of Workstyles, Inc. All rights reserved. Visit www.examiner.com/eclectic-traveler-in-long-island/karen-rubin or www.travelwritersmagazine.com/TravelFeaturesSyndicate. Send comments or questions to FamTravLtr@aol.com. Blogging at goingplacesnearandfar.wordpress.com.