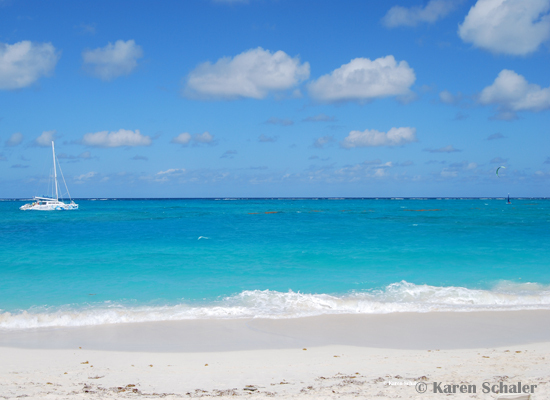 Finally, one of my favorite areas of the Caribbean is getting easier to get to, thanks to JetBlue and Continental Airlines starting up new non-stop flights to Providenciales, Turks & Caicos, from JFK, Newark and Boston airports. Now you can leave the east coast in the morning and be on the beach in Turks & Caicos in time for lunch. You have to love that!
*** SEE SLIDESHOW BELOW***
I hopped on one of JetBlue's new, quick flights to check out some vacation ideas for the ABC travel show I host. I picked three top resorts to stay at and highlight because they're all offering new and exciting ways to have fun in the sun.
All three properties are on Grace Bay Beach, a long peaceful stretch of sugar white baby soft sand that's consistently rated by travel writers, visitors and travel agents as one of the most beautiful beaches in the world. There is something magical about this beach and I never can get over the color of the water that's an intoxicating mix of turquoise, sea foam green and cobalt blue.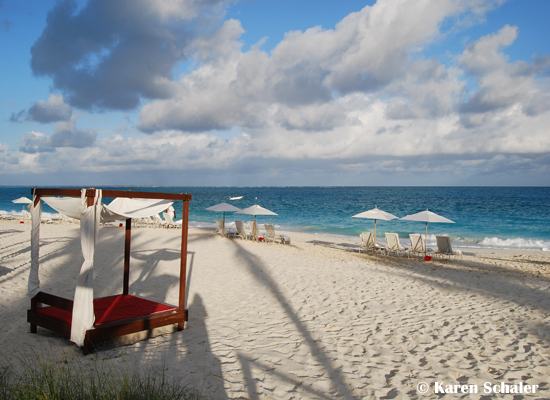 One of the superstars on the beach is the award-winning Grace Bay Club, the original luxury resort in Turks and Caicos that opened in the early 1990's. Grace Bay Club has continued to stay on top of its game, impressing with new accommodations and dining options. What I like about this property is whether you're traveling as a couple or a family you can customize your vacation experience right down to your own private picnic on the beach.
At Grace Bay Club they now have 82 suites in three different buildings. The Hotel, the original property, is ideal for couples featuring one and two bedroom suites with their own private balconies and adult only amenities including a pool, restaurant, bar and lounge. For families, The Villas have spacious suites starting at 2,300 square feet and for the ultimate pampering try The Estate where you have your own private check-in area, private pool area, restaurant and bar. Catering to discriminating guests, at The Estate you stay in one of the 22-custom designed suites with the 3,600 square foot Penthouse rooms being the ultimate pick.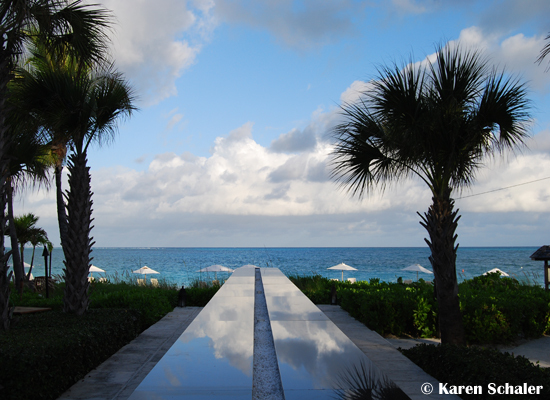 Grace Bay Club also has a petite spa to help you relax and if you're looking for a little liquid relief this is where you'll find one of the coolest new bars in the Caribbean. The stunning 90 foot Infiniti Bar that seems to stretch right into the water. Order one of the island inspired martinis and toast the sunset in style. Also be sure to check out The Lounge, right next to the bar, with Caribbean inspired tapas and tropical cocktails.
Grace Bay's romantic Anaconda gourmet seafood restaurant, right next to the beach, is another must try. Chef Wolfgang von Wieser has just introduced a new menu with standouts including the Mahi Mahi Carpaccio, the Grace Bay Seafood Paella and a decadent five-course lobster tasting menu.
If you're looking for a luxury all-inclusive resort option Grace Bay has just opened a sister property, The Veranda, that's also on the beach. My pick for where to stay here is in one of the beachfront cottages where you're just steps from the water.
Just down the beach from Grace Bay Club is another one of my favorite top-rated properties, The Regent Palms.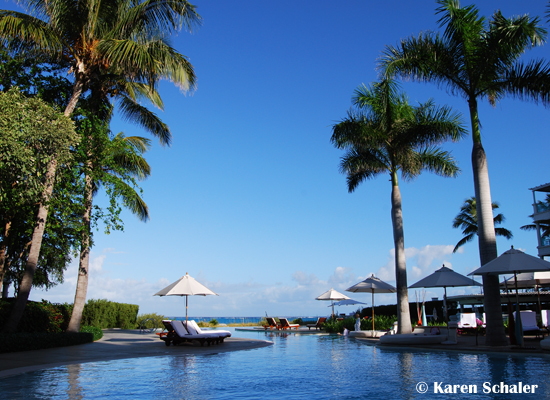 At the Regent Palms you'll find 72 spacious suites, all non-smoking with most offering stunning views of the Caribbean. The vibe here is laid back luxury. Highlights include a gracious, friendly staff, a stunning $1.8 million serpentine infinity pool and an award-winning restaurant and spa.
Talk about the best of the best all in one place!
I would fly all the way to Turks & Caicos just for this spa. The Regent Spa covers more than 25,000 square feet and is one of the most beautiful spas on the island with stand-alone treatment rooms and a decorative, soothing infinity pool that's lit by dozens of candles at night.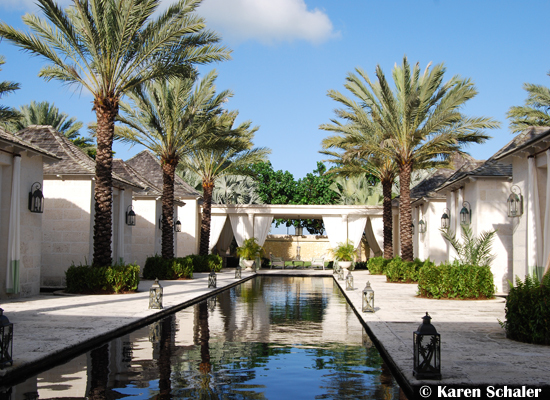 I had Earl as my therapist and he worked magic on my stressed out body, customizing a treatment for me that included a massage, facial and reflexology. Signature treatments I also had my eye on included the Mother of Pearl Body Exfoliation and the Zareeba, a unique indigenous detoxification island treatment where you go through your own herbal steam and cleansing ritual.
If you're looking for that ultimate dining experience, combining impeccable service with mouthwatering fresh seafood and creative cuisine, don't miss trying the Regent Palm's Parallel 23, one of the top rated restaurants on the island, a favorite with guests and locals alike.
At Parallel 23, charismatic Chef Eric Vernice is known for his decadent lobster dishes and his Caramelized Butternut Squash Ravioli. For a starter you can't beat the Parallel Yellow Fin Tuna and for a main course the Grilled Fresh Caicos Grouper served with a Morel Mushrooms Risotto and a Chardonnay, Chives and Shallots cream infusion is beyond heavenly. This is also the place to indulge in a little vino therapy because food and beverage manager Jean Sebastien Richer knows exactly how to pair the perfect wine with your meal and your mood.
What I really appreciate about both Grace Bay Club and the Regent Palms is that a full breakfast is included with your stay and non-motorized water sports like windsurfing, sailing and kayaking are also complimentary.
If you're looking for a resort that celebrates families no one does "family friendly" like Beaches Turks & Caicos Resort Villages and Spa. I can honestly say I've never seen so many smiling, truly happy children! This property is like a Caribbean Disneyland, a fantasy come true for children and their parents.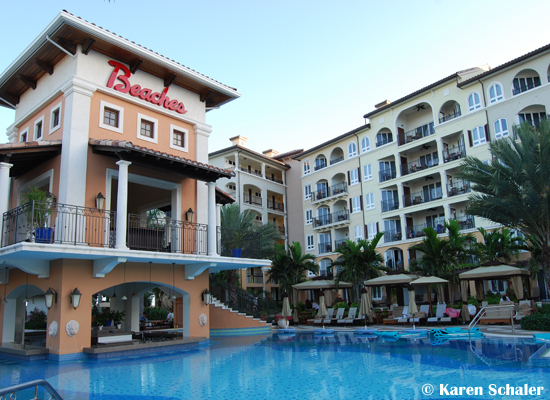 Beaches, by Sandals, covers more than 65 acres, broken into three "villages". The new Italian Village, The French Village and the Caribbean Village. Each has their own special feel and accommodations. The largest resort in Turks and Caicos, Beaches has more than 600 rooms, 16 restaurants and 7 swimming pools.
As impressive as the stats are at this all-inclusive resort, what really makes a difference at this property is how the staff treats guests of all ages, as if they're part of one big family. Since there's a strict no tipping policy you know the staff is genuinely trying to make your stay special not just trying to score a good tip.
Highlights at Beaches include the Sesame Street Parade every Tuesday at 7pm and breakfast with the characters on Mondays and Thursdays at 8am. There are activities at Camp Sesame every single day where parents, for free, can drop off their children, from babies to teens, and know their kids are going to have an amazing time.
Another popular new attraction is the Pirates Island Waterpark where you can do everything from learn to surf, with a special wave machine, cool off on one of the water slides or kick back inner-tubing down the Lazy River.
When it comes to deciding where to eat with 16 restaurants it can be a little overwhelming but be sure to try the fresh tuna or jerk chicken that's grilled right in front of you down by the beach at the Caribbean Village. Go to Bobby D's, a 50's style diner, for hamburgers, hot dogs and macaroni and cheese, try Scooners Restaurant, overlooking Grace Bay Beach, for fabulous seafood options and feast like the French at the adult-only Le Petit Chateau where the escargot is a gourmet favorite.
If you need a little relaxing time, the Red Lane Spa has Aerobics, Yoga and Pilates. I tried the West Indies massage with therapist Karen and I swear she worked out knots I didn't even know I had. It was truly transforming.
No matter where you decided to stay on Turks & Caicos make sure to leave your resort at least once so you can experience a true taste of the island. One local favorite hangout is Somewhere Café & Lounge at Coral Garden Resort, a top snorkeling hot stop on the island.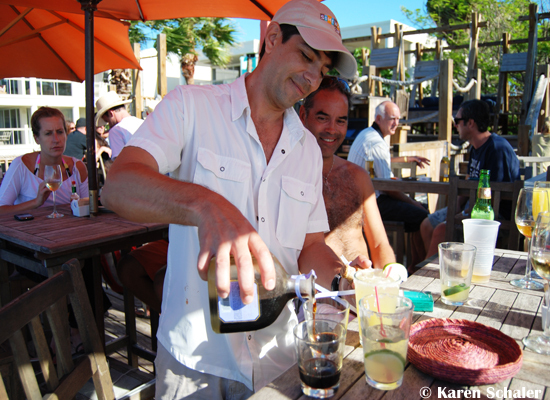 At this hip and laid-back hangout, you can sit by the beach or on the second floor balcony overlooking the Caribbean. The views here are fantastic and so is the Tex-Mex food featuring awesome guacamole, fish tacos and the best margarita I've ever had in the Caribbean. The key lime pie is also worth the calories and the prices are affordable, a win-win all the way around.
Another favorite of mine is the ultra casual Conch Shack where you'll find picnic tables right on the beach. I love how the staff goes right out into the water to get you fresh conch for the famed Conch Salad, Crack Conch (fried), and Creole Conch.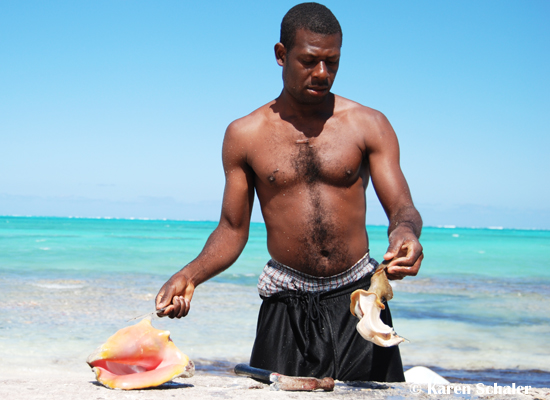 Then you get to watch the guys as they pull the conch from the shell and slice it up fresh for the waiting kitchen staff. Don't miss the famed $6 rum punch made with three different kinds of rum, pineapple and orange juice and a dash of grenadine. This is the perfect place toast another idyllic day in paradise.
Stay tuned for more on the Best of Turks & Caicos. Coming up, I'll be posting the TV spotlight piece I shot for our ABC travel show.
10 Reasons to Visit Turks & Caicos NOW