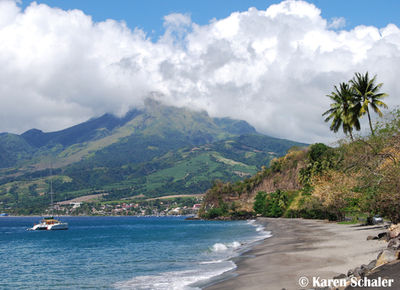 Martinique, a Caribbean island with a French flair, offers much more than just beautiful beaches. When I first heard about all the unique things you can do on Martinique, from hiking an active volcano, exploring botanical gardens and rainforests, to discovering quaint fishing village and feasting on mouth-watering French Creole cuisine, I knew it was the perfect place to profile for the ABC travel show I host, Travel Now.
On Travel Now, in our special travel spotlight pieces, we take you off the beaten path to show you destinations that might not normally be on your radar. These unique travel TV spotlights give you an intimate insider look into everything from the culture to the cuisine.
In this era where media and on-air talent is now "doing it all" as a freelancer for ABC I actually shoot and produce the travel segments myself and that allows me to travel all over the world and bring back the very best for our ABC travel show that I also host.
For more of our travel segments on ABC you can go to www.abcnews.com/travel
I hope you enjoy this look at the best of Martinique!
I'd love to hear about your favorite places and things to do on Martinique and other destinations you'd like to see profiled coming up! Just leave a comment below.
For more on Martinique visit: www.martinique.org
Follow ABC travel shows & the Travel Therapy journey on Twitter at www.twitter.com/traveltherapy
Karen Schaler is an Emmy award-winning TV correspondent and the author of Travel Therapy: Where Do You Need to Go?, and editor of www.traveltherapytrips.com helping people pick the right vacation based on what they're going through in life.