To celebrate that the London Olympics are now only a year away, most of Team USA: Britain Bound, a group of American athletes partnered with British tourism leaders to promote travel, gathered Tuesday at New York's Lincoln Center.
The athletes taking part in the Britain Bound program are Nastia Liukin (2008 Olympic gymnastics all-round champion), Bryan Clay (2008 Olympic decathlon champion), Jeremy Campbell (2008 Paralympic discus and pentathlon champion), Henry Cejudo (2008 Olympic wrestling champion), Allison Jones (2008 Paralympic cycling silver medalist and 2006 Paralympic skiing champion), Heather Mitts (2008 and 2004 Olympic Soccer champion) and Rebecca Soni (2008 Olympic swimming champion).
A personal highlight for me was getting to spend time talking with Liukin. I was a gymnast growing up - nowhere nears as talented as Liukin mind you - and I've always admired the physical and mental strength is takes to succeed in this demanding sport. I've cheered Liukin on throughout her career.
Liukin says she's really looking forward to visiting the Olympic venues and taking in some famous sites.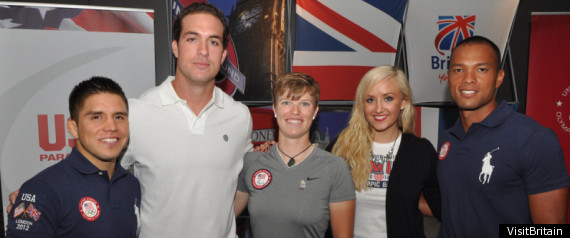 "We're so excited to get to know the host country in a new light and to share all of our adventures with everyone back here in the US," said Liukin.
Liukin also shared with me her hopes to do some more television work. (She's already played herself on the CW's Hellcats and had a cameo role on Gossip Girl.) She's currently looking at different colleges and had stopped by New York University while she was in town for the Britain Bound event. Still, she says her focus in on London 2012.
VisitBritain's North America Vice President Karen Clarkson told me that the goal of the Britain Bound program is to take fans behind the scenes at Olympic venues and popular British travel spots leading up to the Olympics next summer. American fans will even get a chance to share some of their ideas on where they think the athletes should go on the programs interactive website www.teamusa.org/britainbound.
Known as the "World Greatest Athlete," Olympic Decathlon Champion Bryan Clay joked with me about how he'd likely end up in Scotland, probably wearing a kilt. Clay says this will be his first visit to Britain and he's genuinely excited to explore different parts of the culture and share those experiences with American fans.
The athletes will set off for Britain this fall, so stay tuned to hear about their experiences. You can follow their journeys by on to the Britain Bound website and on the US Olympic Team Facebook page. If you have an idea of where you'd like to see one the athletes visit or something they should experience be sure to send it in!
This Blogger's Books and Other Items from...
FOLLOW HUFFPOST