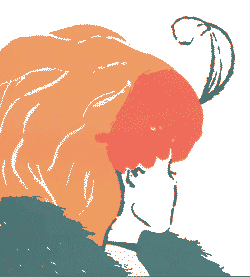 "
When you look at the picture to the left, what do you see? Do you see the old woman or the young lady? Can you see both? We have a natural tendency to remain convinced by what we see, and yet we are limited by what we fail to notice. By failing to notice, we are unable to change our perspective and consequently the limitless opportunities waiting for you to grab hold of. The great paradox is that every choice is a thousand renunciations. Are you aware of what you are choosing or failing to choose today?
I remember two distinct sayings in my house growing up: "Kari, life isn't fair, get over it," and, "There are only two things in life that are guaranteed, change and death." Now, for a kid who was an idealist and didn't like the fact that life wasn't fair, no matter how hard I tried to make it more fair, life consistently threw challenges at me that helped me become resilient.
Transcending the circumstances that accompany change involves one critical component, perspective. You can be a victim, or you can embrace challenges as moments of grace and opportunities for growth. My first experience with this came at an early age. My father abandoned my mother, sister, and me when I was 2 years old, leaving us dirt poor. I learned how to survive from my mother who worked hard to provide for us. We lived in a neighborhood where crime was rampant, and I remember sleeping with a knife under my pillow. As well, I've been able to survive violence at the hands of men throughout my childhood and teen years. Through all of this, my ability to forgive allowed me to transcend suffering and establish the perspective that what happens to me doesn't define me, but is rather evolving me to what I am yet to become.
On Christmas Eve, my husband received a phone call from a Marine he served with during the first Gulf War (Desert Storm). He was calling to tell us that Sgt. Mackey, now a Sgt. Major, was injured in Afghanistan. He was struck by a roadside bomb and lost both of his legs. I thought about Sgt. Major Mackey, his 20-year commitment to the Marine Corps and his family. How was he going to manage this monumental change in his life? Then I thought about the poorest people in the world and the work I was doing at the Global Network, an international partnership dedicated to raising the awareness, political will, and funding necessary to control and eliminate the most common neglected tropical diseases -a group of disabling, disfiguring, and deadly diseases affecting more than 1.4 billion people worldwide living on less than $1.25 a day.
One of the most profound aspects of poverty is its ability to limit people's choices. I thought about empowerment, and our duty to honor the dignity of the poor by offering them more choices -- the opportunity to survive disease, attain an education, and access capital in order to escape their arduous dependency on aid. Empowering individuals means that they must be consulted as partners. It demands that the global community spend more time listening to better understand how to remove the barriers that prevent the world's poorest from achieving their full potential. Give the poor voice and choice and they will tell us how to create sustainable solutions.
Today, thinking about what I've learned over the last couple of months and the changes that await me, I'm taking the perspective that life doesn't happen to us -- we happen to life, and we make it meaningful. I'm no longer attached to the stature of titles and careers, because I believe it is the person doing the job that gives the job meaning. It is our ability to love through our life's work that makes greatness a possibility. Dr. Victor Frankl said it best in, Man's Search for Meaning, "Everything can be taken from a man but...the last of human freedoms - to choose one's attitude in any given set of circumstances, to choose one's way." Today, I choose an attitude guided by forgiveness and love. Empowered by this attitude, I now know that the best way to predict my future is to create it. If you haven't seen the movie, Invictus, I encourage you to do so. Nelson Mandela used this poem during his imprisonment to liberate his soul and prepare him to become one of the greatest leaders of all time.
Invictus
"Out of the night that covers me,
Black as the pit from pole to pole,
I thank whatever gods may be
For my unconquerable soul.
In the fell clutch of circumstance
I have not winced nor cried aloud.
Under the bludgeoning of chance
My head is bloody, but unbowed.
Beyond this place of wrath and tears
Looms but the Horror of the shade,
And yet the menace of the years
Finds and shall find me unafraid.
It matters not how strait the gate,
How charged with punishments the scroll,
I am the master of my fate:
I am the captain of my soul."
FOLLOW HUFFPOST