On the way to the Ganges, in the cool morning breeze, past cows and rickshaws in the clanging street, holding lightly onto my friend Vivek on his motorbike, he turned to me and said: "What do you think? I myself like this ride better than yesterday's. What about you? Which is your favorite?"
Funny. Only in India do people comment on the experience of getting there ("this was fresher," said Vivek) rather than the destination itself. I could not imagine a friend in Paris, en route to a movie, saying, "hey, is this metro ride better than yesterday's?
We shared a chai in a restaurant and prepared for my final cleansing.
"No you don't need any flowers or candles," Vivek explained slowly, carefully, staring into my eyes. "What matters is just having a pure feeling in your heart." He gestured to his chest. "Sincerity, that is all. Now remember what to say."
Mother Ganges, please take away the bad karma of my past.
photo by Jack Saul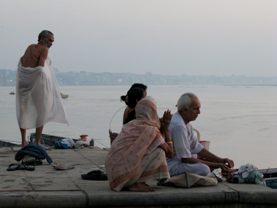 /
At the river's edge, two men in robes sat on a platform of wood, and Vivek gestured that I was to kneel by one, as he chanted the mantras over me.
Then I was to walk myself to the water's edge.
As I walked barefoot to the water, I felt the grime under my feet and saw the floating trash in the Ganges, and the abandoned colorful rags on the banks.
What imagination these people have, I thought! What a powerful collective imagination--thousands of years of mythology and culture and worship--to make the Ganges rise.
If I had not been in India three months, perhaps I would just have seen trash and dirty water.
I would definitely not have gone in.
No Westerner goes into the Ganges. "There is more bacteria in one drop of the Ganges -- from all the corpses -- than in the entire world," said a Spanish nurse yesterday.
Even the Lonely Planet deplores the Ganges as a "dead river".
"Nonsense," said Vivek. "Put a glass of Ganges by your bedside, and it will have no bacteria for a year."
So I saw the Ganges as the pilgrims see it---wide and flowing, full of mystery and power, the place where every dawn and every sunset, the cymbals clang and the people bow and the fire flashes in a vase.
Although I did not expect the silt under my feet. After stepping down the sunken ghats, my feet sunk into a stinging morass of guck.
photo by Jack Saul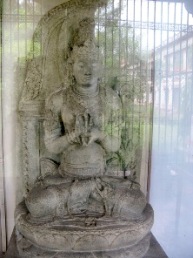 /
I dipped my head and body, over and over.
The water was full and buoyant.
Vivek nodded to me when I walked out -- and we found a room -- in the priest's own house -- to change my wet dress -- my favorite white one, which was now brown.
Then I distributed rice (which Vivek had bought for me) in the skirt of a poor woman--into the brown folds--and then into the skirt of a poor girl.
I worried as we left: "Will I get very sick?"
"If you think negative thoughts, you will ruin the experience," said Vivek. "Keep only positive thoughts in your mind."
Back in the Clarks Varanasi hotel, we hugged goodbye--Vivek telling me he would always be my friend, that he would buy Puja her shoes tomorrow--and then, after buying two scarves for my sister (a man came from the shop, just for me, and spread the blues and tans on my bed), I swam in the hotel pool.
My last swim--cool and peaceful, alone.
My feet stung in the taxi to the airport---ah ha! I thought, foreseeing amputation--but then I realized it was the benzoid peroxide I had poured over my legs in the shower.
At the airport restaurant, the waiter encouraged me to have a beer. "Why not?" he said. "Enjoy a beer. After all, your plane has been delayed."
I ordered a beer--with delicious Chinese noodles.
Then, with a wave to him--feeling clean and fresh--I took my flight.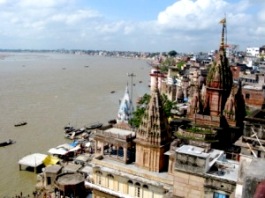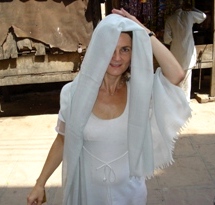 SUBSCRIBE TO & FOLLOW LIFESTYLE
We're basically your best friend… with better taste. Learn more