The prospect of speed-visiting Rio de Janeiro in only three days frightened me, as being lost in a foreign metropolis can be overwhelming. So I cheated. I turned to Blue Parallel, an unusual tour company based in South America that caters a trip specifically to a traveler's personal interests. Any whim, they organize pronto.

But first, right off the bus, I headed for the beach. The liveliest beach I had ever seen. A sweep of red umbrellas went far into the horizon, the beach wide and open alongside skyscrapers and mountains. A mother and daughter wielded wooden paddles, dodging between a group of boys playing soccer, while nearby two toddlers kicked a ball, a woman suckled her child in the sand, and a smiling athlete took his daughter for a swim, the hum of conversation almost as loud as the waves crashing in, as the sun set between two mountains.


The fresh ocean hum continued as I crossed tramways and ambled barefoot through the city sidewalks, to meet my host, Denise, a friend of a friend, who had volunteered to take me out my first night in Rio to samba dance. As I would later learn, everyone in Rio knows how to samba; it explains, one girl told me, why Brazilian women have a certain bounce in their walk.
"Boa noite Motorista!" Denise said familiarly to the taxi driver and then lifted a glass jar to me in the backseat with a great laugh. She had prepared us for our fast taxi whirl across the city with a mason jar of chilled vodka. "Cheers!" she said.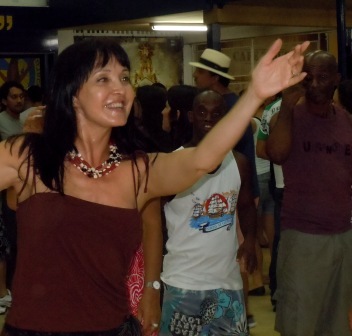 I knew nothing about samba, not even the fact that all year these samba schools prepare dances for the Carnival competition -- attracting dancers of all ages, and -- especially in this open-minded samba school -- sexual orientations. A dozen musicians were on stage, creating a samba rhythm for a stadium full of dancers of all kinds: a middle-aged black woman in golden bangles, an octogenarian in a sailor suit, with spiffy white and black polished heels, and young college-aged girls. What surprised me was the bright yellow light, more luminous than the sun. "We dance to light," said Denise. "Samba begins at midnight!" The crowd filled, the floor became packed, as a new group of yellow-clad musicians came out---high in an alcove---bearing enormous drums. The drums began to roll, filling the stadium with a surging beat..
It was opportune that Rio began for me with samba, as the next day, when my Blue Parallel guide Ricardo picked me up with the chauffeur, our first visit was to Sambodromo, the coliseum for the main carnival competition, where tickets reach up to two thousand dollars a shot. It turned out that the samba school I was at the night before, Unidos da Tijuca, had won the year before, with a spectacular parade of "secrets," including a Trojan Horse.
Leaving the "costume museum", Ricardo and I took a casual walk around the business center of Rio, empty as it was Sunday, but impressive with its host of colonial buildings rising about enormous concrete plazas, and its wide Champs-Elysees central avenue, Avenida Rio Branco, built in the 1900s, when the Republicans decided Rio should look like Paris. I learned a colorful albeit brief history of colonial Brazil: from the time Don Joao VI, king of Portugal, escaped Napoleon to settle his rule in the Casa dos governadores (1808), becoming the first colonial king to live in his colony, to the soap opera story of his son Pedro lst, founder of Brazilian independence (1822), who liked his mistress so much, he brought her to live in Rio, so he could see her house from his window--this before, perhaps, he kicked his wife and she had a miscarriage.

My favorite moments, however, were strolling through the contemporary art exhibits hosted in some of these elegant historic buildings. The theme -- no matter where we went -- seemed to be spirals. First, the Escher exhibit (the Dutch artist famed for optical illusions of "impossible reality") with spirals galore, an infinity of loops, in the neoclassical Centro Cultural Banco do Brasil building. Then the Eliseo Posse art exhibit in Rio's first central post office: bumpy brown and red spiraling cityscapes carved in wood. And later, when we drove up the hills into the lovely Santa Teresa neighborhood to visit the ruins of a Belle Epoque mansion of a wealthy arts patroness (Laurinda Santos Lobo), even this cultural center (Parque das Ruines), featured a local artist whose expertise was.....spirals. Snakes circling endlessly on themselves.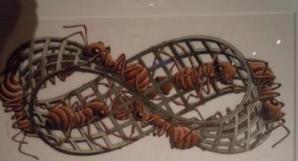 M.C. Escher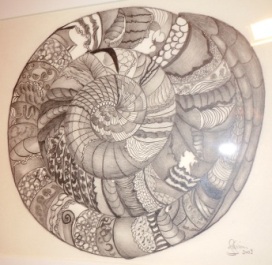 Jose Geraldo Furtado


Having a chauffeur as well as a guide is an enormous help in putting the city together rapidly. From a car, racing up and down the hills, with bird's eye views of forests and mountains, skyscrapers and favelas, the city is exhilaratingly stunning: water everywhere in sight. We drove from the forested mountain area where the famed Corcovado Christ rises, brilliant white in the Brazilian sun, to the baroque gold-dripping Igreja de Nossa Senhora de Montserrat, high on a slope, surrounded by the grey walls of the Sao Bento monastery, to the colorful Selaron stairs, tiled by a maverick street artist with ceramics from around the world, to the posh Cinelandia movie theater, inaugurated in 1926 by Odeon, replete with plush velvet seats, to the awful modern concrete Cathedral (built for a pope's visit) that looks like a convex parking lot, to the favela slum Santa Marta, nestled in the hills below the elite Santa Teresa enclave.

Now, it seems, favelas give tours, or least ones that have been cleaned up (of weapons) by the government. Once off the cable car that takes inhabitants (and tourists) up a sheer slope of rock, I was surprised to be given even a map of the favela, designed expressly for tourists, to wander down the maze of narrow stone roads, with broken down concrete shacks, some with wide-screen LCD tv monitors inside.

It was a quiet village; en route I passed a street cleaner sweeping rubbish from the gutters, a group of boys dunking in the water of a clothes-washing pool, and three giggling little girls who wanted to know my name.

The surprise, however, was at the bottom of the favela hill, where we came upon a day-care center (UNAPE) and its director, an exuberant woman in kerchief, who explained to me that the major difficulty for children is that they are abandoned at home, while their parents work as maids or construction workers, and the most vital need for the favela is free daycare.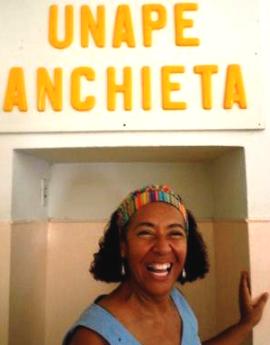 "Come!" she said, and led me around her spiffy day-care with bounding excitement, pointing to the adorable toddler-sized toilets, "just for the little ones!", and leading me into the kitchen, where women in shower caps chopped at red meat, and into another room, where children politely ate at little tables (rice, beans and omelette). " Is it gostoso?" the woman beamed, and the children, naked to their diapers, nodded, "sim, gostoso!" On the rooftop, jumping children were being sprayed with a hose for the heat, and one little girl cried that a boy stole her ball, and a teacher reached down to hug her. Then the woman, with more verve and joy than an entire Carnival, led me to the "Baby House": infants in cribs, some being fed with bottles, some sleeping -- and there, she pointed with glee, laundry baskets to scrub the diapers!
The only drawback: a waiting list of fifty parents. And the fact that this is one of the few favelas to have such a service.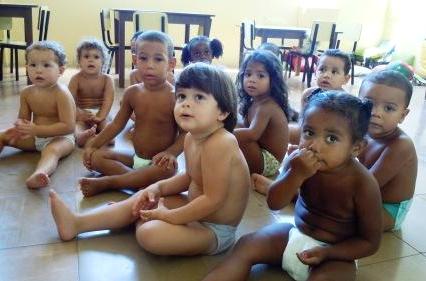 www.asiarj.org.br/
Blue Parallel really caters to every whim, and at that moment, spying a cemetery in the distance (Sao Joao Batista), I asked to be taken there. The graves were cheerful in the sun, with human-sized angels straddling the tombs, the highlight being a moment before Carmen Miranda's grave, where my guide explained to me the importance of the singer for Brazil. She had taken the US by storm with her charm and her dance, her platform shoes and turbans (she was short). I asked my guide if he wouldn't mind singing me a song, and he did, in a deep melodic voice, one about a woman whose husband sneaks off on her during carnival in costume. He then lent me his iPhone to listen to classic Brazilian singers -- from Joao Gilberto, who created bossa nova (new mood) up to the ones he liked today -- Paulina da Viola, Chico Cesar, Martinalia and Jorge Ben Jor --giving me, in a stroll down the sunny lanes of death, an overview of the shift of Brazilian music from the 1950s till today.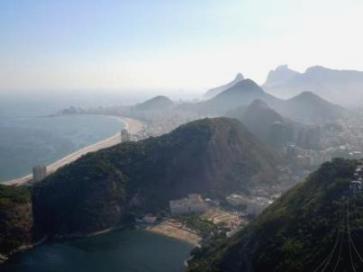 Then off to surf -- another whim -- first with a stop for a shot of acai juice at a sparkling-white fruit stand, yellow bananas bright on the walls, my chauffeur waiting, as usual, in his dignified black suit, before the car. It was a long ocean drive down the coast of Rio to the first good surfing beach, Prainha. Like all of Rio, an urban-natural experience: I surfed (badly) in front of skyscrapers and moving cars while my instructor, Johnny, grinning, told me he had seen dolphins and turtles in these waters, but never alas a whale, and his dream was -- oh would that it happened! -- to live a year on the boat, he loved the ocean so.
Then back in the car, to zoom back into town, past Copacabana -- its capirinha stands and volleyball games, its sounds of crowd and movement, a lure I had learned to feel, just like the locals, the beach a constant pull -- and then up to stand, as all visitors do, before the Cristo, arms wide in the sky.
My last morning in Rio, I began back where I started, with my host Denise, who, by coincidence, also turned out to be the founder of Rio's adventure tour company, Riohiking, the one Blue Parallel hired to take me on my surfing trip. She insisted I have an outdoor adventure myself. "But I don't like biking straight-up high mountains!" I said. No matter. Denise woke me at seven, and cheerfully packed up two folding bikes to slip into a taxi hood -- ""Obrigada Motorista!" -- which deposited us at the base of the majestic Tijuka forest. "You're doing well!" Denise grinned and waved as we huffed up the tenth mile of winding road, the sunlight streaming through the branches, the sounds of birds in the forest a peaceful accompaniment, the vista of Rio below a fine spread for the eyes.
She lured me forward with the promise of a waterfall -- "You're almost there!" she said.
And although the waterfall turned out just to be a spigot, the ride back downhill, twenty miles of fast twists and turns, through the neighborhoods, the streets fresh with pink bougainvillea and pastel-painted homes, schoolchildren in uniform returning from school, men cleaning the road, and Romero Britto's graffiti hearts painted on the walls, was absolutely one of the best experiences I have ever had.
"You got carried away!" Denise said to me, laughing, when she found me three miles lost from our meeting point.
Suddenly, back in Laranjeiras, she swung her Dahon bike to the side of the road. "We must celebrate! Come!" she pulled me towards a bright cafe, with wooden shelves and colorful bottles, and we sat on stools, out on the vibrant street, while she ordered shots of cachaça with mugs of beer, this at twelve noon. "It's delightful to be whoozy at noon!" Denise shook my hand with a grin. "Makes the neighborhood a whole new experience. And we deserve it!"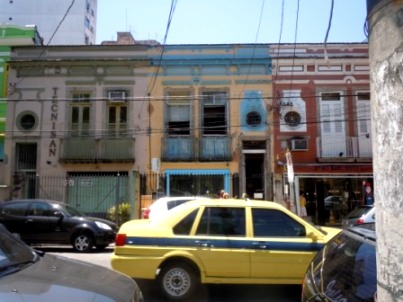 www.riohiking.com
By that afternoon, three hours before my flight to New York, I realized I had, in three days, seen all the tourist spots of Rio, plus some, and concluded my trip with an unusual visit, arranged, of course, by Blue Parallel: a private tour of the Candido Portinari restoration exhibit in the Palacio Gustavo Capanema. Portinari, famed neo-realist Brazilian artist of the mid-twentieth century, had been commissioned by the UN for a painting in 1956, in honor of the inauguration of its New York City headquarters. But Portinari, a Communist, never saw his own paintings hung, as it was the McCarthy era, and he was prohibited from coming to the opening. And now, more than fifty years later, the paintings were deteriorating, and a special project, costing fourteen million, had been launched to have them restored.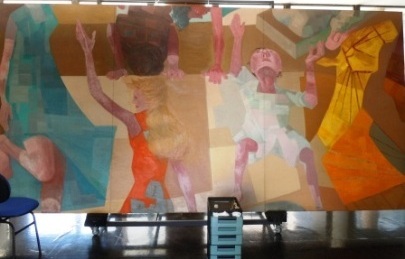 The titles of the two huge murals were War and Peace -- destined to go on a world tour at the end of this year. The War painting -- now set apart in huge panels -- showed the after-effects of war: no blood, but the anguished faces of men and women praying, while malevolent clawed beasts crawled in the sky. The Peace painting was Portinari's reminiscence of an idyllic childhood, with children playing leapfrog, two men lifting rice stacks, a couple getting married. War was in cold blue colors. Peace was warm and orange.
I was treated to an overview of the restoration process, by conservator Edson Motta, while students carefully scraped fly excrement and paint droppings from peaceful children and clawed beasts alike. Apparently, the original pigment had separated, causing faded color and lack of contrast. To rebind the pigment, the conservators were going to brush patches of the painting with resin.
Resin, Motta explained, was an invention of World War II: designed to replace glass in the fighter planes. War spirals back to peace. And vice-versa. Portinari died of pigment poisoning.
The smell of resin was strong in the empty gallery, quiet except for the buzz of Rio traffic from the windows.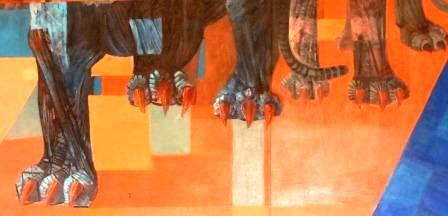 "We still have some time with the car," Ricardo said, as we left, in his relaxed, easeful manner. And in Blue Parallel style, I came up with my final whim: to visit a sociologist political activist friend of mine from Paris, who had returned to live in Rio. So off we drove back up the Santa Teresa hill, the very one I had flown down that morning.
The last time I had seen my friend, many years before, we had commiserated about miscarriages and broken relationships. She greeted me at the door, of her colorful apartment -- French impressionist posters on the bright walls -- with a smiling urchin naked baby, a goofy smile on her face. "She is happy!" my guide repeated several times, in his casual offhanded way. "Boy is she a really happy baby!" The girl crawled up couches, climbing on her mother's breasts to suckle, while my friend launched emotionally and openly upfront about her life since we last saw each other -- in as easy a way as she undid her shirt, heedless of the distance in time since we last spoke, in a way I had gotten used to during my stay in Brazil. She offered us sweet chocolate ice-cream, made of condensed milk (everything in Brazil is deliciously sweet!), and then walked us down to the road, holding the little baby before her, as if a star had fallen by accident in her lap.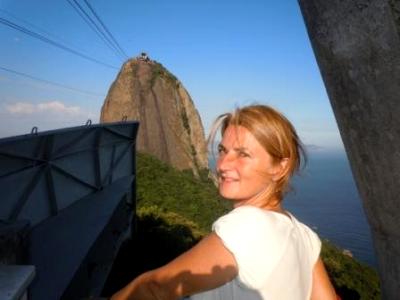 FOLLOW HUFFPOST