In the glamorous setting of the Paris Intercontinental Hotel, Gilles Jacob, president of the Cannes film festival, and executive director Thierry Fremaux, announced the films for this year's Cannes festival to a full room of camera crew and journalists.
Before announcing the films, Gilles Jacob spoke about the importance of Cannes, emphasizing its role as a promoter of artistic films (films d'auteur) rather than films of entertainment. Cannes is all about "exploration and research," he said. He also pointed out that Cannes offers an optimal environment to see films, bringing together the greatest number of professionals in "one international film village."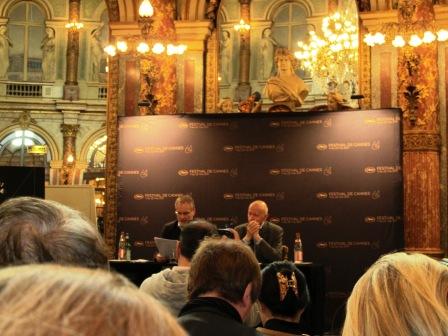 Over 1,700 films were viewed by the selection committee this year, out of which 49 were selected for the festival, representing more than 30 countries around the world.
I personally was excited to see the little-known superb Scottish director Lynne Ramsay on the Competition list, as well as familiar masters such as Ceylan, Almodovar, Von Trier, Kaurismaki and the Dardenne Brothers, back again with new films. One unknown director also seems intriguing, the Australian director Julia Leigh, here with her first film, Sleeping Beauty.
And here's the list!
COMPETITION FILMS:
Pedro Almodovar: La piel que habito
Bertrand Bonello: L'Appollonide--Souvenirs de la Maison Close
Alain Cavalier: Pater
Joseph Cedar: Footnote
Nuri Bilge Ceylan: Once Upon a Time in Anatolia
Jean Pierre and Luc Dardenne: Le Gamin au Velo
Aki Kaurismaki: Le Havre
Naomi Kawase: Hanezu no tsuki
Julia Leigh: Sleeping Beauty
Maiwenn: Pousse
Terrence Malick: The Tree of Life
Radu Mihaileanu: La Source des femme
Mike Takashi: Hara-Kiri, Death of a Samurai
Nanny Moretti: Habemus Papam
Lynne Ramsay: We Need to Talk About Kevin
Markus Schleinzer: Michael
Paolo Sorrentino: This Must Be the Place
Lars Von Trier: Melancholia
Nicolas Winding Refn: Drive
Woody Allen's film Midnight will open the festival. Gus Van Sant's Restless will open The Certain Regard. The out-of-competition special films will include films by Jodie Foster, Xavier Durringer, Michel Hazabavicus and a 3-D Pirates of the Caribbean movie by Rob Marshall, and Bernardo Bertolucci will be honored with an honorary Palme d'Or.
Follow Karin Badt on Twitter: www.twitter.com/karinbadt