Even as I sleep, I take in the beauty of this room, sensing the high ceilings in dark ebony wood, the small breakfast table with two chairs, their backs woven in diagonal stitch, the candle high in the middle, and the embossed mirror on the wall, near the l9th century shaded lamp. The bed is high, sheets cool and cotton, and I relish the fact--every second---that I can sleep. I sleep, thinking, how amazing it is to sleep here--especially after my war with mosquitos and damp sheets in the tree house the night before.
It only gets better when I wake up and open the white-glass panels of the window, to have the light stream through the grate, where Buddha sits, so still, behind him two long trunks of tree, and the sound of birds.
Raheem Residency Hotel bedroom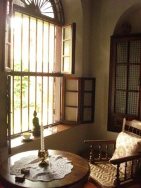 This is another five star hotel--and the only hitch to this one (where each guest is awed by the charm; a banker I meet, with wide blue eyes and pale skin, sitting in a wooden chaise by the garden, regrets having to leave soon for the anonymous Taj Mahal in Bangalore, not the fact that he is going back to work, but the fact that there the hotel will be artificial), the only hitch to this one is greed.
The place is so amazing, one just wants more. Is it the best hotel around? Yes, for 200 miles. But then--in Cochin--"The Malabar" is much better, the bald German lawyer tells me. "Much better," he winks.
So I will be now going to the Malabar.
A young newlywed couple from Bangalore I met last night--sitting on the same planter's chaises where I later found the banker--held hands and cuddled while they explained, she in girlish modest chuckles, he in strong masculine assertions (in fact, he did most of the speaking for the couple, she gazing at him in awe), that the reason marriages work in India is that there is not the problem of choice.
"In the West, you always want better," he said. "You have a girlfriend, it doesn't work, so you want better. You dump and change. I know this experience of choice. It's new in India, and exists right now just in the domain of work. I have already changed my IT job five times--each time wanting better."
He laughs. "But sometimes, the job I get is worse."
Newlyweds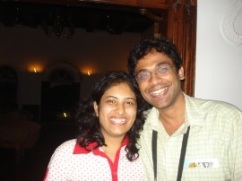 FOLLOW HUFFPOST