It's the only film from sub-Saharan Africa in the Competition at Cannes: Mahamet-Saleh Haroun's deeply sad movie about a father, fired from his job as a pool attendant, who -- in despair from his diminished stature -- betrays his own son, who has replaced him, by enlisting him in the army to fight the rebels: a decision certain to lead in death. Throughout this quiet film, which takes place largely at the pool-side, one hears the terrifying rumble of gun-shots, an image of Chad which has been in civil war for thirty years. The pool, once a refuge of dignity for the father, hovers as a liminal zone of artificial peace. Water, a seemingly innocent symbol, is double-valenced. The film begins with the father affectionately dunking his son in a river, and ends with the two again in the water -- but this time it's a burial.
How does this film reflect the film director's own story?

Where did the idea for the film come from?
It started from the context in Chad. We have been in civil war for nearly 30 years. The war started in the 1980s, I was shot in the leg by a sniper. I couldn't walk, so my father brought me and crossed the river, at the border with Cameroun. I became a nomad -- today I live in Paris. The civil war is like a ghost. In 2006, while shooting a film in N'Djamena, the rebels came. 400 people were killed in the street in six hours. Rebels wanted to take power. We stopped shooting.
Cinema is a resistance against civil war. By filming people and telling their story, you are resisting. No, I am not on the side of either the government nor the rebels. We need peace. My character Adam just wants peace, to eat watermelon and be with his son, but there are a lot of pressures. In 2008, I went back to Chad to shoot Expectations, a short film, and during the shoot, the rebels came again. We had war for three days, and a lot of people were killed. So I felt I had to talk about the story of Chad. You can be shooting a film and then suddenly you hear bam bam bam, and you become a hostage of the two parties.
Do your films play in Chad?
In Chad, we had five movie theaters, but after the civil war started, all movie theaters were destroyed. One of my films won the jury prize at Venice, and this influenced the government to invest more than a million euros in a movie theater in Chad. The chairs are coming this month. We will have a new cinema theater. I consider myself a lighter -- a spark. I have created life.
How is water a symbol in your film?
Water is purification, it is life. When you have a baby, it's first in water. In a very dry country, water is very important for people. The swimming pool is like a theater. Adam is like a director, and he is just sitting on a chair, like a film director. As a film director, it is important to control everything. You know that everywhere in this world, if you don't have a job, you are nothing. So when Adam loses his job, he feels his whole life falls apart.
Why do you have the hotel bought out by Chinese owners?
I was inspired by a Chinese lady I know who owns a big hotel. The Chinese are very present in Africa. While Europeans talk about the Chinese invasion in their press, the Chinese don't just talk. They are active in Africa. There is globalization. Adam is just watching the globalization. He is fired.
Why the father/son theme?
I had the idea of the father and the son, because if you have civil war, this violence for a long time, that means there is a transmission from generation to generation of the war. People are quiet and they can suddenly become aggressive. The kind of violence one sees in Kitano's movies, that happens all at once, it is this kind of violence we have in Chad.
When I wrote the script, I didn't think about my own personal relationship with my father. But then, watching the images, I was reminded of my own story. My father wanted to save me. Yes, I had a middle class upbringing. My father worked in the Ministry of Education and he was a diplomat, and we were in China a year. My relation with my children is so different. When my brother finished his studies as a doctor in Tunisia, he told me that when he came back, he wanted my father to take him in his arms, but they just shook hands. I express more affection to my own son.
There is discussion of God in the film. Do you have faith in God?
I believe in some invisible forces, but I don't believe in a God. Adam is just like me, he doesn't believe in a God. When he sends his son to the front, he asks his friend David, he asks "do you believe God exists" and he wishes he would respond yes, but we all experience problems and sometimes solutions do not come. Unlike the Job story, in my film, there is no redemption.
The hope is off-screen. Remember we have a pregnant young lady, the girlfriend of the son. At the end, we have the father and his dead son in the river. But off screen, we have a lady and a baby, and they will transmit life and they will bring love, and this will be the hope.
The last line of your film is a citation from Aimee Cesaire, where he says we should be aware that what happens is real, that we should not be passive spectators. Is this a critique of us the spectators?
The last line is not for the spectator, but a general question: how can you take care of your neighbor and pay attention to the suffering of the others? Nobody cares about the father. He is suffering a lot from losing his job. In this life, even we have big problems, we have to keep on moving. If not, you commit suicide. Your mother is dead, and you have continue to live. You lose your wife, she doesn't love you, and you have to continue to live. Still, how can a father be capable to do that to his own son? How can people prepare war for their children? Adam is a symbol of fathers in Africa who are sending their young children out. So many children are forced to escape their own countries. It means the elders have not done a good job to create a safe home and future for their children. It is a metaphor for all fathers in Africa.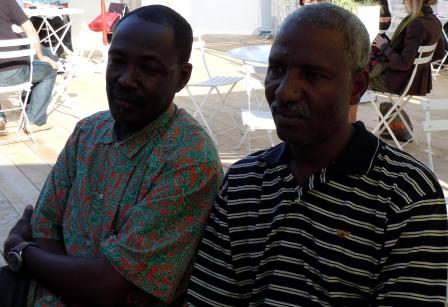 SUBSCRIBE AND FOLLOW
Get top stories and blog posts emailed to me each day. Newsletters may offer personalized content or advertisements.
Learn more