Finnish director Aki Kaurismaki greeted us on the pier of the Majestic Beach with a warm impish smile, crouched low in his seat. Dressed in a casual green jacket and black jeans, with reddish sneakers, he was, as per reputation, drinking a beer and smoking a cigarette, and this at four in the afternoon. His face was reddish with drink and the glint in his eye supremely intelligent.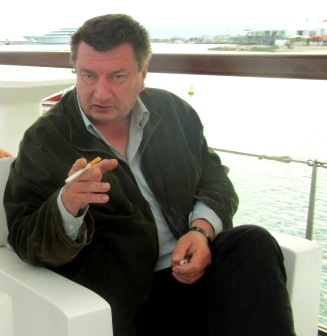 Being with this director is like being with one of his films: a lot of pointed silence, interjected with unexpectedly whimsical funny lines. Kaurismaki, celebrated for such films as his brilliant The Man Without a Past, about a man coming back to his full humanity, has come back to Cannes after five years of directorial silence.
His newest film, Le Havre, seems bound to win a prize at Cannes (although one never knows). It tells the simple tale of a shoe-shine man (played by Andre Wilms) who compassionately takes in an African immigrant boy, to hide him from the authorities, while his wife (the amazing Kati Outinen) is dying in a hospital. It's a film that speaks to political tensions key in Europe today.
It is also a love story to a French village. We wander around town with the protagonists: in the local bar, with quirky long-haired characters wearing pointed hats, and a darling bar lady, played by Elina Salo. We visit the local grocer, who tells the investigative police officer (who seems straight from a Simenon detective novel, with his stern dark eyes and pressed coat) that of course he will tell everything: "I believe in society." We are privy to beautiful silent shots of the Havre freight station, with views of a fresh morning sea.
Above all, we are privy to the Kaurismaki trademark humor. A silent shot of the stern detective walking into the local bar, absurdly carrying a tufted pineapple. The repetition of the refrain "sans doute" (without a doubt) spoke dryly, as the village collectively wards off the police investigation for the sweet little boy. A lot of the humor lies in silent exchanges of eye glances -- as did, as well, my interview with Kaurismaki himself, who peered boyishly into my eyes, in long silences.
"Why do you like silence so much?" I asked him.
"Silence is more than noise," said Kaurismaki, in his short cryptic way. "It is space without noise. For me it is peaceful." He added that he directed the young Angolan boy in his film, who did not know Portuguese or English, through eye glances. "Eye glances are enough." He also lowered his voice to offer a political comment about Angola: "Like every colony there was a war after so called democracy."
"And why dogs?" A key character in the movie is a friendly dog.
"I like dogs because they don't talk," Kaurismaki said shortly. "Dogs don't respect my orders at all. They are their own dogs, always. I had six generations of dogs myself, and two are left."
One of Kaurismaki's trademark shots in all his films is a sudden surprise low-angle shot at... ta, ta!... shoes. In Leningrad Cowboys Go America, one of the funniest moments is a shot of the pointy shoes of this Finnish "American rock" band in a bar.
This new film now features a shoe-shine man; it even starts with a close-up of his shoes.
"Why do you like shoes so much?"
"Chaplin had a close up of shoes in City Lights, and somehow it seems to be important. Shoes are the sole of the man," he said, suddenly beaming with a convivial laugh.
As for his own shoes: "I bought my shoes on Monday, and I didn't have a pair. They are starting to look like me."
We all stared down at his reddish sneakers.
Along with Chaplin, the film director Melville is one of his heroes. "Melville is connected with style," Kaurismaki told us. "He is absolutely style, controls style."
The beauty of Kaurismaki's films lies in their ethics: each is a paean to humanity, the need to connect with the other, and to be kind. And in this film, the whole village pulls together, like chords in a lyrical song.
"I wanted to show solidarity," said Kaurismaki, somberly -- with a pause. "This is the theme of my film."
SUBSCRIBE TO & FOLLOW ENTERTAINMENT
HuffPost Entertainment is your one-stop shop for celebrity news, hilarious late-night bits, industry and awards coverage and more — sent right to your inbox six days a week. Learn more