The most fun experience one can have in India, if you have an extra twenty dollars, is take a street child to buy her new clothes. My new friend Vivek said we can just pick some up for her, but I insisted: it's not the clothes, I said, but the experience. Puja has probably never chosen her own clothes in a shop.
But a quick expert she became. I stopped by the shack and asked her mother -- a smiling, sweet young woman -- for permission to take Puja along, and so she let us go, and Puja and I skipped down the road, in the evening dusk, darting out of the way of motorcycles and rickshaws that came too close.
Puja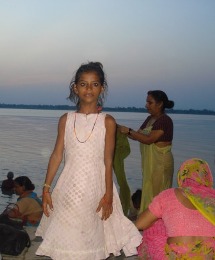 /
Strangely, I did not recognize Puja this second time I saw her; perhaps because of the night, perhaps because she was not wearing her pretty white dress, but a dirty brown shirt and ripped underwear (and seemed rather small), perhaps because we were silent as we raced up the road to find Vivek.
But I knew it was her, because of the way she held my hand, like we were friends.
At the first shop, I asked the men to show her what they had, and they pulled out cardboard box after box, each with two or three items inside, the boxes lined up in stacks on the shelves behind them.
She immediately was attracted to an orange tonga.
"No," I said, my Italian background coming to the fore. "This is acryllic, Puja. You will die of heat in acrylic! Explain to her, Vivek, that she cannot wear acrylic."
For an Italian, acrylic -- or any unnatural fiber -- is tantamount to burning down a temple.
"She likes it," Vivek said, translating.
"Are you sure you don't like cotton? Could you please show her silk???"
I could only imagine what it was like to wear an orange, heavy, embroidered, plasticky shirt in the noon heat, without a home for shade.
"She likes it," said the men, collectively, who were serving her like a little princess.
"Do you?"
Puja nodded.
"Okay then, acrylic. Now for your little brother and sister. How many do you have? The two, no?"
Vivek asked and in a small serious voice, Puja explained -- in a very long narration, with her voice going up and down at certain key points -- her family history.
Vivek bent down and listened. "Five brothers, no sister." He reported back to me.
"Impossible! I saw a little sister."
He kneeled down again.
Vivek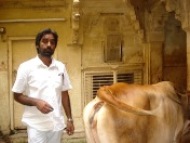 /
"Now it is all confusing. She now says she has three brothers and one sister, and one brother lives in a nearby town and gives them money."
I looked at Puja and looked at Vivek.
"Can you try again? I think it is one brother, one sister."
Vivek gave up. "Too confusing."
I turned to the men: "One sister, one brother: show me everything in cotton."
And then Puja, holding her bag of clothes for herself and clothes for her siblings, took my hand and we walked out.
"Now shoes," I said.
"We have no time for shoes," said Vivek. "You need to be back..."
He promised to buy them for her after I had left Varanasi (and he did).
"Don't worry," he said, patting my back. "I will look after her. You just look after yourself.".
"Well let's get Puja a book! At least a book."
The problem was no shop-owner had any idea what I meant by book, and kept showing me comic strips.

"You know, a hard cover, with words inside."
I gave up and bought Puja a comic book about warriors, meant for little boys, but she seemed happy about it, clutching it to her chest, while carrying the two bags of clothes, and now a bag of crayons and pencils (she insisted on pencils) and coloring paper.

Vivek left us so I could take her back to her family.
We stopped at a vegetable market.
I told Puja to buy the food for her family -- anything she wanted.
The little girl pointed at the potatoes, and commanded the man to give her just this many, knowing exactly what she wanted: two zucchinis, not more, one onion, three garlics, and a handful of beans, and no, absolutely not, to some strange vegetable.
The man nodded obediently and weighed everything on his iron balance.
"Finished?" he indicated.
She trilled off in Hindu, and I gathered it meant one more tomato, and then, she nodded. He lay his hands flat. Finished.

Now was my turn to have a treat: the treat of treating her to her first rickshaw ride! Even though she lived 50 meters down the road, on the dock.
The bicycle man helped both of us up, Puja squeezing the bag next to her, until I offered to take it on my lap.
We sat together on the rickshaw seat -- high up over the road -- and Puja giggled in the breeze.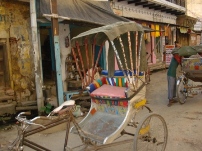 "Isn't this fun?" I said.
She smiled.
When we got off, she insisted on taking the heavy bag of vegetables from me, to carry herself, even though it was half her size; she wanted to bring the vegetables to her mother herself.
No longer did the shack look so miserable. The women had put out candles, and all three children were gathered around the mother, a little girl (yes!) and two brothers.
Puja made sure to hand out each one of the right outfits to each child: the t-shirts, the pants.
The best was a little frilled pink dress for the baby girl who once had flies around her crotch.
Also the fact that they now had names: the mother proudly introduced me to each baby.
When I left, Puja -- who had been silent the entire time together, as though forgetting our very gay friendship at dawn the day before -- suddenly ran up to me.
"Tomorrow?" she said, her chin inclined to me, nodding, with a big eager voice--the voice I knew. "Tomorrow you come?"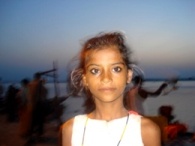 SUBSCRIBE TO & FOLLOW LIFESTYLE
We're basically your best friend… with better taste. Learn more