One of my favorite movies at the recent Istanbul Film Festival was The Coop, an evocative debut film by Turkish actor Ufuk Bayraktar. The first shot is striking. A man is furiously chopping wood with an axe, high in the hills of Antalya, while his subdued wife, nearby, appears worried and coughs.
We are drawn to the woman's dark unquiet eyes, startled by the violent sounds and gestures of the husband. We are also stunned by the beauty of the Turkish countryside, the rolling hills, the ancient stone buildings and (throughout the film) the ominous sound of falling rain.
In this remote area, in this modest traditional family, unrest broods.
The story: The wife very soon learns she has tuberculosis and has not long to live. From her hospital bed, she asks her husband to take on a new wife to care for their children after her death. But then (plot spoiler) this docile wife recovers and returns to her home -- where her husband now lives with his new woman.
A triangular co-habitation is imposed, with a new configuration of beds. "You sleep with the children!" the handsome husband directs his wife on arrival. He will continue to sleep with the younger lady.
The film offers an almost comic hard look at the persistence of patriarchy: The real cause of unrest in the homestead. Its title seems to refer both to the white chickens that dash around the homestead, and to the fact that the two wives fight like hens for the attention of their man. "I will sleep with her two nights, and you the third," the man barks aggressively at to his wife. "Why are you complaining?" Each woman will have her turn.
The women, enraged by jealousy, squabble and begin to hate each other. The man must every so often break them apart, and tell each, with paternalistic impatience, "to go to her room."
A haunting scene: The first wife looking into a mirror, until her face disappears.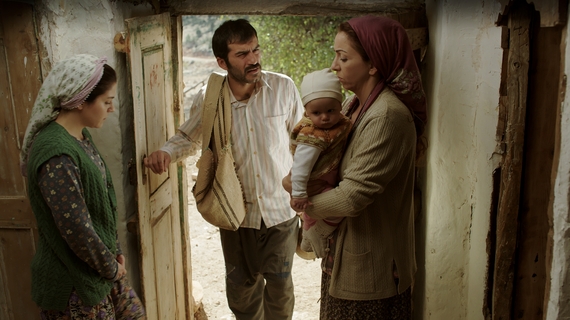 Yet, the film ends with surprising liberation.
I asked director Ufuk Bayraktar to comment on why he, a man, was drawn to make such a moving political film about patriarchal oppression, and why this story of bigamy was relevant in contemporary Turkey.
Responding by email, he commented:
This story is not about gender, it is about humanity. [...] And it it is not just about Turkey. Patriarchal pressure rules everywhere in every country. The degree of the pressure varies according to the cultural background.
If you think about the creation of man, it may seem that men are stronger than women, however women rule men: They are stronger than us. For this film, I was inspired from my grandmothers who are now 70 years old. This story is what I have observed from their lives.
SUBSCRIBE TO & FOLLOW ENTERTAINMENT
HuffPost Entertainment is your one-stop shop for celebrity news, hilarious late-night bits, industry and awards coverage and more — sent right to your inbox six days a week. Learn more