It is an unusual place for a film festival: a desert country on the Arabian gulf, where film is a relatively new industry. Qatar, once a country of fishermen and pearl-divers and today boasting one of the highest per capita GDPs in the world (since the discovery of the North Field natural gas deposits), recently hosted its second film festival, an intriguing new alternative to two other Gulf state festivals: the festivals of Abu Dhabi and Dubai.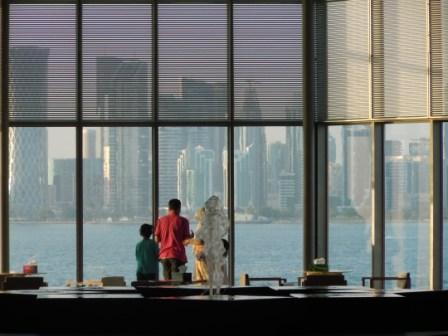 The brain-child of Her Excellency Sheikha Al Mayassa bint Hamad bin Khalifa Al-Thani, daughter of the Emir of Qatar, the major aim of the festival is -- like another Qatar project, Education City, a consortium of US campuses -- to up the cultural capital of the country. Inspired by her experience a couple of years ago with the community-based Tribeca film festival in New York, Sheikha Mayassa wanted to offer the same type of film experience to Qataris.

After seeking consultation with Tribeca founders, the Doha-Tribeca film festival was launched: a joint effort to create a film buzz in a country where spectatorship is rather new -- with over 800 volunteers from around the world participating.

"We didn't want a festival that caters just to foreign film directors and industry people. We wanted a public event, where the community of Qatar can be involved, not just watch the glamour from the sidelines," explained Amanda Palmer, winsome Australian director of the festival, a friend of Sheikha's, as well as Chief of Entertainment of Al Jazeera English, the major Arab TV news station in English, headquartered in Doha.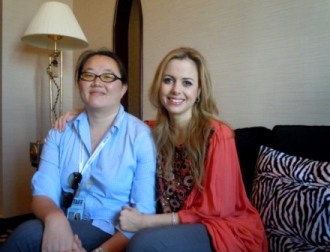 Managing Director Maggie Kim and Executive Director Amanda Palmer


Indeed, one of the five days of the Doha-Tribeca film festival is devoted to "family day," where hundreds of locals with their children participate in workshops. Actor Kevin Spacey, invited to present his new film Casino Jack, spent two hours of "Family Day" training young Qataris in acting.

"I believe very much in giving back," Spacey said earnestly.

What is most exciting: prior to the actual festival in October, hundreds of Qatari students, new to the camera, are trained in film-making, which for some includes workshops in New York City. The screening of their short films, before a public including their proud parents, was the highlight of my own personal festival experience. Where else could I see stories featuring the inner world of Qatari youth? One film featured a sexy teenage girl, dancing in her bedroom, then going out in her burka and having a feisty argument with her more conservative father in his expensive car. Another alluring short featured the hexing of a boy by a witch-like ghost, a story I was told was based on Qatari myth.

The most memorable of the short films: a conversation between a girl and her grandfather about how Qatar used to be. One scene features a diver for pearls, the former traditional industry of Quatar. Inside the oyster, a cell phone. The lively director, Noor Ahmad Yaqub, enthusiastically told me she wanted to trace the cultural shifts in Qatar.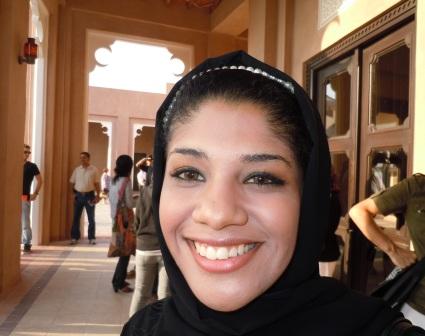 For Doha, the glittering skyscraper capital of Qatar is a bizarrely new city, erected over the last thirty years where once there was desert.
And still expanding, if one is to judge by the constant sound of construction and all the buildings with cranes. My driver who took me to see (and rollercoaster down) the rolling dunes pointed out the main strip of Doha, shining with high-rise steel in the ever-present sun, to show me where his grandfather once lived in a one-story home. In the enormous glitzy malls, where many of the films screened, one sees traditionally dressed Qataris taking coffee at Starbucks and shopping at Carrefour (a French supermarket chain), going up and down escalators along with Filipinos, Indians, Pakistanis and Srilankans, the imported labor of the country. Of the 1.5 million inhabitants of Qatar, only 250,000 are Qatari, the rest resident workers sending money back to their families. It is they who built this hyper-modern city.

The young woman's film captured this dramatic shift: the grandfather waxes about traditional family cooking, with the opening of a pizza box. Then we have a shot of a camel with a license plate on his behind.
Along with the shorts, the best part of the festival, for me, was the Arab competition, a rare opportunity to see Arab films, which -- as filmmakers themselves opined -- is not a particularly thriving industry. A favorite, Grandma, A Thousand Times, which won the audience award, introduces us to a Lebanese grandmother whom many in the audience -- Europeans, Americans and Arabs alike -- could identify with, if they too have been raised with this kind of matriarch. A feisty woman dedicated to her cooking and her defunct husband, the grandmother now holds court in her sunny Beirut apartment, smoking her arguileh hookah -- her "new friend," now that her husband is gone -- and watching the world go by from her balcony. The film director, her US-based grandson Mahmoud Kaabour, interviews her with an adoring gaze, filming her plate of beans with a lingering shot; at one point he even sits down on a couch with her to discuss old times.
Tunisian film director Hichem Ben Ammar, of Once Upon Our Time, gleefully told me how thankful he was for this festival. The director of a charming film about a young musical prodigy whose father does everything to finance the boy's (otherwise unlikely) education at the most prestigious musical conservatory in England, this director grinned at me: "Without this festival my film would not be shown. There are few opportunities for documentaries to screen in Tunisia. It's either television or festivals like these."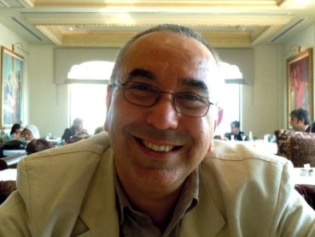 Hilchem Ben Ammar
Man Without A Cellphone
At least four films were Palestinian, offering alternative views of the Israeli-Palestinian conflict, including humor. For example, Sameh Zoabi's Man Without a Cellphone is a cheerful struggle over a cell-phone tower, with a cute young man fighting to get a date with a cellphone, while his traditional father staunchly holds cell phones to be an Israeli plot. Not what one would expect.
Along with the Arab Competition, the festival also featured a program in World Cinema, including celebrated films from the Sundance and Cannes festivals, such as Xavier Beauvois' award-winning Of Gods and Men, an evocative tribute to a Tibetan monastery which defends itself from violent attack, and Stephen Frears' loveable comedy Tamara Drewe.

And, of course, like all festivals, we had encounters with celebrities.

Robert DeNiro, for example, spoke to us about his film series Meet the Fockers. With a humble grin, he admitted that his interest in making Meet the Fockers was simple.

"Money."
"There are movies that want to save the world, and others -- and both are equally important," he continued, as his fans grumbled in protest: whatever happened to "You talking to me?"
A side-benefit of a film festival in Qatar is the exhilaration of seeing films in such a surreal setting. An entire cultural village called Katara was built along the water to host such events: pavilions designed to look like an ancient Arabic village in a country where little ancient heritage exists. Make-shift white tents were also built for the festival, with builders coming from as far away from England to build them ("and take them down next week!" the developer told me personally, as he jaunted off in a jeep along the complex). Exquisite luncheons hosting the elite of Qatar, with notables such as Sir Ben Kingsley's gorgeous wife, sitting with her "handler" at my table, and famed actors from Egypt, made these tented experiences--just as in Cannes -- rather glamorous.
It was an adventure as well to see the films screened in the local malls, with Qataris in the audience.
In-between film screenings at the local mall, I stopped to get fast-food at a Mexican counter.
A woman in burka pointed to my vegetarian burrito and ordered the same thing. She was there from Saudi Arabia, she said, "for the weekend."
Not knowing about the festival, she mentioned she came to Qatar for the excitement.
"It's so so boring in Saudi Arabia," she said. "There's nothing. Nothing! I am so bored!"
She mentioned how she could not drive in Saudi Arabia -- unlike her female neighbors in Qatar.
Although secretly, she grinned, her husband was teaching her.
Not the kind of side-conversation I have when waiting for a film in New York.
From this conversation -- and many similar, with various ex-patriates' wives -- I learned that while certain oppressions exist in Qatar (such as no drinking except at these expensive hotels, which makes any alcohol -- at fifteen dollars a glass of wine -- a luxury for the rich), it is a relatively easy place to live. The most difficult moment when it came to dress code, for example, was a rather piercing nasty gaze by a French woman staring at the length of my dress.
Otherwise, a most delightful experience. As for those cynical about a country "buying culture", I can only answer: what's wrong with that? Since when has cultural exchange -- since ancient times, a key feature of the gulf, a main water-way to Asia and Europe--been anything but a positive experience for both artists and consumers alike? Not one of the participants in the festival, from the invited filmmakers to my fellow females in burkas, seemed anything less than thrilled.
The former director of M6, a major tv station in France, Marian Lacombe, hired by the film festival to interview Arab film directors, having flown to every major middle eastern city in a two month span, spoke to me excitedly about how film spectators are made not born. "It's political investment that makes an audience appreciate films. You have to build up an audience," she said, noting that the cinephilia in France is not just "native born" French superiority.
It will be fascinating to see what film industry develops.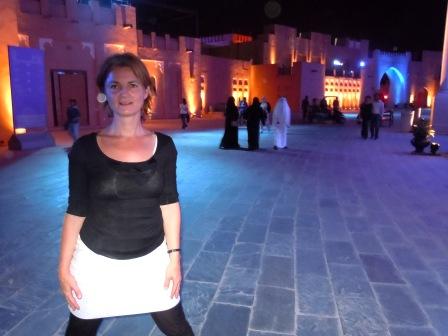 FOLLOW HUFFPOST