College students like tanks. There's no denying it; recall the proverbial image of a frat star rocking his Greek letters on a bicep-accentuating tee or a student organization broadcasting its cause on a v-neck. But what if instead of the typical "Phi Kappa F*ck Ya" or "Support Animals Rights at Syracuse (SARS)," there was a tee-shirt that helped directly fund a good cause?
Well, there is. Serengetee, the artfully designed (and named) startup, has taken the "tee-shirt-for-a-cause" mantra to a new level by designing the pockets of its tees with local fabric from 28 countries across the globe. Check it out:
The idea for Serengetee developed in 2012 while three college students traveled the world on Semester at Sea, a prestigious study abroad program that boasts among its notable lecturers such enlightened do-gooders as Desmond Tutu, Mother Teresa, and Nelson Mandela. As they began interacting with local textile merchants in various countries, founders Jeff Steitz, Ryan Westberg, and Nate Holterman wondered if there was a way to give back to the communities they had visited.
Out of this dream evolved Serengetee, whose mission statement is "to connect people to the globe through fabric while giving back to the communities that inspire our products." Serengetee accomplishes this by donating 5 percent of the proceeds from each tee to a local charity within the fabric's country of origin.
I spoke with Seth Klebe, Marketing Manager for Serengetee, about the challenges and rewards of a startup that combines social entrepreneurship with public service. Seth articulated Serengetee's unique power as a socially innovative startup:
"Connecting the world through fabric is such a unifying thing; everyone makes textiles, and the fact is, their fabrics actually imprint their culture. You will not find a design from Ghana anywhere in Japan. It's a small cultural insight no bigger than the fabric of a pocket."
Serengetee has "revitalized the pocket tee" adds Seth, while also raising $33,978 to date for the 32 causes currently supported. And with such celebrity sponsors as YouTube sensation Jimmy Tatro, Serengetee has demonstrated how one idea shared among three young friends can have a global impact.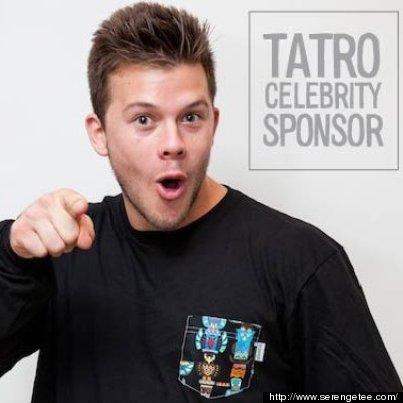 But for Seth, the defining trait that makes Serengetee a social entrepreneurship is "being a company that still profits while giving back to causes that are legitimate and will actually do good." Seth's advice for aspiring social entrepreneurs? Be willing to create an idea and act on it. Be willing to fail. Be willing to change the world.
If you're willing to take the plunge you know what, go for it. And if you are that type of a person and you want to add an element that is social entrepreneurship, you have to look at your product; you have to look at your service and see if you are making the world better. It's all about solving a problem, and making the world better.
Seth emphasizes the benefit of working among social entrepreneurs at a millennial startup. "A small start-up company, that's the best," he says. "No bureaucracy, we make the rules." With that freedom comes the ability to innovate. The ability to change the world.
Find out more about Serengetee at: http://www.serengetee.com/
On Twitter: @serengetee