Has Cindy McCain been playing in Hillary's pantsuit depot again? For the first of her husband's debates against Barack Obama, Cindy "the human tomato" McCain decided to outfit herself in a pantsuit that looked more like a four-year-old's romper than the attire of a professional woman.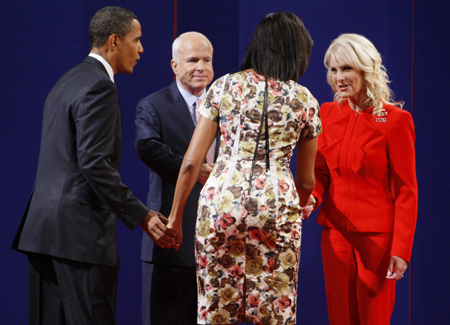 Instead of the usual touch of color worn underneath the traditional pantsuit to break up the monochromatic palette, the McCain onesie zipped all the way to the neck, leaving no flesh or other garment exposed.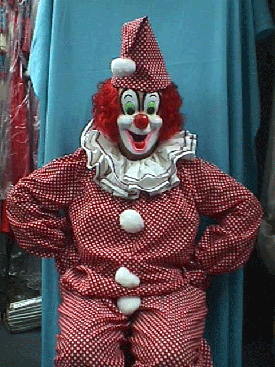 The ode to Marie Antoinette ruffling on her lapel, which was all over the catwalks for Fall 2008, made her look like a giant red polyester gift basket and recalled the clown suits with frilly necklines made popular by men with red noses and names like Bozo. All the outfit was missing was polka dots and some size 25 shoes.
Cindy has long been a fan of bright solid color dressing, but it's usually in the form of a June Cleaver-esque dress or a skirt suit allowing her to show some ankle and remind us that there is a human being under there.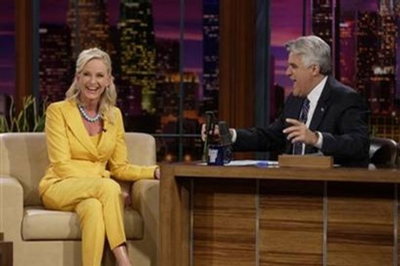 She got the pantsuit right when she appeared on Jay Leno. Sure it was head-to-toe neon yellow, but she paired the well-tailored suit with a lower neckline and a bright blue necklace which kept her from looking like a canary poised to take flight. In the red leisure suit she graced us with in Mississippi, we almost forgot that Mrs. McCain is in possession of a neck and hands.
In a nod to Nancy Reagan, McCain is often a crimson tide personified. Red is seldom wrong for political women. It combines patriotism and power and pops on camera. But the shade of red of her polyester sack had me thinking that Halloween came a little early this year. The orange-red hue is one that should be reserved for crayons, harvest festivals and vegetables. It should not be worn on one of the most important days of your husband's career.
Of all the women in Washington, for whom pantsuits have become de rigueur (see my earlier post "The Great Pantsuit Problem (And What To Do About It)", almost the Mao suit of Capitol Hill, Cindy McCain is not the biggest offender. Though she often looks as if she belongs in a 1950's Sears catalog, she knows how to play and dress the part of the docile Republican wife in demure knee-grazing dresses that recall the days when men were men and women were accessories. She can even teeter away from her safety zone at times wearing leather jackets, turtlenecks and tweeds. And more often than not, these adventures in dressing work for her and remind us that she is not an Eisenhower-era paper doll.
This was not one of those times. Was Cindy scheduled to perform at a child's birthday party after the debate? Was the suit so ill-fitting because she was hiding something under there? A few pies to throw in the faces of Hockey Mamas for Obama? An emergency cheat sheet for her husband? Who knows. One thing is for certain. There's a blind stylist out there who should soon be joining the ranks of the unemployed.
SUBSCRIBE TO & FOLLOW LIFESTYLE
HuffPost Lifestyle is a daily newsletter that will make you happier and healthier — one email at a time. Learn more