Political Fashion Smackdown! (PHOTOS, POLL)
It's finally here! The glamazons of government are going head-to-head in the ultimate political fashion smackdown. Sure these friends and frenemies are all smiles when gracing the pages of Vogue and GQ, but how would they pair up in the ring? Who would win a Zoolander-esque walk off? Joe Biden, the dapper gentleman from Delaware may be number two on the political food chain, but could he dethrone the great gray suit wearing Barack Obama in a style showdown? And what of BFFs Valerie Jarrett and Desiree Rogers? Who would Heidi Klum dismiss with a firm auf wiedersehen? The American public deserves to know.
Barack Obama and Joe Biden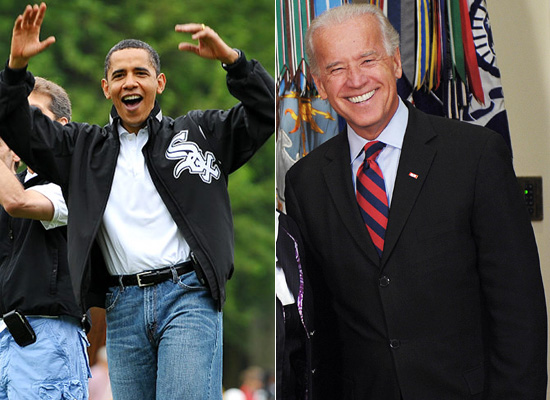 Esquire named Obama one of the world's best-dressed men and many of us swooned as he went Baywatch on the beach, but the prez has had some cringe-worthy fashion moments while in office. Who can forget POTUS cheering on his soccer star daughters in baggy dad jeans and an ill-fitting White Sox jacket? While it's hard to rival the president when he's buttoned up in bespoke delivering a rousing speech, his casual afternoon attire could use some refashioning.
As for blue-eyed Biden, he has taken his classic closet of crisp white shirts and jewel-toned ties into the Obama era with rolled-up sleeves and understated tailoring. While Obama may be the press darling, Biden is Mr. Consistency, never alarming America's fashionistas with his Sunday attire. Will steadiness trump the popular vote? You decide.
Jill Biden and Michelle Obama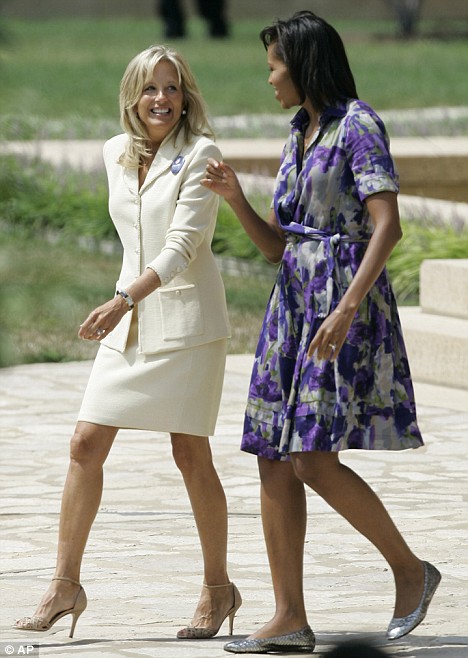 Tall, athletic, and beloved by the international fashion industry, Michelle Obama is considered the ultimate triple-threat by fashion insiders. Rumor has it that Jill has been doing bicep curls all week to prepare for the rumble where both ladies will wear sleeveless shifts, bubblegum pearls, and ballerina flats, of course. The designers at J.Crew and special guest Jason Wu bought out the stadium seating months ago.
While Jill looks hotter than a scarlet letter in her red evening gown, the competition is tough for the second lady. She pulls out all the punches with her waist-cinching dresses and cropped aquamarine blazers, but does Michelle Obama still manage to sail past her? You be the judge.
Desiree Rogers and Valerie Jarrett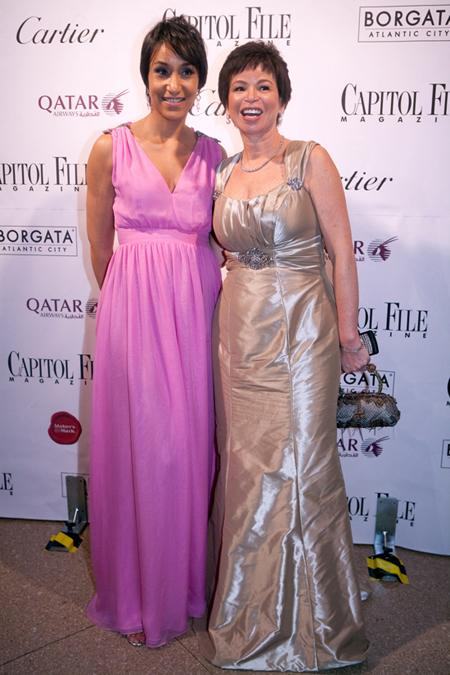 Weighing in at not very much at all are Valerie Jarrett and Desiree Rogers! Both love wearing color and don't shy away from a print. Rogers sat front row with Anna Wintour during fashion week, but Jarrett wowed the world with her elegant evening wear from day one. Will the senior Obama advisor be able to take the trophy away from her sidekick, the equally fashionable social secretary?
Just a few minutes into the smackdown and the judges have declared it the most boring match in history! The women keep trying to declare the other the victor in the ultimate show of BFF friendship. But wait! A picture of Desiree Rogers in a metallic sequenced dress has been submitted to the judges. The social secretary in a frock that Tina Turner would want to shimmy shimmy shake in? How utterly modern. Who will take home the win?
Hillary Clinton and Nancy Pelosi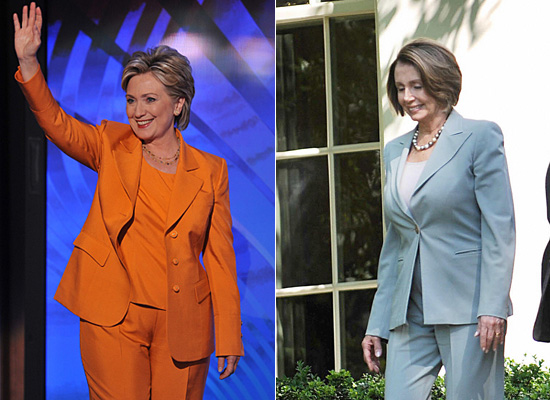 Are pantsuits allowed in the ring? Of course! This is politics and the two reigning queens of the pantsuit are ready for their match. Both the Secretary of State and the Speaker of the House would sew on the boxy jacket/pant combination if they could, with Clinton favoring colors you can see from the moon and Pelosi happy to swath herself in hundreds of variations of beige.
While Clinton gains points for not looking like a walking sand dune, Pelosi is able to fly across the ring to her fancy footwear, elegant accessories, and the fact that she has never dressed like a human cantaloupe. Which pantsuit-wearer will end up with the highest score?
Sarah Palin and Lisa Murkowski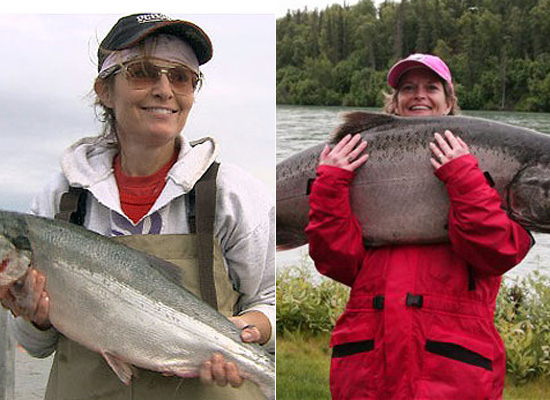 They're both Alaskan-born Republicans who love fishing and pencil skirts. In the right-wing division it's Alaska's own Palin and Murkowski! Palin's victory has been predicted for months, but some critics believe Murkowski's Beltway-friendly fashion could speak to city slickers who are sick of seeing Governor Palin adorned in moose print accessories.
The women have been in the ring for days. The ref (who looks surprisingly like snowmobilin' Todd Palin) is exhausted from the longest (and only) Alaskan fashion smackdown in history. It seems inevitable that the beauty pageant governor will yet again bring home the crown...but wait! This just in...Palin has been penalized for tying dangerous instruments to her feet defined by the judges as "razor sharp peep-toe stilettos bought with hard earned tax payer dollars." While clearly the crowd favorite, will Palin be disqualified for her fancy footwear?
*Follow Huffington Post Style on Twitter and become a fan of Huffington Post Style on Facebook*
Follow Karin Tanabe on Twitter: www.twitter.com/karintanabe