I love, love, love sweetbreads! I remember sweetbread dishes I ate years and years ago as if it were yesterday and lament them. There was a time when sweetbreads were certainly more prominent on New York menus than they have been of late. Whenever I see them on a menu, if the dish sounds appealing of course, I order them. I will typically order dishes in restaurants that I do not or cannot make at home, and as much as I truly love sweetbreads I have never attempted to make them. I frequently pick up a package of them when I see them at the gourmet market and then sadly put it back, daunted by the painstaking pre-preparation they require before cooking. When New York was in its beloved offal craze a few years ago, sweetbreads had their day in the sun and one could hear countless debates at the tables of chic gastronomic eateries deliberating as to what sweetbreads actually are. Some insisted they were like "Rocky Mountain Oysters," others said they were a part of the brain, but in actuality they are a tender organ found in the neck of the animal, usually from a young Veal calf. There is really nothing scary about these tender, sweet, fluffy little pillows which offer a tremendous versatility in not only cooking methods, sautéing, frying, stewing, but also in their flavor pairings. In all my years of being a sweetbread fan, I have never seen them prepared in the same way at any restaurant I have ordered them in, be it New York, Paris, Spain or Italy.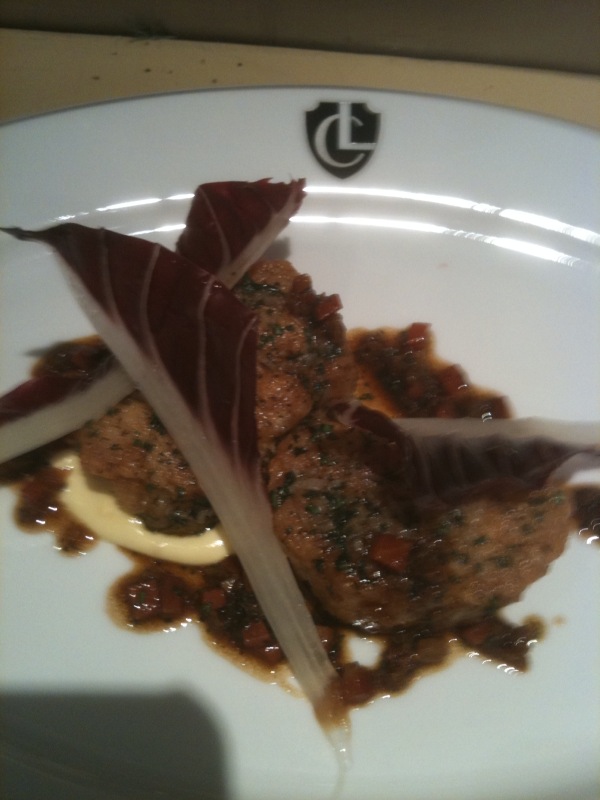 My sweetbread passion was recently re-awakened when I discovered them on Geoffrey Zakarian's menu at the newly opened Lamb's Club. It feels like Castel's in Paris I told my dinner companion as we entered the sultry, rich and elegant dining room. I was excited to be there, in a great mood, and very eager to see the menu. I wasn't disappointed. This is the sort of menu I love, I wanted to eat everything! "Try to control yourself," warned my dinner companion, "there are only two of us!" My gaze immediately honed in on the Roasted Veal Sweetbreads with grilled radicchio Treviso and light pancetta jus. I knew what I was having whether my dinner companion liked it or not. As I patiently waited for them to arrive I reminisced about sweetbread preparations from dishes past; two immediately came to mind.
I can remember eating a scrumptious version more than a dozen years ago at Les Trois Jean, a marvelous French Bistro where Maitre Cuisinier de France Jean-Louis Dumonet cooked his pan seared sweetbreads with a tasty warm and delicate lentil salad enhanced with pancetta and mustard greens. Sadly, the restaurant closed several years ago but that dish will forever be fresh in my memory where I can still taste it. I am also still obsessed with those served at Vong in the 1990's when Jean-Georges Vongerichten served his Roasted Sweetbread Brochettes on actual licorice sticks. They were tender and juicy and had the essence of the earthy anise flavor. I was fortunate to be working with the restaurant at the time and never missed an opportunity to invite foodies to come and try this ingenious interpretation, which was later celebrated on the cover of Art Culinaire magazine.
My order finally arrived and I squealed in anticipation of taking the first bite. I was not disappointed, but rather elated at Zakarian's deft preparation. The dish was simply presented, keeping the sweetbreads center stage where they belong, flanked by brightly colored grilled Raddichio Treviso glistening with a simple veal jus and tiny specks of pancetta. I could barely wait to cut into them and found them to be tender, juicy and perfectly complemented by the bittersweet flavor contract of the treviso, further enhanced by a touch of balsamic. It was so good I was reticent to share it with my friend, which is most unlike me, but after my third heavenly bite I calmed down and felt compelled to share.
I was exhilarated and content at the same time and raved to my neighboring table, encouraging them to order them on their next visit. One of the ladies recognized me from Iron Chef America and asked me what I would order on my next visit. I laughed and told her, Next time I come, I just may have to make it a double order of these sweetbreads.

SUBSCRIBE TO & FOLLOW THE MORNING EMAIL
The Morning Email helps you start your workday with everything you need to know: breaking news, entertainment and a dash of fun. Learn more