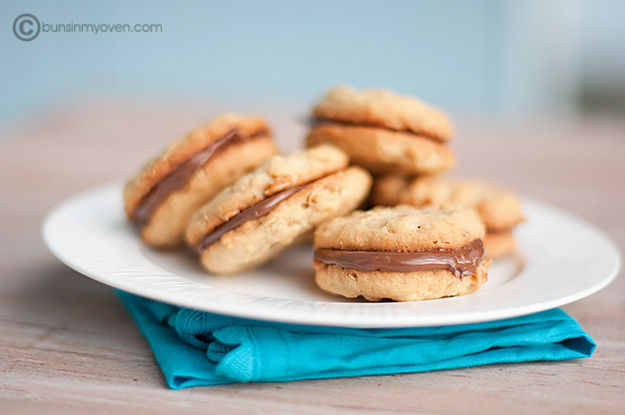 We all love a good sandwich, right?
Personally, I like turkey and cheese on white bread with a little mayo. It's what my mama always packed in my school lunches. I also love me a BLT with a couple slices of avocado. I firmly believe that everything tastes better with bacon and avocado.
The best kind of sandwiches, though, are the sweet kind. Obviously.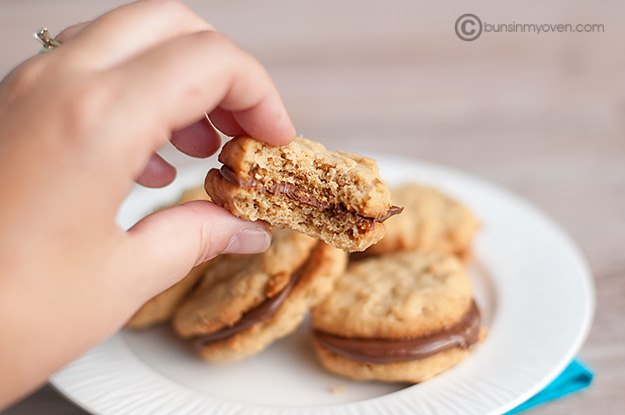 Peanut butter and Nutella sandwiches rock my world, but let's face it. We could make the classic PB&N even better by switching out the bread for a cookie. That's sort of a no-brainer. You like a food? Turn it into a cookie and you'll like it more. It's just the way the world works.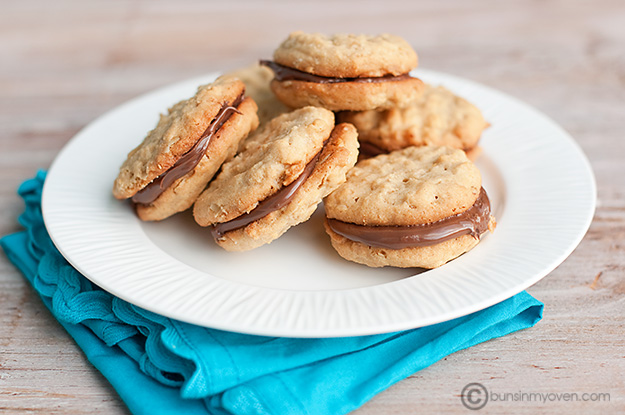 1/2 cup butter, softened
1/2 cup peanut butter
1/2 cup white sugar
1/2 cup brown sugar
1 egg
1 tsp vanilla extract
3/4 cup all-purpose flour
1/2 tsp salt
1/2 tsp baking soda
1/4 tsp baking powder
1 cup quick cooking oats
Nutella, around half a cup, but the amount is really up to you
Pre-heat the oven to 350 degrees.
Begin by creaming the butters and sugars for the cookies. Beat in the egg and vanilla.
In a small bowl mix together your flour, baking soda, baking powder, and salt. Mix into the creamed butter and sugars.
Mix in the oats and stir until combined.
Drop teaspoonfuls (or use a small cookie scoop) of dough onto a parchment lined baking sheet. Make a criss-cross with a fork to flatten the cookies.
Bake for 10 minutes and allow to cool.
When cookies are completely cooled, flip half of them over. Spread with a spoonful of Nutella (how much you use is totally up to you) and then top with the remaining cookies.
SUBSCRIBE TO & FOLLOW LIFESTYLE
HuffPost Lifestyle is a daily newsletter that will make you happier and healthier — one email at a time. Learn more