Despite our complex web of health access issues in America, we boast over 27 physicians per 10,000 individuals. On average, that means one doctor is responsible for 370 people.
That may sound like a heavy load at first, until you consider that in a progressive African nation like Ghana, there is only one doctor for every 10,000 people.
That's right: each doctor is responsible for taking care of 10,000 lives.
If it sounds impossible to you, you're right on. Millions of Ghanaians cannot access lifesaving health services, and not because medical professionals are unskilled, but because demand for their services outrageously exceeds supply. Long-term strategies include battling the "brain-drain" of doctors departing for higher salaries in the West, or building better equipped facilities to train more students to become doctors. But what can be done in the short-term?
This past Tuesday, the Ghana Medical Association and Africa Aid, a socially entrepreneurial organization based in San Francisco, delivered the first-ever countrywide "directory of doctors" to participating clinics and hospitals across the country. Each doctor in the country will be in possession of a printed directory, which lists over 2,200 physicians by surname and specialty. Participating physicians are also allowed to make free calls and send free text messages to other doctors in the directory, eliminating the cost barrier to this communication strategy in years past.
The directory sits at the centerpiece of Africa Aid's MDNet Program, the free doctor-to-doctor communication network aiming to increase physicians' access to medical knowledge, professional advice, patient referrals and emergency response instructions.
"We believe there is sufficient knowledge held by doctors on the ground in African countries to face the enormous constraints," explains Craig Edelman, Executive Vice President of Africa Aid, "We are just harnessing that local knowledge by creating a free network of communication and collaboration, using something that every single doctor already has -- a mobile phone."
What's next? Moving beyond doctor-to-doctor communications and improving the entire health infrastructure with a bulk SMS platform, off of which the Ghanaian government can send -- or collect -- critical information directly from physicians around the country, exponentially increasing data collection and analysis abilities, as well as emergency response preparedness.
MDNet is a program among the first of its kind, having networked nearly 100 percent of physicians working in Ghana, with over two million calls already made on the network since MDNet's inception in 2008.
However it is one of many organizations launched in the past several years dedicated to bringing "eHealth" to the African continent, including FrontlineSMS, OpenMRS and Ushahidi. With more than 448 million mobile users in Africa, increasing rapidly every month, the idea of utilizing cell phones to increase access to health care is inevitable, but still needs crucial support.

So how can you be part of the movement? Support Africa Aid here (and you can even do it in style by sporting a stylish Africa Aid T-shirt!)
And rest assured, you will not be donating forever: MDNet functions off of sustainable profit models, like looping in phone networks who receive profits from non-doctor calls that doctors now make on their network, and from local advertisers who fund the directory and bulk SMS programs.
Having worked in the public health sector of several low-income countries, I see that people in need always address their own suffering by making the most of what they have on hand. Or in this case, in hand.
We are long overdue in applying mobile technology advances to lifesaving health interventions around the world: Do your part to connect doctors in Ghana and join the eHealth movement today.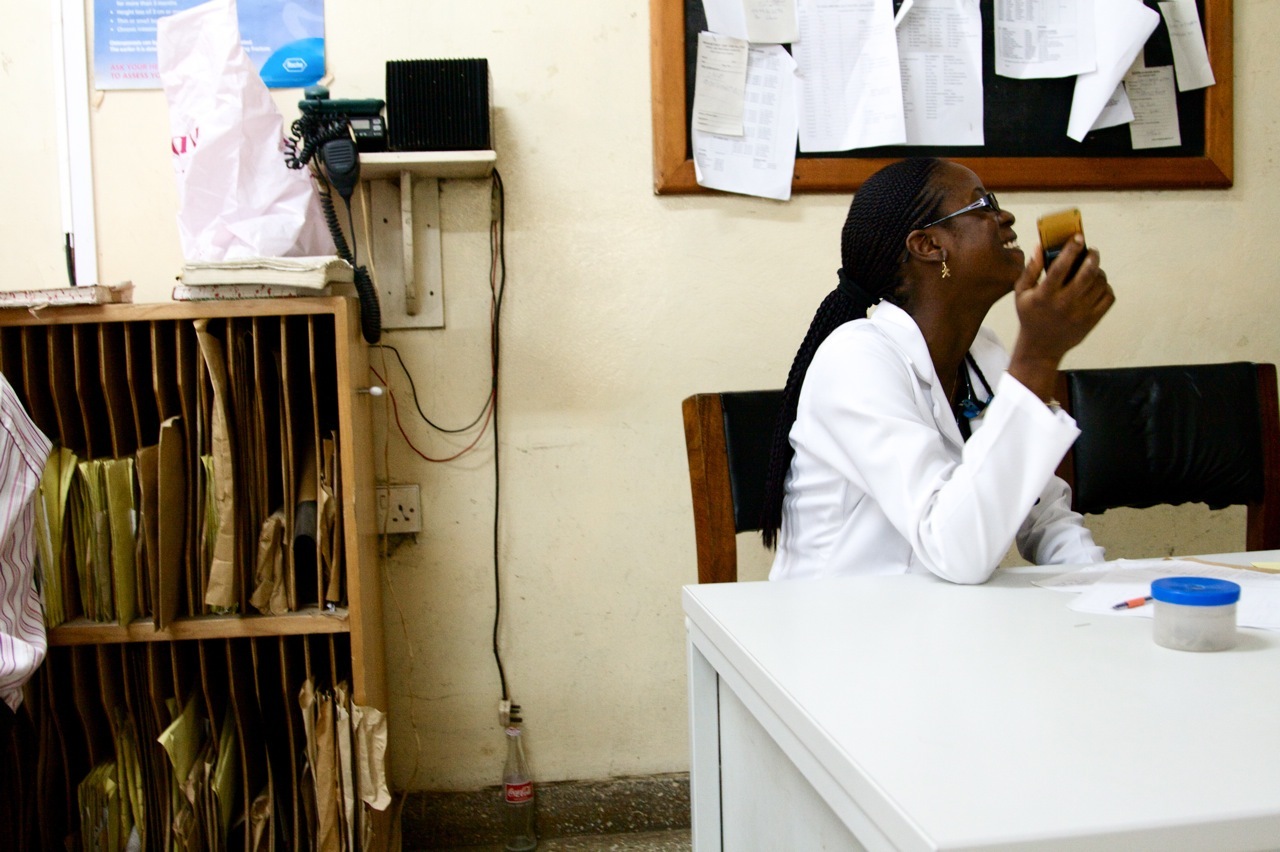 Dr. Islynn, Medical Officer at the Korle Bu Teaching Hospital in Accra, member of MDNet Directory and Africa Aid partner
SUBSCRIBE TO & FOLLOW TRUMP'S FIRST 100 DAYS
How will Donald Trump's first 100 days impact YOU? Subscribe, choose the community that you most identify with or want to learn more about and we'll send you the news that matters most once a week throughout Trump's first 100 days in office. Learn more