Enacting large-scale social change is a dream that most days, feels completely out of grasp.
This seems to be the case even when changes sought are not revolutionary -- like a desire for accountability from your local politicians, or action from unresponsive and irresponsible companies, or more accessible, reliable information about individual health and wellbeing for your community.
For countries in the world with highly accessible Internet, there have been examples of successfully scaled change, despite the odds. Take for example, a media tool like Change.org's petition system that allowed Molly Katchpole to galvanize over 300,000 online signatures in less than one month pressuring Bank of America to drop their monthly debit card fees -- which they did, after Molly's action was covered by the likes of CNN, ABC, the Washington Post and the New York Times.
But is the same kind of citizen-fueled social change possible in societies without reliable Internet connections? According to the brand new "Mobile Media Toolkit", from Mobileactive.org, the key to galvanizing largely offline communities is, in many cases, right in our hands already.
While the Internet is a medium still out of reach for about 5 billion global citizens, mobile phone subscriptions have spiked in the past five years to almost 70 subscriptions per 100 people, or access to mobile phones for just shy of 5 billion. Therefore, public participation tools designed specifically for mobile phones may be the strongest force for change at the hands of civil society.
The Mobile Media Toolkit was launched as a way to organize and explain the hundreds of free tools now available to the public for broadcasting causes and content, pragmatically explaining which tools are the most reliable and recommended, what are the expected impacts of using the tools, and how to employ them, especially for those new to such technology. The Toolkit currently profiles nearly 80 such tools, and in a single scroll through the possibilities for action are diverse.
Take mass messaging health tools, like SexEd Text or Social Txt, the former piloted in the Philippines, allowing any subscriber to anonymously SMS sexual health questions and receive expert responses immediately, and the latter already successful in South Africa, where the extra space on text messages used to send targeted messages about HIV testing and personal health to subscribers.
Or even on a more basic level of mass-communicating a message under difficult circumstances, there are tools like Bubbly, a voice-blogging service in which users can record voice messages and blast them to networks of followers and family alike -- a valuable tool for overcoming the problem of illiteracy in remote areas. Or the tool Bambuser, which allows users to stream video directly from their mobile phones to the web, to share with a broad audience -- the Toolkit breaks it down in a comprehensive case study.
The Toolkit has plans in the works to increase accessibility of all featured tools, in particular via a project to pre-load the top performers onto a memory card that can then be inserted into a mobile phone. So far, this idea has won them a finalist position in the Ashoka Changemakers Challenge of Citizen Media: A Global Innovation Competition.
In addition to documenting innovative tools, and making them more accessible to users, the Toolkit's aims to provide readers with a comprehensive set of How-To guides, including how to create content on a mobile phone, how to share content from a mobile device to broad audiences, how to deliver media to others' mobile phones, how to engage a mobile audience, and how to secure mobile media communication under conditions of potential political threats.
And rather than take for granted that the newest innovations and deployments of the tools will always be simple to locate, the Toolkit has issued a call for guest posts from individuals or organizations using these tools, or others, in ways that change their communities.
Their debut guest post comes from Mozambique, where a newspaper called @Verdade has been experimenting with mobile tools to engage their readership of around 100,000 -- and did so after making use of the Toolkit's how-to section on Using Social Media to Engage with Audiences.
One tool employed by @Verdade, "Citizen Reporter", disseminated civic education and voting information to mobile subscribers in advance of the 2009 presidential elections, and an International Growth Centre evaluative study noted that @Verdade "was particularly effective in increasing voter turnout (particularly of women) and the demand for political accountability." Another citizen-empowerment tool employed, "Livro de Reclamações" (the "Complaint Book"), allows citizens to file complaints aimed at the government via SMS or Blackberry Messenger, effectively creating Mozambique's first such citizen response mechanism. The most recent example filed complaints demanding compensations from a major telecommunications company for bad service, and future cases will likely focus on demanding improved public service delivery.
In a country like America, where corporations oftentimes hold the highest levels of power, it is remarkable that a 22-year-old American woman successfully pressured a big bank to drop a major fee with a simple online petition.
Hopefully, through resources like the Mobile Media Toolkit, billions more citizens - yourself included - will be similarly empowered via mobile networks, to reach broader audiences, in a secure manner, with your own message of social change. Try the Toolkit today!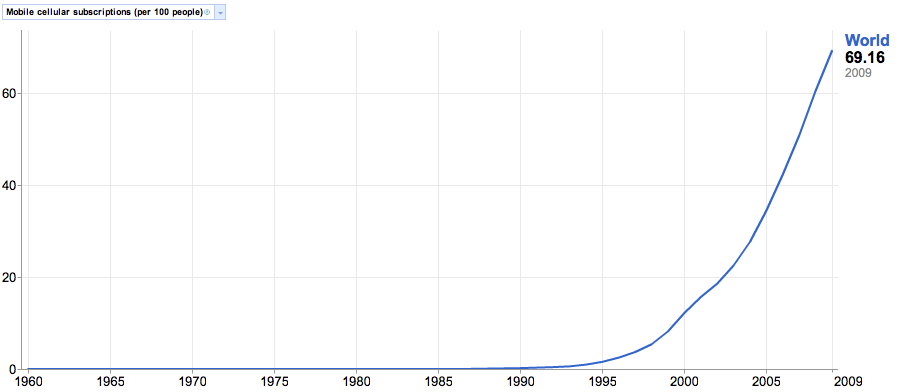 SUBSCRIBE TO & FOLLOW MUST READS
The internet's best stories, and interviews with the people who tell them. Learn more