A few weeks ago something really amazing happened at the school where I've taught for the last seven years. It was "College Application Mail-Out Day" at Bronx Prep, a tradition that began on a cold fall day in 2006 when our first class of seniors came down the steps of our school building in a group to walk their college applications to the post office together. Since then, every year the whole school community -- every kid from grades 5 through 11 and every adult in the building -- comes out in force to congratulate the seniors.
This year's event took the tradition to new heights with a truly joyous community celebration. The sun was out, there were signs and balloons, and speakers boomed music that you could hear all the way down the block. The whole school yard was full of dancing bodies.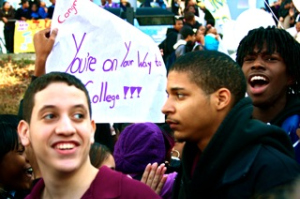 The kids were shouting, jumping up and down, smiling, crying and hugging each other. People on the street came to see what was happening. The local news media covered it in a beautiful segment that -- finally -- shines a light on some good news coming out of the South Bronx.
For me, this year's event was particularly poignant. I've known the members of this year's graduating class since they were in the 6th grade. I've been a witness to their most radiant triumphs and their deepest struggles. They've watched me come face to face with my short-comings as a new teacher and were there as day by day I learned the ropes and began to lay the groundwork for relationships which continue to inspire, challenge, expand and sustain me.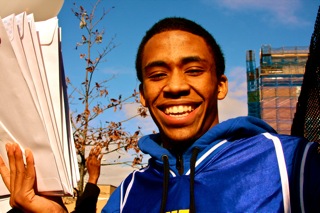 Every educator has those dark nights of the soul when we wonder if what we're doing could possibly be making a difference. Now more than ever, when the nationwide drop-out rate is sky-rocketing, the quality of life in our inner cities is continuing to plummet, and our nation's educational system perpetuates conditions that seem designed to drain every last drop of wonder, creativity and transformational potential out of the process of teaching and learning, there are real, concrete reasons for feeling burnt out, cynical and yes, sometimes hopeless. But then there are days, like "College Application Mail-Out Day," that bring back that flickering feeling of excitement, that reminder of what's possible when people come together and commit to doing things differently -- with a strong sense of mission, integrity and joy.
I could tell you stories about every single kid in this year's graduating class, but the story of Keegon Robinson, whose poignant reflection closes the NY1 segment, really says it all. When Keegon walked into our theater class four years ago, he was painfully shy about public speaking.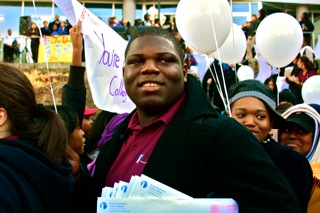 Reading out loud was a serious challenge for him and he struggled with enunciation and poise. But he showed up for practice after school and he worked, drilling himself on the same strings of words over and over, carving out the consonants until his cheeks hurt, looking up words he didn't know. Now he's the president of the speech team, acting in musical theater productions, bringing home trophies. Not only that, he's speaking from the heart with poise and presence on the news.
Let this story serve as your official invitation to "The Heart of Teaching and Learning," a blog where I'll be sharing the lessons I've learned (and am still in the process of learning) as an educator and teaching artist in the South Bronx. For the past seven years, I've come home from school each day full to bursting with stories of heartbreak and triumph, ironies and breakthroughs, whopping failures and tiny successes, and always, at the end of the day, big visions, big ideas, and big dreams.
I hope you'll find something in these stories that brings you into closer contact with the part of you that is always teaching, learning, growing and creating. Welcome, and please stay tuned.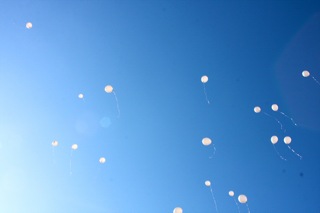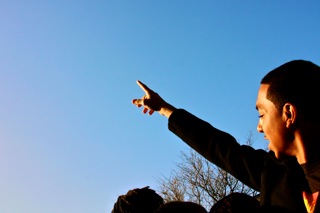 SUBSCRIBE TO & FOLLOW THE MORNING EMAIL
Start your workday the right way with the news that matters most. Learn more