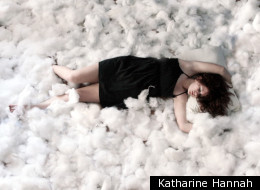 This column features stories from students exploring the intersection of creativity and technology through Hive Learning Network programs in NYC and Chicago.
One of my favorite things to do is take photos within the four walls of my bedroom, just to see how far I can bend them. I found the inspiration for this set from a quantum physics movie I had watched; we don't think about it, though we assume that when you touch a cement wall, your hand will stop and not be able to pass through. It's common sense, right? But maybe in a slanted universe that we aren't conscious of, it is possible to push your hand through a wall or walk on the ceiling. Maybe it is possible to push past the boundaries in this dimension. I would lay in bed after looking at some of David Talley's work and think these thoughts while wondering at all the things that I could do with my Canon Rebel, ways I could bend and warp the boundaries of my bedroom walls.
Katharine Hannah - Photographs
To me, this photo represents children's hopes and aspirations. I've always seen this as a young girl in her room, wishing and wanting for all her dreams to come true, as she is trying to shoot for the moon and the moon, in it's own silent way, is cheering her on.

Nature has been a sore spot for me ever since I was little. In all that we do, nature is involved. It's in what we eat, it's in what we wear, it's always in our homes, whether we're conscious of it or not -- but people still don't give it the respect I think it deserves.

This photo, "The Emptiness," is my way of expressing the wave of depression I went through, how vulnerable and alone I felt despite everything my friends and family tried to do. Depression is such a common occurrence nowadays and no one really addresses it.

Dreams have always been a huge part of what I do, seeing as a lot of my ideas and concepts come to me when I sleep. I'm always getting asked how I come up with what I want to create, and regardless of how anti-climatic it is, all I do is find a comfortable spot and imagine the silliest things I can think of.

When I was younger, I just could not wrap my head around how flight worked. How could something that's so much denser than air float above it? I would see myself as a scientist in a remote lab somewhere, doing tests trying to prove how flight wasn't possible, because in a world where everything was strictly black and white, right and wrong, flying just didn't fit into the equation.

I love creating elaborate sets that tell a story, and this was one of my favorites to do. It's about letting go of everything that drags you down and rising above your cloudy, muddled thoughts into ones that are weightless.