I've lived in San Francisco since I was two but I'm embarrassed to say the number of foggy days that occur each year still baffles me. Even nine months of freezing cold weather and dirty snow piles up in Hanover this past school year did not increase my tolerance for the bone-rattling Arctic winds that daily rip through the city. Every time I pick up the phone to call up my family in SoCal to ask if I can move in, days like Sunday, June 27th occur. The city streets were teeming with bustling businessmen, delighted dogs trotted next to their owners, and squirmy children ran ahead of their parents. I am a full supporter of making sunny day above 68 degrees an automatic citywide holiday (and will maybe promise one of my three votes to whichever of the 300 candidates running this November can promise me that). It was unbearably hot for a few days the week before the 27th, especially for those ahem ALL of us San Franciscans who live in homes where the closest thing to air conditioning is to sit inside your freezer. Even the hundreds of hip fro-yo places that are all struggling to be the next big thing breathed a collective sigh of relief into the moist foggy air after those record-breaking highs were done, because truth time: those fro-yo places kind of like being vaguely empty most of the year and those hotter then hell days were stressful, okay??
Even the most ambitious and dedicated hermit who spends 363 days a year whining that the fog is frizzing up his/her hermit hair can be seen catching a ray of sunshine in Dolores Park on those two perfectly sunny days out of the year. The only problem on said two blissful days out of the year has to do with the fact that there are only two such days; so, every living breathing organism within the seven by seven span of SF scrambles to experience it in the best way possible. The best way I (and 15,000 other of the 805,235 San Franciscans) could think of to spend the 27th was to hit up the Pride Parade on my way to the Alice concert. I was so proud of myself for arriving at the concert promptly at 12:01pm... but so did the 10,000 other people already set up on picnic blankets and lawn chairs in front of me. My fears that I would be the only diehard Michelle Branch fan who would make it out to sing along to my tween favs after such an amazing victory for marriage equality were not only unfounded by totally and completely wrong.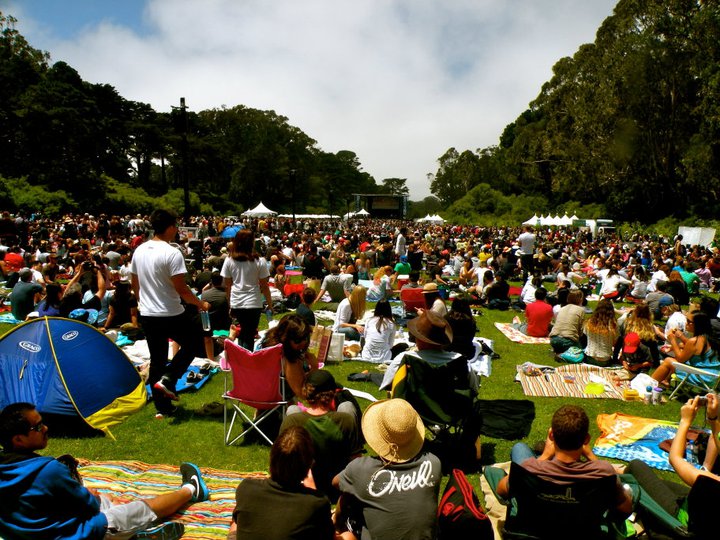 Photo by Megan Moran.
Alice's Summerthing is like Outside Land's baby sister that gets away with whatever she wants. The Outside Lands team was far from strict on its patrolling of the marijuana that floated in a thick cloud above the entirety of Slightly Stoopid and Nas and Damian Marley's set lists (not to mention the many eyes turned from sketchy 'shrooms deals the day before). But that said, setting up a communal bong next to weird metal "art" structures is a definite no-no at Outside Lands, along with strict rules against bringing in any form of liquid -- upheld by annoying bag checks at the entrances. From the amount of pipes out in the open and from the number of plastic water bottles filled with not so stealth brownish liquid and clutched by teenieboppers up front, I don't think the Alice concert promoters cared about anything except patting themselves on the back for having such a great turnout despite the time overlap with Pride. Everyone from yappy (and snappy) lapdogs that filled every green space on the Speedway Meadow to the (semicreepy) crowds up in the trees; and from the waaaaaaysted half naked rainbow randos who showed up just in time to be trampled by the stampede of people leaving during Matt Nathanson's last song, to that fog-hating hermit covered in SPF lest one ray of radioactive sun hit his or her pale, used-to-fog hermit skin, had a sun-tastic Sunday.
SUBSCRIBE AND FOLLOW
Get top stories and blog posts emailed to me each day. Newsletters may offer personalized content or advertisements.
Learn more