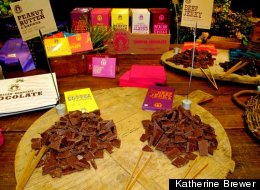 The 2012 Summer Fancy Food Show, featuring over 180,000 products, is wrapping up in Washington, D.C. Here's some of the highlights of this year's show:
Beef Jerky chocolate may have been the last strange chocolate left to make. Vosges chocolate, the uber-delicious and uber-expensive chocolate brand, has a new all-American line called "Wild Ophelia" sourced from small farms around the United States. The jerky is from Piedmontese and Angus Cattle in Idaho, if you were interested. Next year I expect foie gras chocolate or bust.

Are all good teas alike, and all bad teas bad in their own way? The Republic of Tea's "Anna Karenina," promoting the Focus Features December film, was one of the strangest corporate partnerships seen at the Fancy Food Show. It was actually a nice, smoky black tea, although it doesn't bring forth images of 19th century Russia, Tolstoy, and, thankfully, trains. I hope we will not see a trend of specialties foods named after great literary tragedies: Hamlet's frozen Danishes, For Whom The Bell Tolls's bellota, Orpheus's baklava.

Move over Sriracha. KIMKIM Korean Hot Sauce is the new spicy red sauce that you can add to everything. A bit thinner and slightly weaker than the hot sauce you get at most Korean restaurants, KIMKIM is more versatile and tangy. But don't be fooled, this "Korean" hot sauce is made in Richmond, VA.

"Rose Lemonade," from Fentimans, may be the perfect summer drink. The 107-year-old British company blends rose extract from Bulgaria with ginger spice in their low-carbonation lemonade. Drink it on its own or mix it with a Kentucky bourbon and enjoy all summer long.

Fra'mani's smoked uncured pancetta, out of Berkeley, CA, is a salty cut of pork belly made in the traditional Italian method. The smokiness isn't overwhelming or artificial and adds a nice flavor to the fatty meat. All their sausages are handmade, hand-trimmed and hand-tested.

Rogue Creamery, out of Oregon, may be the reigning king of blue cheese. Their new "Flora Nelle" doesn't pack the punch of their original "Smokey Blue" but it has great flavor and spice.

Finally, tofu that really does have all the creaminess and umami of cheese. Rau Om's Tofu Misozuke, cured in miso for at least two months, is an ancient Japanese recipe. After Oanh Nguyen and Dang Vu, a married couple from California, ate misozuke on a visit to Japan they tried to find it in the United States without success. So Dang Vu, a Ph.D student in biology, reverse engineered the tofu with the help of a Japanese recipe book from 1782.

Beef jerky that doesn't sting of salt and that is made of all natural ingredients? Let the backpackers and hikers of the world rejoice. Field Beef Jerky, out of New York City, is the best looking and best tasting jerky I've ever had.

Frozen pasta will never be as good as fresh, but Nella Pasta, out of Boston, comes pretty close. Started by two young office workers in Boston, Leah and Rachel, Nella uses ingredients from local Massachusetts farms. Their choices are seasonal and their featured kale and currant ravioli was some of the best pasta at the Fancy Food Show. Their story sounds like a lot of the small food business stories at the Fancy Food Show. Talk to a few booths in any row and you'll hear great stories of people who started to cook a product in their kitchen and grew out into their communities.

Holy Cross Abbey is a Trappists Monastery in Virginia's Shenandoah Valley that makes creamed honey (and fruitcakes, chocolates and other giftable foods). It wasn't necessarily the best honey at the Fancy Food show, but it was the only one made by holy men.

Do you want your water to taste more like rocks? May I suggest "blk." water. It is black in color, grainy in texture and claims to have "all the health benefits of Gatorade."

Picklers Brooklyn Brine have teamed up with Dogfish Head to create "Hop-Pickle," cucumbers and spice mixed with an India Pale Ale. It is the most hipster thing you've ever seen.

Truffles and caviar actually don't taste that great together. But if one needs something to eat in his gold bathtub with ivory knobs before the lobster main course, this is the dish for that. Mixed in Long Island City, New York, by Paramount Caviar.

What's hot at the Fancy Food Show?: The country of South Korea. Trying to capitalize on the new trade agreement signed last year between the U.S. and South Korea (fact: South Korea is the world's 15th largest economy), Korean food booths were active and there was a special 1 hour event to promote Korea cuisine.