It's absolutely amazing to me is that no matter how many lipsticks and mascaras professional makeup artists see in their lives, new products always excite them. Really. They squeal. They covet, hide, and hoard. And as we get deeper into the week of shows, they are not sharing with each other.
Every season, part of our (lucky) jobs at MAC is to test drive new unreleased formulas and color products that aren't on sale to the general public yet. In fact, some of these items haven't even made it to our marketing calendars. We know that if these products can stand up to the test in the most extreme beauty/fashion environment, they'll work anywhere! So it goes without saying that each season, some products become stars. Hey, when you're covering 90 shows and everyone wants the same new lip gloss (or eye product), things can get pretty heated. Our "little family" gets a tad territorial. People put their names on their favorite pieces, and trades are negotiated.
But to be fair, there's simply not enough inventory to go around. That's because it's hard to predict how much people will gravitate to one specific product, and we're often down to the wire with our manufactures to get products to us, (especially when the Italians take August off!). So far, this season it seems to be all about metallic textures, the colors khaki and grey, and lashes. Of course, as fashion week moves to new cities and even later in the week here, the story will spin into something different. Just wait and see.
On top of the color trends, shows are always about impossible makeup requests. No, I cannot get someone to manufacture your dream product in Indonesia by Thursday (hello!). Maybe next season we should do a slower release of products--a few more over the course of the month to keep the "new stuff" euphoria running high. Although at the end of the day, it actually doesn't seem to matter. Whether the products are hot off the press or old standbys, our artists are so passionate. They love creating runway magic, and I love watching them in action.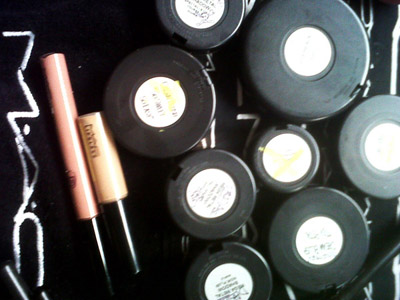 SUBSCRIBE TO & FOLLOW LIFESTYLE
We're basically your best friend… with better taste. Learn more