Faster then you can say "pantsuit," we're in and out of Milan. It's been a crazy, full week of shows (29 total!), but looking back, it went by quickly. The Italian shows are certainly a fashion beast of a different nature. For example, we have 6 a.m. call times all over the world, but somehow, for me at least, the 6 a.m. calls in Milan are the most painful. Perhaps it has something to do with the fact that many members of the Milanese fashion community inexplicably seem to revel in last-minute show changes. It's common to add nine new models and cancel nine others, change the show time, location, call time, and of course, the makeup, the night before. Nothing is set in stone. Rolling with the punches is definitely the name of the Milan Fashion Week game. (That and being on the verge of punching people, heh.)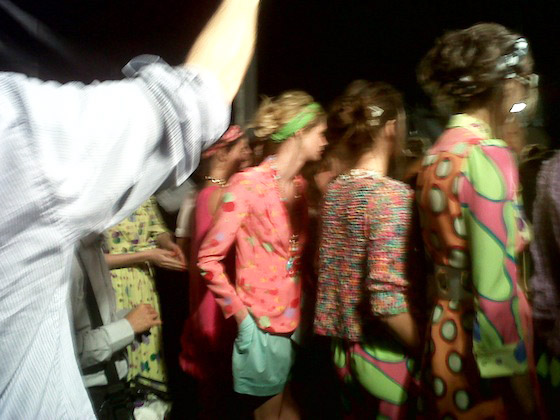 Cheap n Chic show
As you can imagine, this approach is also conducive to one hell of a raucous atmosphere. Blumarine was a sea of Ladurée-hued cheetah prints, gold, kaftans, and one of the loudest, scream-filled backstage situations I have witnessed in a long time, and that's saying a lot. There's nothing like a little chaos, yelling at models, super quick changes and overall panic to get your blood pumping. Yes, Milanese backstages are always vocal and noisy, but I think that took the prize for me this season. Second place goes to Missoni, where 19 -- yes, you heard that right -- 19 out of the 39 models arrived late and less than an hour before the show. To complicate matters, the backstage area was super tiny and the looks were complex and multi-layered with hats, scarves, and all manner of accessories piled on. Seriously nutty. It came together relatively smoothly (all things considered), but still, how does this happen in the first place?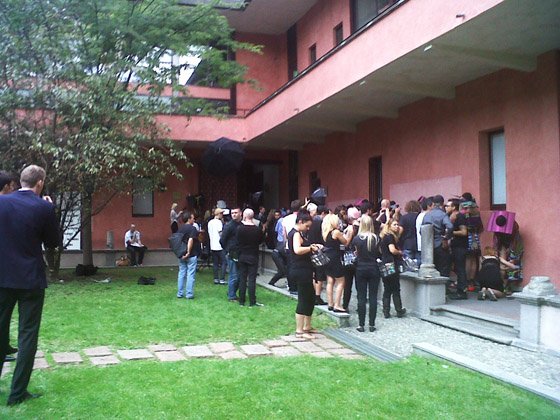 Missoni line up
While the overall pace remained the same, many of the venues changed: This season we did shows all around the city center instead of the usual Fiera, a convention center that used to be home to many shows. Because it's faster to trek on foot than battle traffic, we spent less time hanging out in the gold-colored M•A•C bus that drives our team around town and more time walking. Thank god for surprisingly balmy weather both for our walks and the outdoor shows, like a highlight of the entire week, the giant Milano Loves Fashion C'N'C Costume National spectacle in front of the Piazza Duomo.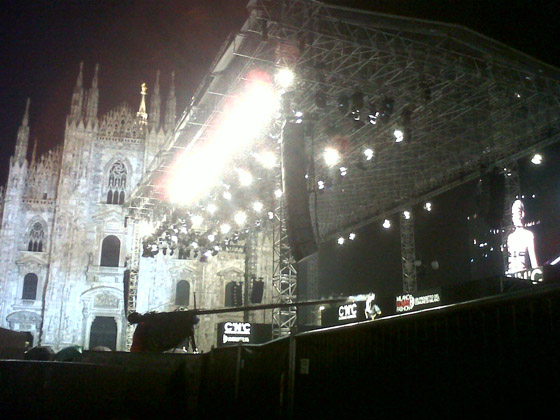 Because it was outside and open to the public, the minutiae of each model's face was exposed on a JumboTron big screen. From a makeup artist's perspective (and mine), it was slightly terrifying to see their work magnified so closely! Thankfully everything was perfect, and I was so proud of our M•A•C Pro Team and our key artist, Lyne Desnoyers, for doing such an outstanding job. The night couldn't have been more perfect except for the rain, and with the crazy traffic, we walked back to our hotel feeling happy but, well, wet.
As I sit on the plane battling some pretty major exhaustion, I'm looking forward to leaving insalata caprese, prosciutto, and pasta behind for a while as we head into the land of croissants, Chèvre chaud salades and more variety of food, fashion and makeup.

SUBSCRIBE TO & FOLLOW LIFESTYLE
We're basically your best friend… with better taste. Learn more