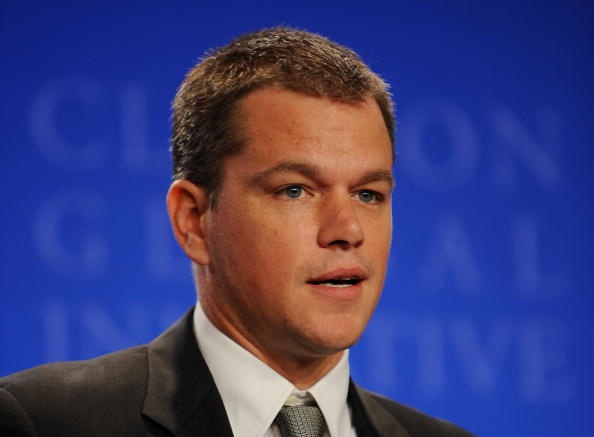 Good question. The smile? The middle name? (Paige, for the record). Believe it or not, there's something even better. The best thing about Matt Damon is that he just announced that his non-profit, Water.org, will provide clean water to 50,000 people in Haiti.
OK, clearly that's a judgment call, but when he made that announcement at the opening plenary session of the 2009 Clinton Global Initiative annual meeting today, the room did erupt in applause.
The Clinton Global Initiative is an annual conference that gathers politicians, philanthropists, scholars, NGO and business leaders - and, apparently, Oscar-wining actors - to figure out ways to solve the world's most intransigent problems. Serving as the UN Special Envoy to Haiti, Bill Clinton, the event's host, has a special interest in encouraging commitments to help Haiti at this year's conference.
Water.org's co-founders, Damon and engineer Gary White, stated that the organization will provide clean water and sanitation to the Western Hemisphere's poorest country in part through Water.org's innovative WaterCredit Initiative. The Initiative is the first microfinance program targeting the water and sanitation sector.
On the stage this afternoon, Damon and White appeared serious in front of a vast audience of Earth's notable rainmakers. After Clinton's introduction, White leaned into the microphone to describe Water.org's innovative approach.
"Five years ago," White said, "the conventional wisdom was that the billions of people lacking access to water and sanitation were too poor to tackle their own solutions." Water.org disagreed, and developed a micro-lending solution to put the power in poor people's hands.
At his turn to speak, Damon revealed a dry humor: "Thank you Gary for whipping the crowd into a frenzy," he said, to a ripple of laughter. Predictably handsome in a blue suit, he laid out his organization's promise: "Water.org will deliver at least $2 million to fund this commitment."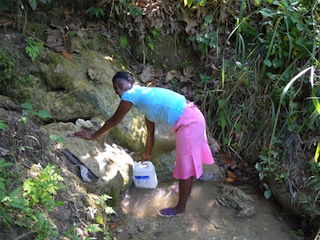 According to Water.org, about half the Haitian population lacks access to clean water. The nation is categorized as "water-stressed," meaning that people there have access to less than one percent of existing water, which is piped to only 21 percent of Haiti's urban areas. Public water treatment facilities are just about nonexistent. Cartels in Haitian cities run black markets in water, fleecing citizens and exerting terrifying control over people's health and livelihoods.
To implement its commitment to improve this situation, Water.org will be offering a traditional grant-making program to provide funding to organizations engaged on the ground, as well as exploring various micro-financing options to see what will work in the Haitian context. The poverty is so extreme in the country, however, that there will be limited opportunity for employing micro-credit.
The project, unofficially called "Haiti Challenge" but referred to on the record as "Safe Water and Sanitation For the People of Haiti," will involve raising funds from a variety or sources. The EKTA Foundation has already announced that it will be providing grant support. A social media focused "friend-raising" campaign will be part of the project, mobilizing the general public to contribute as much as possible -- hopefully up to $100,000 -- through Water.org's Haiti Challenge Website.
Damon even challenged the world's notables in today's audience to join the fun. "We want to challenge everyone here in this room tonight to support this commitment to the people of Haiti by visiting Water.org," he said.
Matt Damon is not new to water issues, but it has taken him a while to figure out how to be most effective. He had previously founded a different water-oriented organization, H2O Africa, but, according to an article in Esquire magazine, it bothered him that it served mostly as a funnel for donations. He wondered: Was offering handouts to a bunch of smaller NGOs the best way to change things in a big way?
When Damon met White, an engineer with a life-long dedication to solving the developing world's sanitation problems and an innovative method of using micro-lending to improve water infrastructure, he knew the answer to that question was no. By granting microloans to help people in developing countries run pipe and install water taps at their houses, White's NGO, WaterPartners International, was empowering people in need to address their own needs
Damon and White developed a relationship and eventually decided to merge their two organizations into the new entity, Water.org, the goal of which is "to draw attention to the world's number one health problem, unsafe and inadequate water supplies, and to raise funds to help fight this immense problem - one community at a time."
While Damon is an old hand in the water arena, this isn't his first foray into Haitian aid either. Last September, he traveled there with Haitian-born singer Wylclef Jean to deliver food to communities overwhelmed by tropical storms and hurricanes. The pair helped the UN raise $100 million to provide aid to around 800,000 Haitians.
So as good as his movies are -- including, no doubt the newest, called The Informant!, released on Friday -- and as dazzling as his hundred-watt smile, I believe I have a case to make that the best thing about Matt Damon lies beyond the red carpet.
Stay tuned to Tonic all week for special, live coverage of the 2009 Clinton Global Initiative.

(Photos: Matt Damon by STAN HONDA/AFP/Getty Images. Woman collecting contaminated water in Haiti courtesy of Water.org.)
SUBSCRIBE AND FOLLOW
Get top stories and blog posts emailed to me each day. Newsletters may offer personalized content or advertisements.
Learn more