Shutters on the Beach held an allure for me long before I ever visited. The power lunch, see-and-be-seen casual elegance planted right there on legendary Santa Monica beach is fairly irresistible -- even to a bona fide California ocean girl. Architecture reminiscent of a Cape Cod waterfront cottage, complete with grey-shingled siding and cabana-striped awnings, helps the 186-room boutique hotel live up to its buzz.
David and I arrived looking for a romantic escape the day before a nearby business meeting. Sure enough, the getaway feels glamorous, bustling, and iconic, as though you haven't really been to the beach until you've landed here. Real estate around the pool was in high demand, and a young, hip crowd filled the lobby and bar for evening drinks.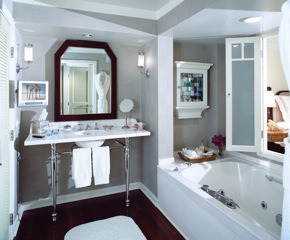 But a solitary, peaceful experience (outside the spa, that is) can be more elusive. This place makes you want to be part of the action. And with room prices starting at $445 (suites begin at $4,000), you'll find yourself around people who don't intend to miss much -- in or around the resort.
The hotel offers surfing lessons (and wetsuits, hopefully), yoga on the beach, and bicycle rentals. Those wishing to venture a little farther can visit Venice, Beverly Hills, Malibu, and even Catalina Island. On our tight schedule, however, we opted for the simplicity of a late afternoon run along the boardwalk. The unique scent of the ocean, exclusive to the chillier side of the Pacific, floated toward the cliffs rising above the highway. Both natural phenomena stood in sharp contrast with Santa Monica Pier's carnival atmosphere. These details, along with the entertaining people-watching, helped the miles slip by unnoticed.
As much as we loved the area, we never stay in one place entirely. This time, however, a tamer option satisfied our mutual thirst for adventure. The J. Paul Getty Museum (so magnificent that it deserves its own story) is too rich to cover in half a day, so we picked out two temporary and riveting exhibits ("Renaissance Drawing in Florence and Venice;" "Engaged Observers: Documentary Photography since the Sixties") to examine in depth before meandering through the spectacular gardens and enjoying lunch in one of the cafes. The combination felt like plenty. Besides, the architecture of the multiple structures at the Getty Center -- perched on a hillside accessible only by a dedicated tram -- make it special even if you don't want to see the art. But why not take a peak? Admission is free.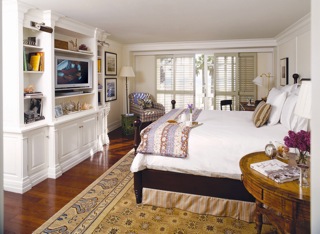 Back at Shutters that evening, we wandered to dinner without reservations. Big mistake. The popularity of the restaurants with visitors and locals alike, especially Chef Jason Johnston's high-end
One Pico
, demands a bit of pre-planning.
By the end of the evening, we couldn't wait to get back to our cozy room and its oversized tub -- nicely accessorized with candles and SKYblue bath and body products.
The 17-year-old hotel received an update from Obama White House designer Michael Smith in 2005; the rooms feature hardwood floors with Tibetan wool rugs, and elevated (as in, you need a little hop to hit the sheets!) four-poster beds. Other homey touches include shelves stocked with more than a dozen books you actually want to open and read, and a cozy throw resting on the back of an armchair. Not surprisingly, you need not fret over parting ways with the charming ambience. The hotel's shopping website allows you to take some items home with you.
Alas, you'll probably need to leave the bathtub.
Follow Katherine Nichols on Twitter: www.twitter.com/@soulfitgirl