The first day of CES 2010 was different in many ways -- CES is definitely an industry that has grown up. Having attended CES since 1989, this is my 21st CES, I was struck by the somber nature of the show, especially the opening keynote by CEA President, Gary Shapiro. I think it was his intention to rev the troops up with "sales weren't as bad as we thought they would be in 2009 - only down 7 percent" message. He tried to emphasize that consumer electronics is the industry of innovation and that innovation drives this country. Not one cheer, not one yelp from the audience -- from the grown-up attendees of the past, just deafening silence across the room. 2009 has been a year of readjustment, recalibration and renewal. Had the crowd here to see the opening day keynote been so daunted by 2009 that nothing could make them see recovery? Had 2009 been so devastating that the lightness was driven out of this industry?
Shapiro chose to talk about innovation and this is a show of "show-me the innovation." The crowd greeted Alan Mulally, CEO of Ford Motor Company, with applause, whistles and shouts. The lightness returned. They saw recovery. The Ford Team led by Mulally took the keynote audience through Ford's innovation and commitment to quality, safety, green and smart technologies. Each technology playing a key role in vehicles that the company will roll-out next week at the International Auto Show in Detroit and to the world. Technologies that are not relegated to the luxury lines, but cars for everyone. The new technologies built on the SYNC platform showed how the company's collaboration with key partners and the open source development community was paying off. Soon, "Ford HAS AN APP for that" was spoken thoughout the show halls.
The presentations from Ford captured the soul of the crowd and blew the cobwebs, dust and doldrums off them. People were thrilled when the Ford stock price was pulled up in an app for SYNC and the stock was at $11.26. The stock had been as low as $1 in early 2009 and closed today at $11.66. The audience was cheering, applauding and snapping pictures to send the news across the world. Clearly, Ford was back and innovation was driving it - all while keeping the hands on the wheel and eyes on the road.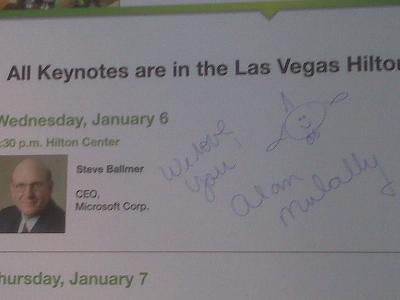 The two presentations received radically different responses - although I think the intent was the same. The crowd voted. As I walked the halls to appointments and product demos, I saw that CES had captured its lightness -- and innovation -- again.

SUBSCRIBE AND FOLLOW
Get top stories and blog posts emailed to me each day. Newsletters may offer personalized content or advertisements.
Learn more