Years ago, a friend in Belize told me that a country never escapes its origins. The United States, he said, is a land of puritans. Belize is a land of pirates.
And Istanbul is a land of traders. Once the end of the 4,000-mile-long Silk Road, the mother of all trade routes, this part of the world, as a result of all the traffic and all the business that culminated here, has been notable since the second century B.C.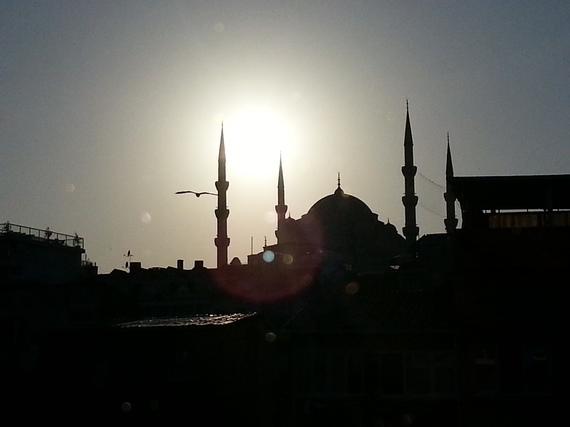 Making my way around current-day Istanbul with my family over the past two weeks, our small caravan of travelers couldn't help but compare this great city to Paris, the city all cities are graded against and (to admit our bias) our favorite place in the world to spend time. Indeed, Istanbul has long been referred to as the Paris of the East.
The better we got to know Istanbul, the more readily we accepted the accolade. The cafes, gardens, parks, and river walks of Istanbul are all a la Paris. The windows of bakeries and confectioners can be picture-perfect arrangements of breads, pastries, and sweets. The people dress smartly and wish each other good day as they come and go. The old city is ancient, but spreading out from it are many and diverse other quarters, from bohemian and artsy to chic and modern...again, just like in Paris. Climbing the hill to reach Galata Tower felt like climbing Montmartre toward Sacre Coeur, and, reaching the top, we had our choice of street-side bistros for lunch and hip and groovy shops for exploring after we'd eaten.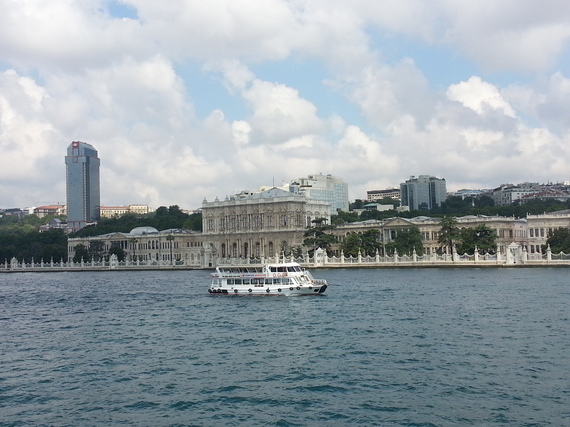 Most fun for me, Istanbul, again like Paris, is a city made for walking. Not only the oldest parts but every region of this city, both Euro and Anatolian, invites you to take off on two feet to explore it up close. When you do, you discover book stores and art galleries, antique shops and boutiques of all descriptions, on and on as far as your curiosity and legs will carry you.
"You know," said my son-in-law Harry one day as we gazed appreciatively upon the neat and symmetrical displays of brightly colored candies in yet another notable Istanbul shop window, "maybe we shouldn't be saying that Istanbul is just like Paris. Maybe we should be saying that Paris is just like Istanbul."
Aha. Harry had a point. Not only was Istanbul settled some few hundred years earlier than Paris, but it developed much quicker and grew to become grand and prosperous when Paris was still swampland.
Still, today, two-and-a-half millennium later, it's Paris that other cities want to be compared favorably to, not Istanbul. Paris is the most beautiful and romantic spot this world knows.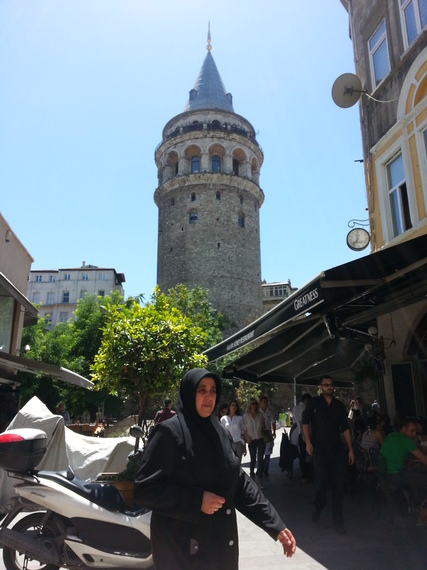 Paris is pretty, but Paris is also a museum, and this is where the difference between Paris and Istanbul begins. I appreciate that, every time I return, central Paris will be perfectly packaged and just as lovely as the last time I laid eyes on her. Life in this spot continues as it has for centuries, according to tradition and the seasons and without fail.
Life in Istanbul continues as it has for centuries, too, I'd say, but the whole affair is livelier. Paris is polished, and the French are reserved. Istanbul is gamier, and her population doesn't seem to take life or their city or themselves too seriously. The people of Istanbul have an openness and a playfulness about them. Exploring Istanbul isn't like wandering through a great open-air museum; it's like being invited into someone's living room.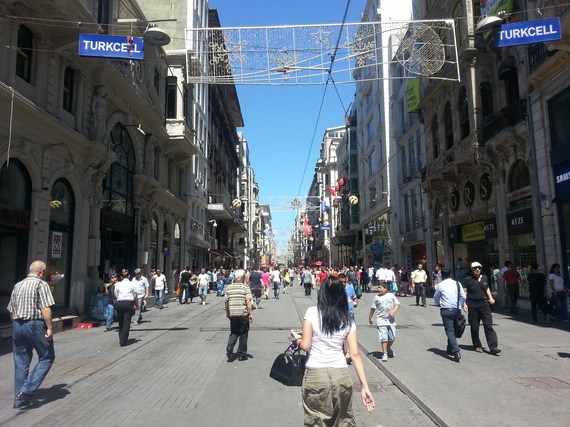 Everywhere are the touts. On every corner, behind every door, someone is selling something. Their calls are constant...
"Hello, ma'am. I have carpets...very good carpets...the best carpets..."
"How are you, nice lady. Are you hungry for lunch? I have seafood...very good seafood...the best seafood..."
"Do you know what time it is? No? Perhaps you need a watch. I have watches...very good watches...the best watches..."
Water, ice cream, shirts, underwear, maps, prints, spinning tops, slippers, sunglasses, pashminas, kebabs, grilled corn, watermelon, cherries, orange juice squeezed while you watch...anything you could want anywhere you happen to be, a friendly Istanbuli is nearby, you can be sure, ready to oblige.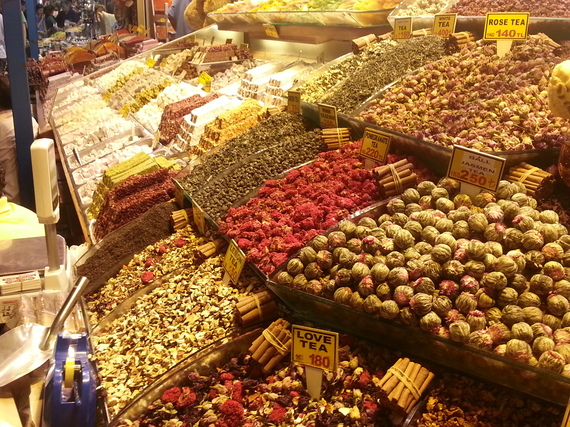 Yes, this is a land of traders...but not hustlers. The touts are ever-present, the shopkeepers inventive in their efforts to entice you inside, but they all moved on with a smile when we made it clear we weren't buying. The merchants are persistent but not obnoxious and, as far as we could tell, not trying to pull one over on you. They don't want to take advantage, just to do some business.
Though densely crowded and more so all the time, this isn't a noisy city. The patter of the touts, birdsong, and the regular calls to prayer...these are the sounds of Istanbul, and you're able to discern them even amidst great crowds. We'd turn a corner sometimes to face a veritable sea of people, some tourists, yes, but mostly just the people of this city going about their daily business. In Panama, crowds are to be avoided. Here people respect your space, wait their turns, even excuse themselves when they pass. There may be loads of them, but Istanbulis don't overwhelm, neither the pedestrians nor the drivers. Traffic is on the scale of that back in Panama City but nothing like as terrifying because these people seem to know and respect the rules of the road.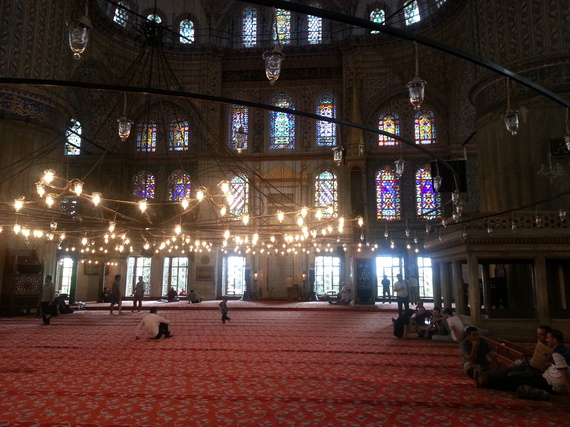 Contrasts are strong in Istanbul, between the traditional and the modern, the old and the new. In the bazaars, women in burqas walk past shops selling red lacy lingerie and mankinis. In the squares, buskers play flutes and traditional drums called dumbeleks; meantime this month Neil Young is playing in concert.
Istanbul owes its place in world history to its unique geography, positioned as it is among the Bosphorus River, the Golden Horn, the Sea of Marmara, and the Black Sea. Historically, this situation has meant tolls, harbor fees, trade, and prosperity. Today, this metropolis is again thriving. Officially, the population of Istanbul is 14 million, but some estimate that the city's true current population is closer to 20 million and expanding. I read one report that suggested as much as 60% of the population, whatever it is, is under the age of 29. I can't confirm that statistic, but I can tell you that young people are everywhere...in the parks, gardens, markets, and walkways, enjoying their city.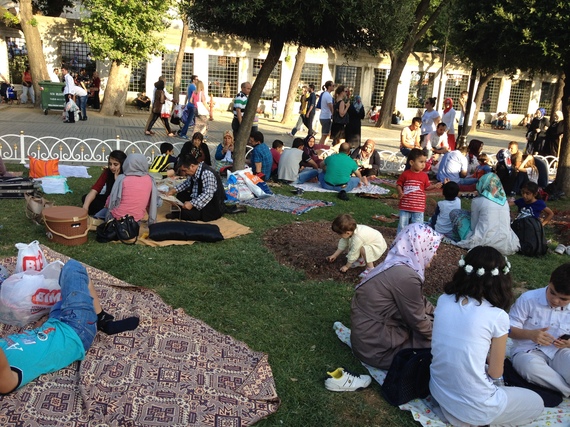 All the population growth means epic infrastructure strains. Cars, congestion, construction, traffic, and delays, these are all dominant parts of both the scene. However, the effects are less frustrating than you'd expect. The chaos is controlled, even genteel.
Istanbul is attracting foreign investor and entrepreneur attention, and this is expected to continue despite growing unrest in the region. Increased business activity means expanding economies and healthy employment scenes.
All things considered, if you're interested in a Euro-chic lifestyle, I'd say that Istanbul could be your best option today considering the quality of life available for the price. The cost of living in Istanbul is greater than in the rest of Turkey (elsewhere in this country can be an absolute global bargain) but still a real buy by Euro-world standards. A couple of retirees could access and enjoy the rich lifestyle on offer in this historic, layered, and eclectic city of rooftop restaurants, garden cafes, art galleries, antique shops, bookstores, museums, and nargile lounges on a budget of as little as $2,000 per month.
Earlier on Huff/Post50:
Top 8 Destinations For Multigenerational Travel
A city world-renowned for its theme-park attractions, great nightlife and nearby sunny beaches, Orlando also goes beyond that and is truly a destination for the entire family. With its mixture of traditional and modern entertainment, fine art museums and galleries and world-class amusement parks such as LEGOLAND® and Walt Disney World, Orlando continues to be a hotspot for the entire family. Travel-Ticker Example Deal: $70/night: last-minute global sale on weekly condos, $489+*: Savings worth waiting until the last minute for -- over $300 off. Head out to one of over 70 global destinations and stay a week for as little as $70 per night. Visit Disney World in Florida, Palm Springs, the Caribbean, Europe, Mexico, and more. Availability is limited and only valid for travel within 30 days of booking. Even if you can't stay all seven nights, you're still getting a great rate.

Known for its championship golf courses as well as its white sand beaches and water parks, Myrtle Beach provides a fantastic vacation experience for all generations. Many resorts in the area also offer all-inclusive packaging or rooms with kitchenettes and oceanviews, which are ideal for families looking for a money-saving getaway. Also, many properties offer extra savings or free nights based on how long you stay. So adding an extra vacation day to get some shopping done at the popular Broadway on the Beach might end up being free. Travel-Ticker Example Deal: Myrtle Beach: oceanfront suite, third night no charge -- $67+ Extend your stay and save. Myrtle Beach's Boardwalk Beach Resort has oceanfront Jacuzzi suites from $100. Stay two nights and your third is on the house -- that works out to rates as low as $67 per night, August 21-September 24.

Boasting a sunny climate that never varies more than ten degrees from moderate, attractions such as the world-class zoo and amusement parks, and natural coastal beauty in places like La Jolla Cove, San Diego offers activities to suit any traveler at any age. And don't forget, the restaurants and nightlife of the Gas Lamp District will definitely keep the grown-ups of the family happy as well! Travel-Ticker Example Deal: San Diego: 30% off four-star downtown waterfront hotel, $90+: Downtown and by the water -- the best of both worlds. Sale rates vary at the four-star Manchester Grand Hyatt San Diego, but you'll always get 30% off stays in December. Looking to go later? Click here to stay January 15-February 27 for $169, including an upgrade to a bay-view room.

Canada is always a great choice for a strong combination of deals and destination, and here are options for folks on either side of the country. Both Vancouver and Quebec City offer up the perfect amount of history, culture, outdoor activities and culinary delights to entertain all generations. Quebec City is unique as it brings a very strong French influence to Canada with 17th Century buildings, waterfalls and a friendly community of residents. Meanwhile, Vancouver is truly a world-class city that has a temperate climate, beautiful scenery and a wide variety of nightlife and shopping options. Vancouver is also a particularly strong deal destination after all the hotel building that happened for last year's Winter Olympics. Travel-Ticker Example Deal: Low international fares from many U.S. cities -- from $99*: Low fares on a flier favorite. Air Canada has low fares from the U.S. to select global cities like Los Angeles to Vancouver for $99* one way and NYC to London for $240* each way (R/T).

The Windy City lives up to its reputation as one of the great cities in the U.S. by providing hundreds of fantastic options for just about any age group. It also tends to be more affordable than its big city siblings like New York and Los Angeles. Chicago is particularly well-known for its art, architecture, and theater options. There are enough attractions to entertain all, including river tours, a cluster of world-class museums at Museum Campus, hands-on studios and exhibits for kids at the Art Institute of Chicago, and plenty of shows and events at the legendary Chicago Theater. Travel-Ticker Example Deal: 40% off Chicago luxury hotel near Magnificent Mile -- $79: This unbeatable price is only on Travel-Ticker -- we double checked. Relax at the luxurious Millennium Knickerbocker hotel in downtown Chicago for 40% off. We also got exclusive discounted room upgrades. Superior rooms are $30 more, and Superior Corner Kings or Doubles with a view are $60 more.

Most people don't consider Las Vegas to be a playground for families, but that popular misconception should make it even easier for multi-generational travelers to get the most out of the city. Las Vegas has been building itself up to be a family's paradise, with many resorts offering a variety of shows to choose from as well as rollercoasters, buffets and plenty of sightseeing. Adults in the family can also take advantage of the vibrant nightlife that Sin City is so famous for. Just a short drive away are the Grand Canyon and also Zion National Park, both of which offer incredible sights for touring. Travel-Ticker Example Deal: Six-day Southwest U.S. hotel and rental car package -- $449+: Gate 1 Travel is offering this Southwest United States experience to Travel-Ticker readers for an exclusive $50 off the already low rate -- just be sure to use promo code TTSWFD50. You'll get a rental car for six days, two nights at the four-star JW Marriott Las Vegas Resort & Spa, one night at Cable Mountain Lodge at Zion National Park, and two nights at the Radisson Woodlands Hotel in Flagstaff.

For the budget-conscious family, all-inclusive is the way to go, and the Caribbean is the perfect spot to score sweet deals. Everyone can eat, stay and play at an all-inclusive resort with one set price and without the hassle of planning. Additionally, most resorts offer a 'kids camp' so that adults can enjoy some down time with a fruity drink and a book by the pool--a rarity on most family vacations. This can allow the adults and the kids in the family to all have the experiences they want...together or separately! Travel-Ticker Example Deal: Jamaica: air + all-inclusive beach resort w/extras -- $579+*: Journey to Jamaica at a bargain rate. Fly from Miami (other departure cities available) and stay three nights at the all-inclusive, beachfront Sunset Jamaica Grande Resort and Spa. Be sure to use promo code BEACH100 to save $100 on your booking. Book now before this peak-season deal sells out.

Cruises are a great option for families right now, especially for a multigenerational vacation with the grandparents. Cruises keep everyone occupied with a diverse set of activities for the children, while the adults can view multiple world sites from the comfort of a floating luxury resort. And let's not forget the array of dining and entertainment options such as nightclubs, comedy acts and shows at your fingertips. Couple these perks with the amazing destinations that cruises travel to like the Caribbean, Europe, Alaska, South America and the Mediterranean, and you can see how easy it is for families to get an affordable and unforgettable experience all on one ship. Travel-Ticker Example Deal: Seven-night Caribbean cruise w/upgrade and extras -- $369+: High seas savings with extras. Hotwire and NCL have teamed up to offer W. Caribbean cruises from $369. Get a complimentary cabin upgrade plus a coupon book with up to $400 in savings. Depart from Tampa on select dates in November, 2012.