Retire To Nicaragua? This Former War Zone Is Emerging As A Top Retirement Haven
"Forget about the Sandinistas. They're obsolete."
That was Violeta Chamorro's advice in September 1989, when asked about her chances for defeating the Sandinistas in Nicaragua's first presidential election after the Contra War. To the surprise of sitting El Presidente Daniel Ortega and all Nicaragua, Mrs. Chamorro won that election in February 1990. The Sandinista Ortega stepped down graciously, and Doña Violeta began the work of rebuilding her country.
I visited Nicaragua for the first time three years later. Managua, thanks to the earthquake of 1972, the revolution, and the civil war, was a near disaster zone. No reason at the time to stick around Nicaragua's capital city and this is only slightly less true today. Gringos like me, then and now, migrated instead slightly south and west, to the Pacific coast, where, by the early 1990s, speculators had already begun snatching up stretches of this country's primo beachfront, and inland, to the colonial city of Granada.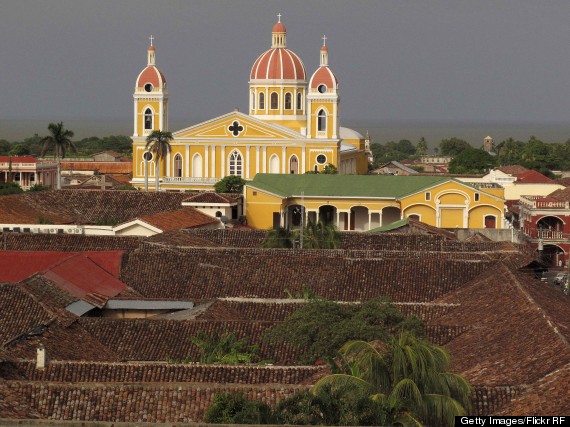 While both Granada and Nicaragua historically have been and can still be short on amenities, they have always been long on heart. I discovered this country was pulling herself up by the bootstraps. In the towns and traveling along the dirt roads back then, you saw men and boys in olive green military garb, sometimes carrying weapons. They seemed intimidating, until you stopped to speak with them. They talked openly of their desire for peace. These Nicaraguans were tired of fighting, worn out by decades of watching their once-prosperous little country dissolve into chaos.
In the years that followed, the transformation was remarkable. The gringos kept coming and even began settling in. The speculating along the Nicaraguan Pacific Riviera went into overdrive. Sleepy Granada became a tourist hub, so crowded you'd sometimes have to wait your turn for a rocking chair on the porch of the Alhambra. Doña Violeta, it seemed, had been right. The Sandinistas had become obsolete, just like the political model they'd sought to follow, replaced, it appeared for some time, by property investors, foreign retirees, and adventure-entrepreneurs. Indeed, through 2006, Nicaragua was on the fast track to a bigger, brighter future. That is not to say that the Sandinistas -- the party or the people -- had disappeared. Indeed, the most famous Sandinista of all, Daniel Ortega, sits again, today, in the seat of the country's presidency. How did that happen? You'd have to ask the Nicaraguans. They re-elected him, putting him back in office in 2007. And, as a result, all those investors, retirees and entrepreneurs who had tied their dreams to Nicaragua's post-Sandinista future panicked. The panic deepened when, in 2011, Ortega adjusted things so that he could run for a consecutive term as president, something that had previously been mandated against in the country's constitution. Ortega ran again...and was re-elected again. Again, you'd have to talk to the Nicaraguans to understand the thinking behind this. It's a mystery.
Meantime, in 2008/2009, U.S. and world real estate markets began to tumble, compounding investor panic further and creating a perfect storm of negative influences that succeeded in nearly annihilating Nicaragua's property market. The whole of Central America (with the notable exception of Panama) has been hit hard by the global recession, but Nicaragua has been hit harder than its neighbors. Historically, the majority of foreign property buyers in this country have come from the United States and Canada. Most of these buyers leveraged property assets back home to find the money to acquire new Nicaraguan assets. That hasn't been a realistic option for some time now, meaning Nicaragua's buying pool has evaporated.
I don't see this changing in the short term, despite what some Nicaraguan developers you might speak with might argue, meaning that I don't see Nicaragua as a place to invest for quick growth. On the other hand, the retiree willing to take a longer-term view should be looking at Nicaragua right now.
Politics have too long distracted people from recognizing what Nicaragua has to offer. Take Doña Violeta's advice and forget about Ortega and the Sandinistas. Some two-and-a-half decades ago, they tried to make a new Nicaragua. Fortunately for you and me, the old Nicaragua, the largest but least-visited nation in Central America, lives on. This Nicaragua is a beautiful country with loads of sunshine and two long coasts, one of white sand, one with crashing surf. It is a land of lakes and volcanoes, of cloud forests and tropical jungles, of cattle ranches and Spanish-colonial cities (including two of the oldest cities in the Americas, Granada and Leon, both classic colonial towns with shady plazas and centuries-old Spanish-colonial architectural gems), of rare orchids and white-faced capuchin monkeys, and, most recently, of a new-and-improved foreign retiree residency program. Thinking practically, Nicaragua's big advantage is its cost of living, which is among the lowest you'll find anywhere in the world you might actually want to live. The Ortega Factor has frightened off many would-be retirees and expats looking for a budget destination, but not all. Both retirees and tourists in search of low-cost adventure continue to make their way to this country, which offers an affordable lifestyle bundled with the chance to start over.
Geographically, Nicaragua has everything Costa Rica and Panama have got, all less discovered and developed and available for the adventurer and eco-traveler at bargain rates.
Architecturally, too, Nicaragua is notable. Its two sister colonial cities, Granada and Leon, vie for the title of Oldest City in the Americas. Whichever story you believe (that the Spanish conquistadores settled first on the shores of Lake Nicaragua at Granada or, perhaps, a few months earlier in Old Leon), Nicaragua is the big winner, with impressive colonial-era churches, public buildings, and parks to her credit. Thinking long haul and putting this country into perspective, Nicaragua boasts a product that will always be in demand: Pacific coastal real estate reminiscent of the best of southern California. Right now, values along this country's long and dramatically beautiful Pacific coastline are down 40% and 50% from their peaks, and developers are uncharacteristically open to offers. It's possible to buy in a full-amenity development for as little as $30,000, sometimes even with developer financing. In Granada, Nicaragua's other key expat and investor market, it's possible today to buy one of the small Spanish-colonial houses the city is famous for for as little as $40,000 or $50,000.
Earlier on Huff/Post50:
Bankrate.com's 10 Best States For Retirement 2013
Tennessee's cost of living is the second lowest in the country, just behind Oklahoma, according to data collected from the Council for Community and Economic Research. And the Tax Foundation puts Tennessee's state and local tax burden as the third lowest in the nation. Tennessee also ranked among the best in the country for access to medical care, and its weather is warmer than average.

Besides jazz and beignets, Louisiana offers retirees an excellent combination of low taxes (the Tax Foundation ranks it as the fourth lowest in the nation) and balmy weather. Louisiana has a 30-year average temperature -- that includes both winter lows and summer highs -- of 66.7 degrees. That's higher than every other state except Hawaii and Florida. It also has better-than-average access to medical care and a relatively low cost of living. One major knock on Louisiana, however, is a crime rate that's among the highest in the nation. The FBI says there are 4,244 property and violent crimes per 100,000 people in Louisiana.

The Mount Rushmore State may not be on many retirement wish lists, but it should be. What it lacks in warmth, it makes up for in a variety of ways. South Dakota has the lowest crime rate in the nation. The Tax Foundation also says South Dakota residents have an estimated state and local tax burden of 7.6 percent, which is lower than every other state except Alaska. Its temperatures are on the chilly side, with a 30-year average of 46 degrees -- about the same as New York and Colorado.

One of the strongest benefits that Kentucky offers retirees is an extremely low cost of living. The Council for Community and Economic Research, or CCER, which collects data on the relative costs of groceries, housing, utilities, transportation and health care in communities across the U.S., found that retirees in Kentucky are paying less than many of their counterparts across the country. Bankrate, which analyzed CCER's data, found that Kentucky boasts the fifth-lowest cost of living in the nation. The Bluegrass State also has warmer-than-average temperatures and a crime rate that's slightly lower than average.

Mississippi is just another Appalachian state to make the list... sensing a trend here? The Magnolia State is not just one of the warmest in the U.S., it also has relatively low state and local taxes and a lower-than-average cost of living. Those factors make Mississippi an accommodating place for retirees, even though its crime rate is a little higher than average. It also has only 178 doctors per 100,000 people -- one of the lowest physician-to-resident ratios in the nation, according to the U.S. Census Bureau.

Virginia isn't just for lovers. It's for seniors looking for an all-around good place to settle down. The Old Dominion is better than average in most categories that Bankrate considered, including cost of living, warmer temperatures and access to physicians. With only 2,446 property and violent crimes per 100,000 people, Virginia has one of the lowest crime rates in the country. Throw all of that in with Thomas Jefferson's Monticello, Colonial Williamsburg, the Blue Ridge Parkway and other gems, and you have one of the best states in the U.S. for retirees.

Retire in the heart of Appalachian coal country? Absolutely. West Virginia ranks No. 7 on Bankrate's list of great retirement states for three main reasons: It has a lower-than-average cost of living, boasts a lower-than-average crime rate, and residents also have better access to hospital beds than the national average. And then there are the intangibles: The mountain ridges that ripple across the state are home to countless trout streams and hiking trails; its vistas look like something sketched by Thomas Kinkade; and temperatures are right in the middle range for U.S. states. Last year, temperatures in Charleston, West Virginia, ranged between a low of 12 and a high of 103 degrees Fahrenheit, and the 30-year state average is about 52 degrees.

Home of the Robert Trent Jones Golf Trail, Alabama boasts a trio of benefits that retirees may find alluring. It has some of the lowest local and state taxes in the nation. Its cost of living also is relatively low, especially for a Gulf Coast state. And its temperatures are among the warmest in the U.S.: Its average annual temperature of 63 degrees compares favorably to the national average, which is more than 10 degrees lower. However, Alabama has relatively high crime rates, with 4,026 property and violent crimes per 100,000 people (compared to the national average of 3,253). And access to medical care isn't as good as the national average.

The Cornhusker State ranks at No. 9 on Bankrate's best list for several reasons. Nebraska residents have excellent access to hospital beds, according to the Kaiser Family Foundation, and FBI statistics show that its crime rate is slightly lower than average. Its cost of living also is one of the lowest in the country, according to the Council for Community and Economic Research, which tracks the cost of groceries, housing, utilities, transportation and health care in most major U.S. cities. The state and local tax burden is near the national average at 9.7 percent, according to the Tax Foundation. And its 30-year average temperature is about 49.2 degrees, which is colder than the national average.

Yes, it's frigid there. The 30-year average annual temperature in North Dakota is around 41 degrees, making it the coldest state in the continental U.S. If you can handle the cold, North Dakota could be an excellent place to settle down. Consider its access to hospital care. There are five beds available for every 1,000 people in the state, according to the Kaiser Family Foundation. That's tied for second-best in the country. North Dakota also has the second-lowest crime rate in the nation, and the state and local tax burden, which takes into account income, sales, property and other taxes, is at a relatively mild 8.9 percent of income.