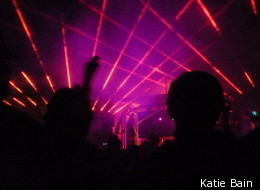 There aren't many places where one can do a morning yoga class, catch a lecture on permaculture, participate in a mass meditation, check out paintings, installations and sculptures by world-class artists, eat organic vegan cabbage tacos and then dance in a field to body-rattling bass music until the early hours of the morning, but so it was this past weekend at Lightning in a Bottle, the Do LaB's 13th annual arts and music festival that went down (and got down) at Silverado's Oak Canyon Ranch. Standout performances by Tipper, Shpongle, Apparat, Lucent Dossier, EOTO, Big Gigantic, Pumpkin and Bassnectar contributed to the musical end of a diverse lineup that also featured speakers including Barbara Marx Hubbard, Daniel Pinchbeck, Dream Rockwell and Michael Beckwith.
Lightning in a Bottle's deep commitment to environmentally mindful practices was exemplified by an ambitious sustainability program that saw attendees carefully sorting trash into compost, recycling and landfill bins and making a collective effort to pick up cups, plates, bottles, and yes, glowsticks, off the ground at the end of each night. With this spirit of conscious living infused into every element of the festival, an eclectic, 14,000 person plus crowd of artists, musicians, performers, Burners, babies and bassheads came together for an experience that was as enlightening as it was fun.
Here, a handful of Lightning in a Bottle participants and attendees share their thoughts on what LiB means to them:
All photos by Ali Miller
Name: Sascha Ring (Apparat) From: Berlin, Germany Years at LiB: 2 Day Job: electronic musician Role at LiB: Performed a killer Friday night set on the mainstage Thoughts on the festival: In general there are two kinds of festivals. The very professional ones that are just concerts in a row, and these kind where people come for the experience of the whole thing. People come for the feeling, the vibe. For me, it's like a bubble where things are allowed and possible that wouldn't be outside the bubble, especially because we're in the states with all the rules and laws and signs. You don't need rules and laws here because everyone wants to make it happen in the best possible way.

Name: Brittany Nelson From: Venice, CA Years at LiB: 2 Day Job: Production Coordinator On LiB: I love LiB. It's one of my favorite festivals because it melds music and art with consciousness and engages the collective on a high level, and I think it's a massively important time to be getting the collective energy synergized in a positive direction. Highlight of the festival: The group meditation by One Giant Mind.

Name: Dave Zaboski Years at LiB: 4 Day Job: Professional Artist From: Chatsworth, CA Role at LiB: Painter for the Do Art Foundation On LiB: It is more than magic. I get to paint all day by the Temple of Consciousness, and it's just the best. My piece is called The Kiss, because I feel that's what Lightning in a Bottle is for us in our lives. It's a place where we can come together and give ourselves permission to open our hearts to one another and ourselves. This festival has everything: music, these incredible speakers, healing, health, good food and so much art, which I think is what captures all the ephemeral things that happen here.

Name: Sara Devi (right) From: Mendocino, CA Years at LiB: 1 Day Job: Herbalist, culinary artist and dancer Role at LiB: Selling herbal enzyme elixirs from Oregon based-company Herbal Junction. Highlight of the festival: Mixing up drinks and adding a little magic to everyone's experience

Name: George Shay Age: 5 From: Claremont, CA Day Job: Preschool Student Favorite thing at LiB: All the fun stuff to do like climbing stuff. And I like to dance. George's Mom Says: It's his first festival. His teacher at school had to tell me that he was good so he could earn stickers. He worked for a month to be here.

Name: Grace Age: 11 From: Chatsworth, CA Years at LiB: 1 On LiB: I'm having the best time of my life. My dad is one of the artists here, and I think everything is so awesome. The music here is great. I've listened to many of the lectures too. I think this is definitely really special because anyone can come and feel really happy. I think everyone should come to LiB, because it's so fun.

Name: Genevieve Zander Years at LiB: 1 Day Job: Full time student at UCLA Role at LiB: Working with Lucent Dossier's Transformation Experience Thought on LiB: I sense a community feeling here. Everyone seems to know each other from Burning Man and other festivals, and I think that's really beautiful.

Name: Patrick Michael Joseph Murphy Senior Ranger Filthy From: San Diego, CA Years at LiB: 4 Highlights of the festival: The rock and roll and blues at the Lumi Café. And the girls are all pretty.

Names: Light Watkins (left) and Jonni Pollard Day Jobs: Pollard is co-founder and executive director of One Giant Mind. Watkins is a meditation teacher and consultant for One Giant Mind. Years at LiB: 1 Role at LiB: Watkins and Pollard led a crowd of hundreds in a group meditation on Saturday afternoon in conjunction with One Giant Mind, an organization that studies the collective effects of the human mind when united in eyes closed silence to effect what is referred to as the relaxation response. Thoughts on LiB: Pollard: It's always beautiful to come to any place where human beings intentionally pay to be a part of something where they can feel connected. There's a vibe, everyone's hearts are open and they're more inclined to be interactive. On One Giant Mind: Studies around the world have indicated that when large groups of people come together and do this, there is an effect that causes a positive set of social and physiological outcomes for the group. It affects the brain states of those in proximity. The most effective thing we can do collectively to address the world's problems is increase our IQ and our emotional intelligence to be able to successfully navigate the challenges the world is facing right now. The whole world is in crisis, and we have to respond. This is the world's biggest experiment, and it's all-inclusive. I think that's what everyone is yearning for, meaningful interaction." (One Giant Mind will have an event in Griffith Park on September 16).

Name: Sean Morton Day Job: Psychic, radio host and documentary filmmaker Role at LiB: Presented a lecture on extraterrestrial contact at the Temple of Consciousness Core Message: "All is one. Life has purpose. God is love."

Name: Duncan Kight From: Oakland, CA Years at LiB: 1 Day Job: Wine bar runner, menial work for festival and events Role at LiB: Medical staff and camp security Thoughts on LiB: There are a lot fewer fights and overdoses than at a lot of festivals I've been to. It's been really rewarding. Everyone has received us really well, and it's great to meet new people and see old friends.

Name: Shena Turlington Role at LiB: Sustainability Director at the Do LaB On LiB: From day one, the DoLAb said they wouldn't do the festival if it was wasteful. It's got to have a positive impact. From the beginning, we have done everything we can to reduce the amount of waste and maximize the amount of education and positive inspiration we can create for people. On the crowd: I think the attendees bring an intense enthusiasm to soak in knowledge and a passion to go and do something with it. They fulfill the purpose of the festival in bringing an appreciation of the art and the music and spreading the seeds of knowledge across the globe.

Name: Nick Martinez From: Upland, CA Years at LiB: 1 Day Job: Full time student and full time worker Role at LiB: Volunteer Garbage Sorter Thoughts on LiB: The festival allows us to do whatever we want to do and not be judged and enjoy everyone else's company and their good energy and vibes and let us open our minds a bit. I hope this keeps going on forever.
Follow Katie Bain on Twitter: www.twitter.com/bainofyrexstnce