Today I am writing to you from Mexico City. I'm in town with my husband, who is working here, soaking up every bit of the culinary culture this great city has to offer. From crispy grasshoppers at the market, to the little blue corn tortas that a sweet old lady at a roadside stand taught me to make, to possibly one of the most fantastic meals of my life at the Aguila y Sol where the chef has interpreted traditional Mexican cooking that rivals any fancy restaurant in New York or Paris.
One thing in particular that has struck me on this trip is the Mexican people's renewed dedication to tradition. Yesterday, we witnessed thousands of people making their annual pilgrimage to the shrine of Our Lady of Guadalupe, some of them having walked for three weeks to make it to the church on this special day. The markets are filled with seasonal produce, including the largest fresh morels I've ever seen and huitaloche (a fungus that grows on corn and is considered a delicacy). We also visited the M.A.P. Museum (Museo de Artes Popular) which has begun the painstaking task of collecting and documenting folk art from all over Mexico.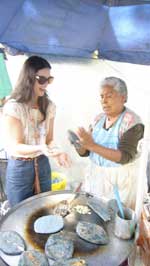 The city is abuzz with Christmas shoppers with their newly-received bonuses in-pocket and huge, brightly-colored "Feliz Navidad" decorations line the streets. There is nothing simple or understated about the connection to their holiday and I've felt so touched by the warmth and genuine feeling of the people celebrating their big winter festival.
Last night, in that self-satisfied moment after a gargantuan meal, I started thinking about what the holidays have meant to me and my family over the years. The feast of Christmas provided our extended family the opportunity to gather and enjoy the local connection to tradition through food, something that is possibly being lost as time goes on. Life takes its toll, some of our older family members have passed, some of the young, including myself, have grown up and moved away. My time here in Mexico has reminded me of that tradition and made me nostalgic for those childhood times with my family.
Just as that old lady at the roadside stand guided my awkward hands in shaping the masa to create her tortas, I remember my grandma directing me in the kitchen as a young girl. Every holiday, Grandma and her sister, Pat, would join forces to create the most incredible meal, usually with the same dishes year after year. I always looked forward to Grandma's creamy mashed potatoes and gravy and Aunt Pat's buttery dinner rolls. The food was so extraordinary that we behaved as though we were in some sort of eating contest.
For the past couple of years, I've experimented with our holiday dinners, forming elaborate menus filled with decadent foods. This year, I want to go back to tradition and recreate the Christmas dinners of my past. I realize that I will never be able to capture that exact atmosphere, but through food I hope I can generate that feeling with my new family once again.

Pat's Refrigerator Rolls
My great-aunt Pat is famous for her hot rolls. She has many specialties, but these rolls are my favorite. They are a staple at all of our family functions. Big and fluffy in texture and fragrant with the sweet smell of yeast, these rolls just can't be beat. They usually disappear straight out of the oven.
1/4 cup warm water, about 110°F
Two 1/4-ounce packets active dry yeast (4 1/2 teaspoons)
1 cup plus 1 teaspoon sugar
2 large eggs, lightly beaten
1/2 cup canola oil
1 tablespoon kosher salt
1 cup cold water
1 cup boiling water
7 to 8 cups all-purpose flour
In a small bowl, mix the warm water with the yeast and 1 teaspoon sugar. Set aside for about 5 minutes, until the mixture starts to thicken and bubble slightly. (If the mixture does not start to bubble, the yeast is not working. Check the expiration date on the yeast and start over.)
In a large bowl, stir together 1 cup sugar, the eggs, oil, and salt. Mix in the cold water and then the boiling water. Add the yeast mixture and stir until well blended. With a wooden spoon, slowly stir in 7 cups flour, until incorporated.
Turn the dough out onto a floured surface. Coat the palms of your hands with flour and knead the dough for 8 to 10 minutes. If dough remains sticky, add an extra 1 cup or more of flour as needed. When you're done, the dough should be stretchy like elastic. Put the dough into a clean large bowl. Cover with plastic wrap and refrigerate for 3 hours.
Punch down the dough. (At this point the dough can be re-covered with plastic wrap and stored in the refrigerator for up to 24 hours. Remove the dough and continue with the recipe 3 and a half hours before you are ready to bake.)
Grease two 12-cup muffin tins. Place the dough on a lightly floured work surface. Using a large knife, cut the dough into 24 equal pieces. Divide each piece into three 1-inch balls. Place each set of three balls into one muffin-tin cup. Loosely cover and allow the rolls to rise for about 3 hours at room temperature.
Thirty minutes before baking, preheat the oven to 350°F.
Bake for 15 minutes, or until golden on top. Remove from the tins and serve warm.
Yield: 24 rolls
Prep Time: 45 minutes
Inactive Prep Time: at least 6 hours
Cook Time: 15 minutes
I invite all of you readers to share your family's holiday stories and the recipes that permeate your minds. What are you making this year?
For more holiday season tips, click here for more from Huffington Post's Living!