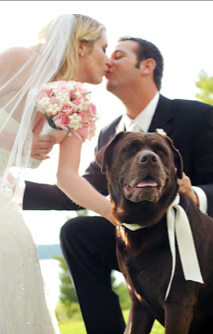 Still umming and ahing about whether Fido will be an appropriate guest at your wedding or member of your bridal party?
Consider these important points...

1. They'll help ease the nerves with a simple wag of their tail-something other important VIPs might struggle to do in order to make you smile.
2. Dogs love you unconditionally and won't care about the amount of flowers in your ceremony venue or the choice of canapes during your pre-reception cocktail hour.
3. Dogs will be accepting of what you ask them to do, and unlike other guests, you can leash them if need be and they're still perfectly happy.
4. Dogs aren't going to get drunk and divulge all of your "rather forgotten" secrets to your mother-in-law in a heart to heart at the reception.
5. If they do decide to be naughty, you can ensure they immediately "retire for the evening." If only it was that easy with human guests!
6. You won't find a more humble guest that's just simply and utterly content to be by your side or have you in view for the entire day.
I may be biased because I'm a dog lover, but I think I have a point. Anywho, it's certainly something to think about. Still not convinced? Check out Wedding Dogs to see just how great having your dog at your wedding can be!
Photograph: Amy Carroll Photography