In the first photo I saw of Ray Takes War Bonnett, he was holding a drum and staring into the distance. I had heard many stories about him by this point -- what an amazing spiritual guide and singer he was. But I'd also heard how the drum itself, an integral part of many traditional Oglala ceremonies, represents the heartbeat of the people.
Ninety minutes north of Ray's home on Pine Ridge Reservation, in the one-room shop of Dakota Drum, 603 Main St., Rapid City, Sonja Holy Eagle has sold traditional drums made from cottonwood and buffalo hide for nearly 20 years. Dozens of drums hang from the walls, and an additional 50 line the floor. Their sizes stretch from 6 inches to 3 feet in circumference; the majority are covered in Sonja's artwork -- painted images of horses, bears, turtles, eagles, or buffalo.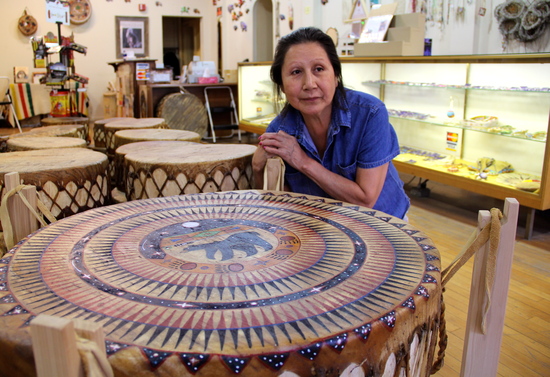 The drums are unique not just because of their appearance but also because historically, Oglala women have created art from beads and porcupine quills, leaving painting to the men. Sonja, however, has developed her skill since childhood, when she would spend her free time in the family's log cabin home drawing images from newspapers, between fetching water and firewood. She learned color combinations from her mother, who sewed quilts. "I drew all the time, and now I'm drawing as an adult, all self-taught."
Now in her 50s, Sonja has traded her pencils for "earth paints," made of ground rock mixed with water. She sometimes sketches her concepts first, especially if a specific animal requires practice, and chooses colors as she goes.
Before the drums reach Sonja, they go through the tanning process. First the hides are cleaned, then tanned with buffalo brains -- key to the Oglala belief in using every part of the animal, but also essential to the drum's longevity. This process preserves the hide and keeps it from cracking, which is a common fault among mass-produced hides tanned with chemicals. A few months later, the drums are in Sonja's hands, ready for painting.
"When I start painting, it's a big project. Every moment, every day I want to fulfill the project," Sonja said. Larger drums can take weeks to complete, while the smaller sizes take one to two days. If she makes a mistake, she embraces it.
"When you see the buffalo, you know it means Northern Plains tribes," said Sonja, who creates images grounded in the traditional but mixed with her own contemporary style. "I want to keep the culture strong."

Sonja incorporates her past experiences into her present work. Horses, for example, are a tribute to her father, who loved the animals, and her mother, whose name was Brings Horses.
As a child, Sonja split her time between the town of Allen on Pine Ridge Reservation and Bear Creek on the Cheyenne River Reservation. She left as an adult due to lack of job opportunities, but still recalls those nights when the weather was warm enough to sleep outside at her grandparents' house.
"I have memories of a big blanket of stars," Sonja said. The theme comes across in so many drums in the store. On one, a black bear under a starlit sky represents Bear Creek. Red and black triangles encompass the bear, symbolic of the tribal chief's headdress and medicine wheel.
Sonja's drums and all they represent have made it into homes and galleries far from Dakota Drum. Though visual, Sonja's work falls in line with the oral traditions that drummers and singers carry on when they set the pace and mood at ceremonies. Just as Ray did through his voice, Sonja, through her images, illustrates the energy around her and the music in her own soul.